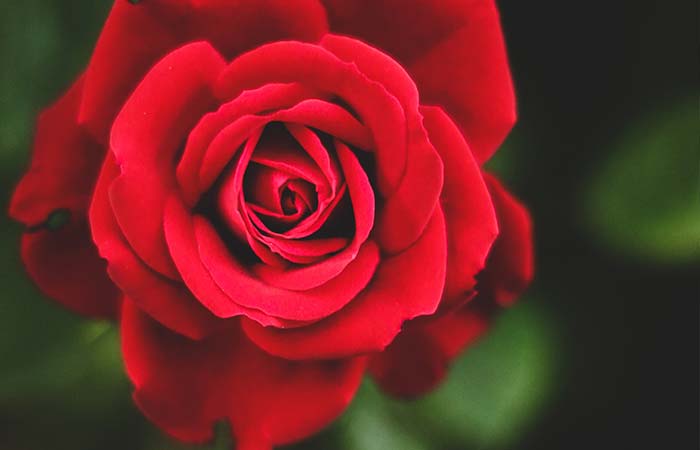 In this zodiac flower guide, find out what are the birth flowers of Taurus. What do they mean for Taurus and in general?
Taurus, the bull, are those born between April 21-May 21. Being an earth sign, flowers are a perfect gift for a Taurus. They are closely connected to the earth and they love to garden. They enjoy having flowers both indoors and outdoors. Taureans are known for their stability and they tend to enjoy the finer things in life.
Out of hundreds of thousands of species of flowers, four distinct blooms are selected as the flowers of Taurus. And the first flower that leads the pack is none other than the rose.
1. Rose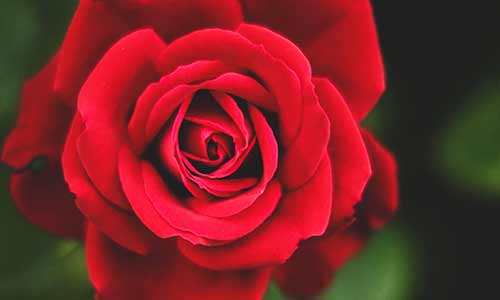 People born under the Taurus sign can be a little bit materialistic. That makes the rose or a bouquet of roses a perfect gift for Taurus. Taurus are known to enjoy the romantic side of life and they also enjoy music. Gifting a Taurus with a bouquet of roses, a candlelit dinner, and some soft background music can create the perfect evening.
Ruled by the planet Venus, those who are born under the sign of Taurus share many of Venus' traits such as beauty and luxury. Nothing is more beautiful than a bouquet of roses in a single color or multiple colors. Go with red for romance or yellow to share your friendship and joy. If you need to say thank you for something, peach roses that symbolize gratitude will do the trick.
Green is one of Taurus' colors and symbolizes abundant growth and renewal of life. Green is known to impart a sense of balance and stability – also characteristics of those born under the sign of Taurus.
Since those born under the sign of Taurus love to garden, they may be interested in the history of roses. Cultivating roses in gardens started well over 5000 years ago. Perhaps a rose garden would provide the luxury and comfort sought by Taurus personalities.
Did you know that Cleopatra the famous Egyptian queen was obsessed with the rose? Read more about roses in our June birth flower guide (yes, rose is also a birth flower for the month of June).
2. Poppy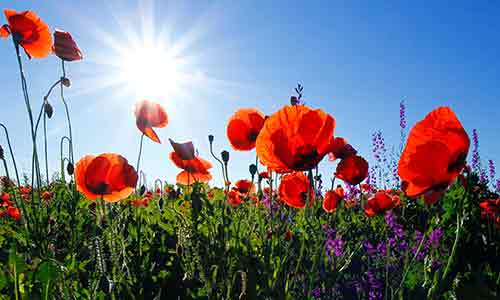 The poppy is another flower that is associated with the birth sign Taurus.
If you are a Taurean, you enjoy fine quality. It could even be said that you are materialistic. But you also love to share with others. You enjoy artistry and you are classy. If you are a poppy, you are resilient and able to handle the obstacles that may be in your way.
Just like a poppy, a Taurus will stand his ground and remain determined no matter what. Blood-red poppies thrived where once there was a barren field. This shows how resilient and steadfast they really are.
If you desire a good night of sleep, put a vase with poppies in the bedroom. Poppies are a symbol of sleep and peace. Because opium is extracted from poppies, they symbolize a pleasant slumber since opium is a sedative.
Poppy is also a birth flower for August.
See also: Taurus Quotes
3. Foxglove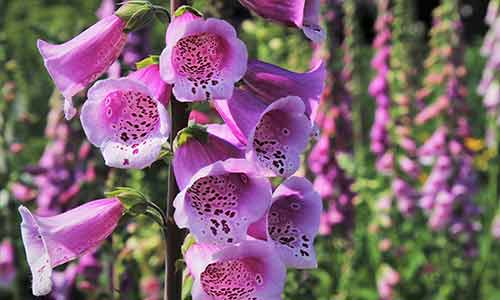 The symbolic meaning of the foxglove is two-fold; there is both positive and negative. Foxglove can be associated with insincerity and some people may mistakenly view those who are Taurus as insincere since they are so practical and stoic.
On the other hand, foxglove also symbolizes magic, intuition, and creativity. Since the Taurus enjoys artistry and being creative, foxglove is a perfect flower for them. Foxglove is said to enhance group projects and creativity and help to promote productivity.
If you have important work to be done, keep a vase of foxglove in your home to encourage your productivity.
Related: 9 Best Jobs for Taurus
4. Daisy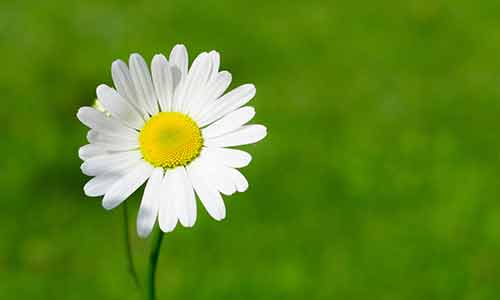 The daisy is associated with innocence and youth. In numerology, the daisy is 22. 22 represents ancient wisdom which speaks to the practical and determined characteristics of those who are Taurus. 22 also characterizes the earth and Taurus is an earth sign.
The daisy, also associated with true love, is perfect for the romantic side of a Taurus. Daisies can come in a variety of colors. Choose pink daisies for a Taurus since pink and green are colors associated with the sign.
Pink daisies are a symbol of gentleness, love, and romance. A bouquet of pink daisies would be perfect for a Taurus. It would symbolize your love. Why do daisies symbolize true love? The daisy is two flowers bound together. The petals in the middle are one flower and the outer petals are a second flower surrounding it.
Daisies are quite practical in terms of adding them to a garden. They bloom early and they are low maintenance.
The daisy is also a birth flower for April.
Are you a flower-loving Taurus?
If you are a Taurus and you love flowers, the ones mentioned above may appeal to you. The symbolism of the flowers will speak to you. Since these flowers are associated with your birth sign, you may find they hold a special beauty you do not see in other flowers.
Since you love to garden, consider planting varieties of these flowers both outdoors and indoors so that you can enjoy their beauty all year round.
Read next: 17 Signs A Taurus Man Likes You
Birth Flowers by Zodiac Sign
Aries / Taurus / Gemini / Cancer / Leo / Virgo / Libra / Scorpio / Sagittarius / Capricorn / Aquarius / Pisces
Birth Flowers by Month
January / February / March / April / May / June / July / August / September / October / November / December