These are the two brave birth flowers December is blessed with. In this flower guide, find out what are these daring flowers that represent the first winter month, December. What are their meanings, symbolism, origins, and what makes them the flowers for December babies?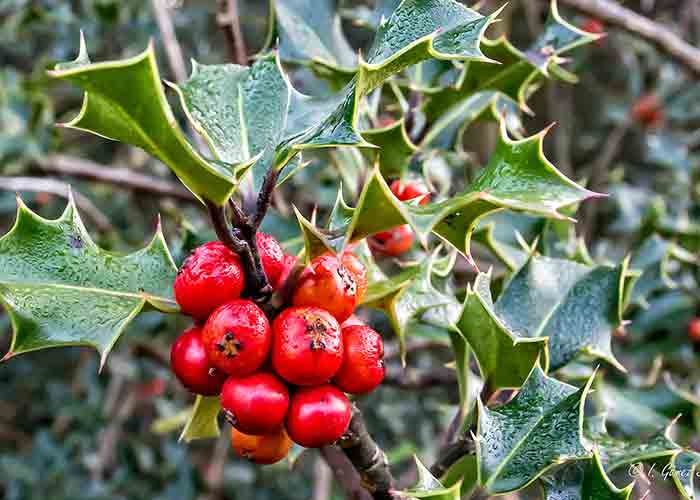 December is the twelfth and the most festive month of the year.
The month marks the arrival of winter in the northern hemisphere and the beginning of summer in the southern hemisphere. Before the Anglo-Saxons were Christianized, they called the month 'winter monath' or 'yule monath,' which was based on the Nordic custom of burning Yule logs. It was traditionally done to welcome the winter solstice. The custom lasts for 12 days and was later adopted as the 12 Days of Christmas.
Two birth flowers are associated with those who were born in this festive month. The snow-like paperwhite narcissus and the festive holly flower. Both flowers symbolize hope which is a characteristic that the December born may inherit. Let's take a closer look at these December flowers and see how we can use these flowers to add cheers for the season.
Follow our Beautiful Flowers board on Pinterest.
Paperwhite Narcissus
Paperwhite Narcissus is the primary birth flower for those born in December. Narcissus papyraceus is the scientific name of this distinctly fragrant and delicate flower that is as white as snow.
In many instances, the flower is confused with daffodils which is the birth flower for March. It is even sometimes called paperwhite daffodils. Both flowers are under the genus Narcissus but the paperwhites are the specific birth flowers for December because it grows in the cold winter.
Paperwhites are flowers native to the Mediterranean. Today, these snow-white flowers have been widely cultivated both in Europe and in Asia. It blooms in bunches and is extremely fragrant. Normally, these flowering plants are grown without soil. It can be planted in marble, stones, beads, or gravel. Paperwhites are great indoor plants and can be a perfect gift to kin or friend to welcome the new season.
According to the Victorian language of flowers, offering a paperwhite narcissus is a way of saying, "you are the only one." It also means that you want your loved ones to stay as they are. The flower is an emblem of hope. As the flower thrives in extreme conditions, the People born in December are also known to strive even in difficult situations. Paperwhite narcissus is believed to be a harbinger of wealth and good fortune. These flowers are not only a great addition to your winter décor for they can also shower you with blessings for the year to come.
Holly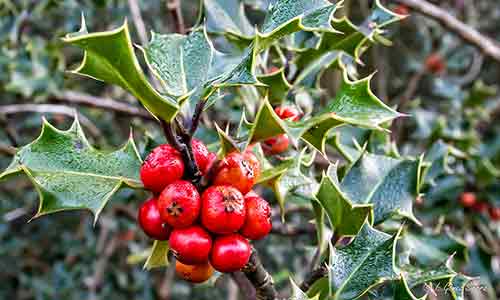 Holly is the second birth flower for December babies. It is a dioecious berry-bearing flowering plant of the genus Ilex. The tiny white flower can be single or clustered with wavy and sharp leaves.
Holly flowers are commonly used in decorating Christmas trees and wreaths as well as in designing greeting cards made especially for the season. Legend has it that Mary hid the infant Jesus in a holly plant to save him from the execution that was ordered by Herod the Great, King of Judea. This was how the flower became associated with the celebration of Christmas.
Holly flower also blooms with four white petals that resemble a tiny cross. The holly plant is also symbolic of the crown of thorns that was worn by Jesus. The sharp leaves symbolize the thorns and its berries represent his blood. In ancient Celtic culture, the holly plant was believed to offer protection against lightning, witchcraft, and evil spirits. Placing its sprigs in a little girl's bedside can protect the child against goblins while hanging hollies in homes were believed to attract good fortune.
Holly plant is not only a festive addition to your garden because it can also shelter birds and provide a place for hibernation for little animals. The holly tree takes three years to grow but it can reach up to 15 meters in height and can last for 300 years.
According to the Victorian language of flowers, holly is a symbol of protection. The flower also serves as a symbol of domestic happiness. Holly with its sharp leaves and red berries is commonly seen during Christmas time which makes it fitting to be included as one of the December flowers.
Giving out a Christmas bouquet with hollies is a unique way to get extra festive in your gifts this holiday season. It also makes an excellent gift for it welcomes good luck and prosperity.
Birth Flowers by Month
January / February / March / April / May / June / July / August / September / October / November / December
Birth Flowers by Zodiac Sign
Aries / Taurus / Gemini / Cancer / Leo / Virgo / Libra / Scorpio / Sagittarius / Capricorn / Aquarius / Pisces