Find out what are Birth Flowers of April. What are their meanings? And what are the stories behind their names? Get your answers in this article.
The month of April was named in honor of Aphrodite, the Greek goddess of love and beauty. April is when all the spring flowers really begin to bloom as the temperature rises and the days get longer. Earth Day is celebrated in April and there is no better month more fitting to honor Mother Nature. People born in this month are courageous, outgoing, and firm. The flowers which represent them are characterized by purity, true love, innocence, and blissful pleasure. According to the language of flowers, these are the defining characteristics of those born in April. Let's get to know the birth flowers for April babies and understand the meaning for each of the flowers.
Daisy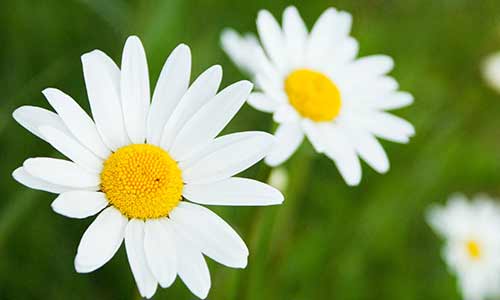 Daisy is the primary birth flower for those born in April. Bellis perennis is the scientific name of this yellow disk flower with radiant white rays and spoon-shaped leaves. Bellis comes from the Latin word "bellus" meaning pretty, and "perennis" in Latin means "everlasting." The daisies are not only beautiful, but they also last a long time in the water, making them a perfect gift. If properly taken care of, cut daisies can last a week in a vase before they start losing their freshness. The name "daisy" is an alteration of "day's eye." In the morning, daisies open up to face the sun but close their heads at night, thus the name. The simple charm of the golden daisy has extended uses in the fields of culinary and herbal medicine. Daisy leaves can be used as ingredients for soups and salads. Extracted juice from daisies can also bind wounds and cuts.
The pretty flower comes in several colors between white, red, yellow, and pink. White is the most well-known color, and it represents purity and innocence. Making daisy garlands has been a long-established practice among children. The white daisy is also a symbol of childbirth and motherhood which makes it a thoughtful congratulatory gift for new mothers. People born in April are characterized as courageous, and that matches the symbolism of the red daisies. The red daisy symbolizes bravery, and receiving a bouquet means that the sender offers his passionate and courageous love. The vibrant yellow daisy represents friendship and happiness. Send some yellow daisies to your friends as a cheerful reminder that you care for them. The yellow color of a daisy can also mean "I will not tell." If a friend shares a secret, you may send yellow daisies to convey the message that the secret is safe with you. Pink daisy means gentleness and romance that makes it a perfect flower to offer to your beloved. As spring rise to its height, the outgoing April babies will be ups-a-daisy to celebrate life and that's a daisy!
Sweet Pea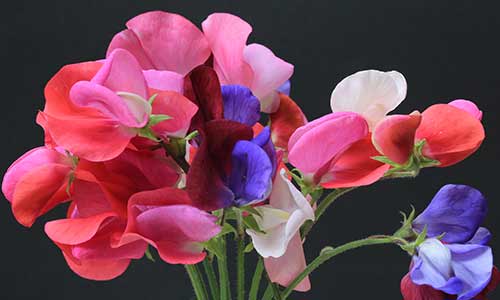 Sweet Pea is the secondary birth flower for those born in April. Lathyrus odoratus is the scientific name of this beautiful, papilionaceous, and fragrant flower. Lathyrus is a Greek word that means "pea," and "odoratus" in Latin means "fragrant, perfumed." The sweet pea resembles a fringed butterfly, and it can climb up to eight feet over walls. This April flower also comes in many color varieties such as white, pink, blue, and red. Having sweet peas will rid the house of flies because these insects do not appreciate its pleasant smell. Native to Sicily and the Aegean Islands, the flower became popular in the late-Victorian era after a Sicilian monk sent its seeds to England in the 17th century. Like the daisies, sweet peas also have an exceptional vase life to make them a perfect flower to beautify our homes.
The symbolic meaning of sweet peas has been established and deeply embedded in some cultures. In France, it is customary to offer sweet peas to brides to attract good fortune. It is also widely used as a design for tattoos, especially among women. Sweet peas represent blissful pleasure and bittersweet goodbye. It can be a perfect farewell gift to a traveling friend that is a sign of gratitude for the fond memories shared. White sweet peas are a symbol of gratitude, and the subtle pink sweet peas are the most commonly used in weddings. The blue ones represent respect and admiration. And the red sweet peas symbolizes courage and desire. Growing sweet peas in your garden would be an excellent idea because the more you pick the flowers, the more they blossoms. Gather the blooms early while they still have dews and surround your home with their sweet scent for days.
Sweet peas and daisies are also birth flowers for April Aries, and April Taurus.
Birth Flowers by Zodiac Sign
Aries Flowers | Taurus Flowers | Gemini Flowers | Cancer Flowers | Leo Flowers | Virgo Flowers | Libra Flowers | Scorpio Flowers | Sagittarius Flowers | Capricorn Flowers | Aquarius Flowers | Pisces Flowers
Birth Flowers by Month
January Flowers | February Flowers | March Flowers | April Flowers | May Flowers | June Flowers | July Flowers | August Flowers | September Flowers | October Flowers | November Flowers | December Flowers