Earlier, we shared a list of virtual date ideas for long-distance couples who have access to high-speed internet and a smartphone. In this article, we'll take a look at some fun activities that couples can do without having to meet physically.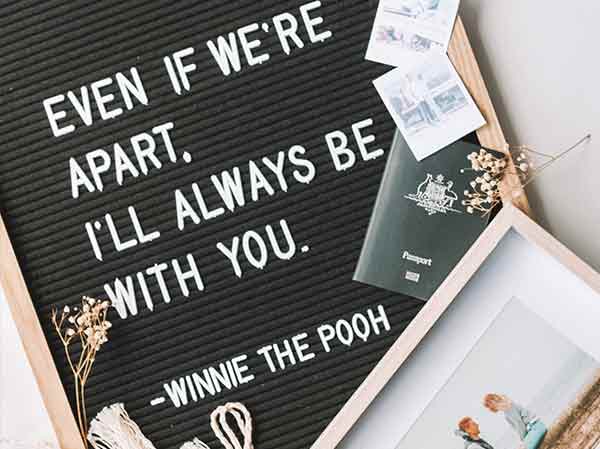 32 Fun Activities for Long-Distance Couples: Best Long-Distance Relationship Activities to Keep the Relationship Alive
Some of these activities can be a full-fledged date, while others are more of cute things to do with your partner. These ideas are dedicated to couples in long-distance relationship who are looking to keep the sparks flying in their relationship.
1. Watch live performance
At the time of writing, there is a surge of live performances available online–no thanks to the Covid-19 pandemic. There are live concerts, ballet, musicals, and opera to watch on YouTube alone. Most of the time, they are just recordings of live shows. But once in a blue moon, you'll find shows that are really happening in real-time, like this live opera event from Royal Opera House. In any case, it'd be fun to find and watch your favorite band play live or your partner's favorite theatrical play together without leaving your house.
2. Keep a long-distance couple's blog
Start a blog together. Write about any topics that interest you. One example would be your long-distance relationship experiences such as how did it all start, the challenges that you face, and relationship building ideas. But don't limit your creativity. You can write about economics, politics, board games–as long as it's a common interest. If you're worried about the cost, don't! A blog can be started for free or for as little as a few dollars per month.
3. Start your very own private book club
Launch your very own private book club where the members are the two of you. Start slow. Find a book you both find interesting. Set a deadline but don't be overly aggressive. Make sure that the deadline that allows you to progress at a leisure place. You don't want the members to feel like a chore. Once the book club has established itself, you can take turn to challenge the other member (i.e. your partner) to read a book of your choosing. This will be a great way to find out the likes and dislikes of your partner.
4. Throw a long-distance pizza party!
Pizza = awesome. Feel awesome together by enjoying your very own pizza party! Order pizza delivery but don't forget to buy some beer or soda on your way home. Pizza is the centerpiece and some snacks like buffalo wings and chips will make your taste bud (and belly) go boom. If you're up for it, ask your partner to wait at home on an empty stomach then order some pizza to be delivered to them as a surprise. Everybody loves a surprise party, especially when it involves an unhealthy amount of cheese-packed pizza.
5. Become each other's exercise partner
Binge-eating pizza makes you feel so good when you're doing it. But those gazillion calories aren't going to burn themselves. Exercise is a great way to burn calories. If you want to get rid of some fat and tone your body, exercise is a must-have component in your regimen. As a keystone habit, regular exercise also improves other aspects of your lives. For example, you may find that your mood improves and you're more more motivated at work. Not to mention that many has attested to the saying "couples who sweat together stay together." So set a weekly schedule with your SO to get some exercise done together. All you need is an exercise mat and a smartphone (or webcam). Yoga is an excellent stretching exercise to do as a couple — watch these yoga YouTube channels to get started.
6. Become each other's motivation to study
This is a perfect activity for long-distance student couples. Studying is the only way to maintain and improve your grades. Instead of being a distraction to each other, why not help each other to stay focused instead? Ideally, this should be done via Skype. In my experience, Skype does better in terms of noise cancellation. If the student days are long behind you, read some books together instead.
7. Let's go on an ice cream date!
Rum & raisin, butter pecan, Belgian chocolate, vanilla, strawberry… what is your favorite ice cream flavor? Summer or winter, it's never not the season to enjoy ice cream. Get your SO to join you for some ice cream from the comfort of your living room or head outside. A virtual ice cream date can happen at the park, on a bench next to the river, or at an ice cream parlor–which could be the ideal place because the choices they offer, as long as the place isn't too crowded and noisy.
8. Set couple goals – the ultimate todo list as a couple
What are the things that you want to do or goals you want to achieve together as a couple? Nothing is too big or too small a goal. It helps that your goal is actually achievable. For example, going to Mars is too unrealistic for most people. A better goal would be sharing a Mars bar or going to a Bruno Mars concert. Start a shared Google Docs document or add the goals to your couple blog. Below are some goal examples for LDR couples:-
Meet once every 3 months
Live together in 2 years
Go to Vegas for vacation
Get a matching tattoo
Start a YouTube channel
9. Romantic movie date night
Watching a movie together then post on social media afterward is not a "cute thing to do" reserved for proximal couples. Thanks to the internet and Netflix, you too can enjoy a romantic movie date night with your bae. Watching a movie can be a spontaneous activity but I strongly recommend that you go with the planned route. Nothing feels less productive than browsing the Netflix catalog looking for a something to watch. So pick a movie at least a few days ahead. Set a date and a time. Make it known that it's a date so that you have something to look forward to. Prepare food and snacks (popcorn, anybody?). Look up this tool called Netflix Party. It's a neat tool that enables you to watch the same show on Netflix in sync.
10. Countdown to your next meeting
How many days more until your next meeting? Start a countdown. You can use an app that does that for you. But it'd be more meaningful if you two share the work of doing the countdown manually. How? Google Docs to the rescue! Or you can also use your couple blog. You won't be updating the number every day. Take turns to update the countdown every few days or every week. As the number of days dwindled, it wouldn't be long before you're embracing each other once again.
11. Curate your very own music playlist together
What are you listening to at the moment? Perhaps there are some older songs that you keep listening to. Wouldn't it be nice to share what you love with your partner? Find out what kind of music they listen to. Some music streaming platforms like Spotify and YouTube Music support collaborative playlists. It means you can curate the same playlist as partners-in-crime. It would be the sweetest thing to listen to the same songs when you're miles apart.
Articles Related to Couple Activities
1Date2. Plan a trip – where to go, how to get there, what to do
One of the ways to make sure that a long-distance relationship last is by having something for you to look forward. If you will, think of it as a carrot dangling in front of a donkey that is your relationship. A fun and romantic trip with your partner can be a really effective carrot. Don't worry if you haven't come up with a fixed date. Just start with roughly when you will have free time for a trip. Then figure out a destination. Some of the factors to consider would be distance, time, and cost. The whole process can take weeks if not months and that will give you two a common goal. Don't worry if the trip doesn't become reality. Sometimes the real treasure is the time you spend together.
13. Date weekly. Do something special each week to keep the relationship alive and fresh
One of the best ways to keep a relationship alive is going on a date. While the physical distance between you is real, there's nothing the technology gods can't fix. There's a lot of different dates you can try, armed with a stable high-speed internet, laptop with webcam, and a smartphone. Make it a weekly activity or biweekly — anything longer than that can make your relationship go stale real quick. When you're in a long-distance relationship, it's easy to forget your SO as a priority. "Out of mind, out of sight" is a real phenomenon for many people. To keep the fire burning, block out part of your schedule for your partner. For example, Wednesday after eight is your weekly date night, Sunday morning you're having breakfast together then go out for a walk.
14. Curate photo album
If you have way too many photos on your hard disk, it's time to organize and put together a photo album that is a summary of your relationship up until now. Get your partner to contribute! It's not a couple activity if you do all the work. Google Photos and Apple iCloud have the collaborative photo album feature. Flickr doesn't have that but you can add the photos to a private group you own instead. Or you can go through the photos together by sharing your screen with your partner and decide on which photos to go into the album. Once you're done with creating the album, print it out. Digital photos are awesome but prints that you can hold in your hand and keep on your shelves feel extra precious. Don't forget to send your SO a copy.
15. Binge-watch Netflix – sitcom, thriller, drama, sci-fi – anything goes
A movie date has a form. Come to think about it, binge watching, too, has a form. And that form is pajamas, snacks, and watching one episode too many. Ideally you should only do this during daytime or when there's nothing happening the next day. But as couples who live in different time zones and other binge-watchers will tell you, you don't choose when to start a binge-watch session, it chooses you. So enjoy your Netflix sesh with your bae until one of you fall asleep on the couch.
16. Gift exchange – send each other little gifts
Sometimes long-distance couples don't get to spend Christmas and holiday season together. Make sure you get your long-distance partner a good Christmas gift. Mail it to them earlier–in late November or early December– a shipment can get delayed during the holiday season. If you feel weird telling your partner that you're doing a "gift exchange", just tell them that you're sending them a little surprise. Love is as much about giving as receiving. Hopefully they'll reciprocate your thoughtfulness.
17. Karaoke – singing activity everybody loves
Shut your doors and windows because it's time for a karaoke session. Sing together or take turn to sing. Impress and be impressed–or not–karaoke is all about having fun and singing to your heart's content. It's perfectly normal to be off-key or missing some lyrics. As a matter of fact, it's probably less fun if your date is a pro at singing.
18. Share Pinterest board – collect long-distance relationship quotes and activities to do with your partner
Pinterest is the best way to keep and share ideas. It is perhaps best known for its food and craft community but there are virtually every topics available on Pinterest. In case if you aren't familiar with Pinterest, you can also just use it as a bookmarking tool to keep the ideas (in image form) that you find online without having to interact with other members of the site. One of Pinterest's features is the collaborative board, meaning that you and your partner can share and keep ideas together. For example, you can have a relationship quote board to keep you inspired, a zodiac board for zodiac quotes and other Astrology related topics.
19. Keep a couple's journal
Create a journal to record your adventures as a long-distance couple. Since a physical journal is out of the question, use an app, start a shared Google Docs, or start a blog. Some blogging platforms like WordPress allows you to publish a private or password-protected blog post so you can keep part of your blog private. A couple's journal is like a book that you co-author and there's no fixed format — you decide what goes into your journal. Having said that, here are some ideas in case if you're looking for inspiration:-
List of special dates–anniversary, birthday, meeting for the first time, etc.
Details of each visits
Countdown to the next visit
Daily happenings
Couple goals
Inspiring LDR quotes
Share stories
Ask and answer questions
Love confession
Meaningful photos
20. Take a lesson online together
Help each other become a better person by enrolling yourselves in an online class. Improve your knowledge and have fun as a couple at the same time. Go with one of the free online learning platforms such as Coursera and Khan Academy or invest in a MasterClass membership for lessons led by experts and celebs. If you don't feel like committing to an online class, learning more about a particular topic on YouTube can also be a fun thing to do as a couple. Of course, if you're serious about learning something, structured learning platform like Coursera is a much better way to learn. The way they conduct their classes feel like a real college lesson and the whole system feels very engaging with its time-limited videos, assignments, and discussions. It's cute to help each other out with the assignments.
21. Dance with your long-distance lover
Put on some music and dance with your partner. Show them some of your dance moves. Don't worry if you can't dance, many people can't. What's important is that you're both having fun. Actually, don't just put on some music, put on some awesome music that you both enjoy and dance to it. When the atmosphere feels right, feel free to get a little naughty and do a little dirty dancing for your partner to spice things up further.
22. Unleash your creativity. Paint to your heart's content with your LDR partner
Put on your painter's beret and your favorite music. It's time to let your creativity get to work. Acrylic is fun to work with but the medium is irrelevant. Oil, watercolor, crayon… anything goes. What matters is doing it together as a bonding activity. Have a quick discussion before doing the actual painting. What is your art piece going to be? Are you going to paint the same subject? When you're done, it's time to show each other your masterpiece.
23. Breakfast
Many LDR activities happen after work or classes. So it can be refreshing to take breakfast together first thing in the morning. Squeeze in a quick meal with your bae before the hustle and bustle, ask them if they sleep well and offer praise on what they're wearing–you know, things that couples who live together do. Alternatively, you can delay the breakfast until the weekend, when you will have plenty more time to brew your Colombian coffee, fry up some eggs and sausages before chilling out at your apartment balcony with your partner.
24. Bring your partner out for a walk for a change
Bring a power bank, put on your favorite walking shoes, and take your date out on a virtual tour around the neighborhood. Show them around where you live. The shops that your frequent. The park and your favorite bench. If you have done this before, is there anything different from the last tour? Perhaps the season has changed and the flowers are now blooming. Don't worry if there isn't much to show. Being outdoor with your date uplift your mood and that alone is pretty great.
25. Shop together, virtually
Let your partner help out with your shopping tasks and vice versa. Shopping is a fun way to spend a few hours together especially when both of you have something to buy. Start by creating a shopping list. Not sure what to buy? Consult your partner. Get them to help out with the research and come back with recommendations. Already narrowed down a to particular product? Hunt for the best deal online together. Act like each other's shopping assistant just like conventional couples do at the mall.
26. Play games
Old-school games like bingo are fun and don't require anything other than paper and pen. But for some serious fun, and I mean games worthy of sinking in hundreds and even thousands of hours with your bae, console or PC games are your best option. One game that I enjoy recommending to any casual gamers is Stardew Valley. It is a fun and relaxing farming game. Play solo or as a team. Cultivate crops, raise livestock, make cheese, brew wine, go fishing–these are just some of fun things you can do in the game. Its graphics are pleasant and colorful. The background music is soothing and calming. Stardew Valley is also available on a variety of platforms such as PC, Android, PlayStation, etc.
27. Fashion show
Lost in the abyss of your closet are clothes that you had loved but forgotten. Take everything out from your closet. Throw away or donate clothing that you no longer need. While you're at it, put on a fashion show where the audience is your SO. Stick to normal fashion if you're serious about wearing them out and want to get your partner's opinion. Or you can go crazy by mismatching a bunch of different fashion elements.
28. Bubble bath
On a slow and relaxing evening, get in the bath with your distance lover. Put on some light music–you don't want it to become high-pitched noises on your partner's end. Light up some aromatic candles and bubble up the bath. Use a towel and the bubble strategically to keep things G-rated (or not). Ask your partner how their day went–you know, things that couples talk about–or just chill and have your stress and worries melt away in the hot bath.
29. Show and tell
School children do it all the time to improve their language skill. As it turns out, show and tell is a cute activity for distance couples too. Pick something special and tell each other what's the story behind it. Alternatively, pick something for your partner and have them talk about the item's backstory.
30. Virtual coffee date
Establishing a consistent phone call (or video call) schedule is crucial in keeping a long-distance relationship alive. Talking to each for as little as five to ten minutes a day can do wonders for the relationship in the long run. But sometimes topics run dry and the dialogue become repetitive. Silence during a phone call can send the wrong signal that the relationship is going downhill. The solution? Make it a coffee date. Adding a cup of coffee to your video call shifts the emphasis away from the talking. The result is a relaxing video call sesh where you're just hanging out and chilling.
31. Fancy dinner
Special occasions call for special celebratory activities. One such activities is a fancy dinner date. If you can't meet up to celebrate special occasions like the anniversary or birthday, this activity is the next best thing to do with your SO. Treat it like an actual dinner date night at a Michelin-starred restaurant. Dress up in your grandest dress, your best undergarments, put on makeup, wear jewelry, and spray perfume. The environment is crucial to this date's success. Dim the light, light up some candles, play some light music. Cover your dining table with a maroon tablecloth. Set the table with neatly arranged plate, silverware, and wine glass. The food that you're eating is less important than the presentation, so delivery from a local restaurant is perfectly fine. Just make sure that you plate it stylistically. Request your partner to do the same, so that it feels like a real date at a fancy restaurant.
32. Visit Your SO
It goes without saying. The best thing for distance couples can do that trumps any other activities is to visit one another. The daily phone calls and weekly dates help to keep the relationship going but nothing can replace the warmth that you feel as you cuddle up to each other. So plan your next visit. Make it your couple goal and put it in your couple's journal or blog. Plan ahead the details of your trip down to the hours so you get to spend more time together.
What are the activities that you plan to trying out with your LDR partner?
In this article, we've shared more than thirty exciting activities for couples who are in a long-distance relationship. These activities are fun and good for lovers who are looking for ideas to keep the spark in their relationship. Phone calls, video calls, and text messages are crucial for an LDR's survival but to spice things up, don't forget to try and experiment new activities with your partner.