The funniest wine glasses money can buy. Discover stemmed and stemless wine glasses that have funny sayings on them. Find the perfect gift for wine lovers that are not wine.
19 Best Funny Wine Glasses with Humorous Sayings And Where To Buy Them
Drinking wine, red or white, is a great way to relieve stress and anxiety. Over the years, studies have shown that moderate wine drinking also provides health benefits such as boosting the immune system, increases bone density, reduces the risk of stroke and a lot more. Enhance your wine drinking experience by pairing it with these funny wine glasses below.
6 Funny Stemmed Wine Glasses
The wine glass stem provides an elegant way for you to hold the glass with minimal finger movement. It also has an important function which is to prevent the heat from your hand from affecting the temperature of the wine. The wine glass selection below is funny and very stemmed.
1. Mood of the Day – Don't Even Ask, Bad Day, Good Day Wine Glass
An item that speaks to you is hard enough to come by, but something this accurate deserves extra praise. This just-for-fun wine glass makes sure you get your point across, and because it's hand-etched, it's never going to wear off even after repeated use! Fill up your glass according to how your day went: Don't Even Ask, Bad Day, or Good Day. It must have been a design constraint because otherwise "Don't Even Ask" should be to the brim.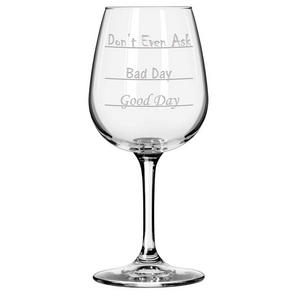 2. Drink Responsibly Don't Spill It Wine Glass
If you ever feel like you've drunk too much and everything is becoming a bit swirly, try to
take another look at it as it may just be this glass! Don't be fooled, this humorous tipsy glass is perfectly safe from tipping over and spilling your precious life juice! The base is made from strong lead-free crystal to secure your wine and prove that even though it's tipsy, it can go for more! As always: drink responsibly: don't spill it!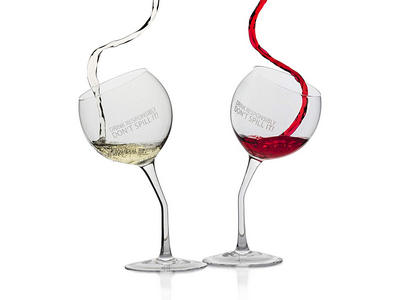 3. Alcohol is Never The Answer Wine Glass
Ever been down in the dumps and needed a friend for comfort? Well if you can't get a friend then it's fine because this wine glass is basically the same thing! Alcohol is never the answer but it sure makes you forget the question! Not only does it give you a good reason to why you should keep drinking (please don't hate me), it also comes with two free drink coasters with hilarious quotes to match! Definitely not a good gift to give to a recovering alcoholic.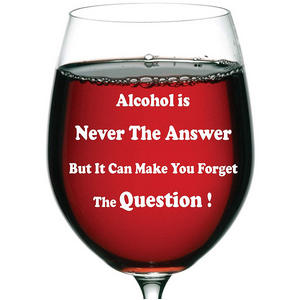 4. Drunk Wives Matter. Best Wine Glass for Moms and Wives
Show your wife some love by letting her know you want to get her drunk (take this advice if you want to know what "hell hath no fury like a woman scorned" means). In all seriousness, this Drunk Wives Matter glass has a strong message and each of these funny wine glasses for wives are packaged by individuals with special needs. Each purchase of these glasses helps keep them employed and live independently as part of society.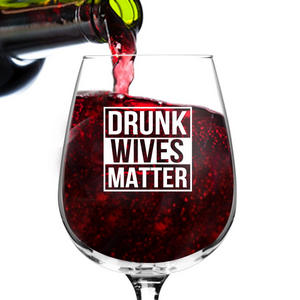 5. Coffee Cup and Wine Glass 2-in-1 Wine Glass
This Frankenstein of a coffee mug and wine glass is the embodiment of convenience, we outdid ourselves on this one. In this age of high technology where we have phones almost as thin as paper and artificial intelligence that manages your schedule via voice command, never have we seen something as revolutionary as this. On one end, a wine glass to help you chill after 5 o'clock and on the other a coffee mug to help you wake before 5. The future has never looked so bright!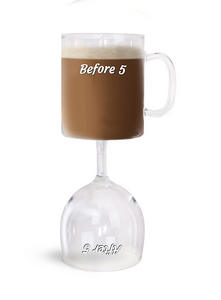 6. Corks Are for Quitters Funny Wine Glass
Feel the essence of being hardcore and classy with this comedic wine glass! This Corks Are for Quitters glass comes in with a box tied with a ribbon which makes it ideal for gifts. What better way to spread the gospel of wine than with a gift from the heart?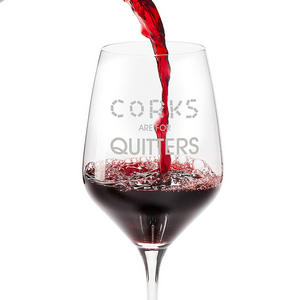 13 Funny Stemless Wine Glasses
Stemmed wine glasses are the classic, but stemless funny wine glasses make wine drinking an intimate affair.
1. Blood of my enemies Funny Wine Glass
No, it's not Halloween, but you can never go wrong with this blood of my enemies glass! Get your vampire-mode on with this hilarious gem. Sure you may not be up all night hunting humans (or at least I hope you're not), but you're likely to be staying up all night drinking anyway, and that's close enough!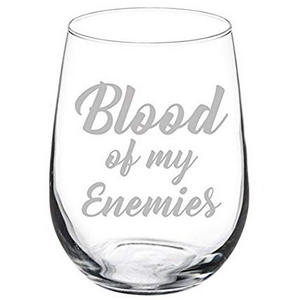 2.  You can't buy happiness Wine Glass
There's a wise saying, "you can't buy happiness" which is very true but you sure can buy things that make you feel happy — for example, an exquisite bottle of delicious red wine. Take a break from a stressful day while having a good laugh with this You Can't Buy Happiness But… wine glass with words to live for! It's happiness in every sip!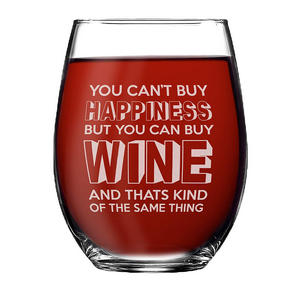 3. It's Wine O'Clock Funny Wine Glass
Do you know what time is it? Yup, it's WINE o'clock, time for some wine.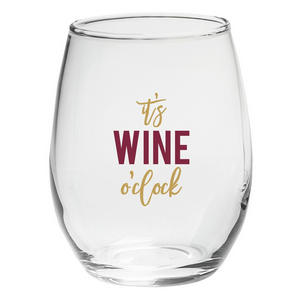 4. Funny Wine Glass Set Wine Glass
If one wine glass isn't enough for you alcoholic, how about four? This wine glass set has four unique funny wine glasses in them: salute, every hour is happy hour, cheers, and when in doubt more wine. This is a pretty good housewarming gift and birthday gift for a friend or coworker.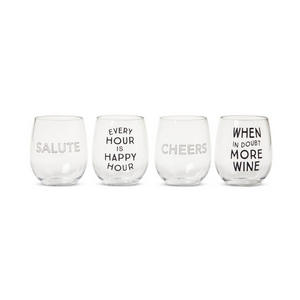 5. Wine because punching people in the face is illegal Wine Glass
Wine keeps people from harm, even though it's basically saving them from you. We all have those people we're least excited about, get rid of that pent up anger and drink until you can tell them how much you love them! This comedic glass, Wine because punching people in the face is illegal, is dishwasher safe, so you can wash it without fear of damage!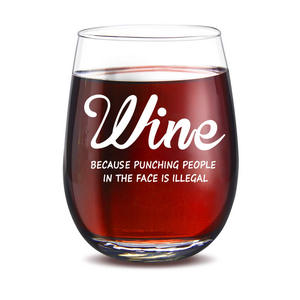 6. Definitely Earned This Wine Glass
It's been a long day (or maybe a long week), you have definitely earned this moment of peace to sip on some adult grape juice.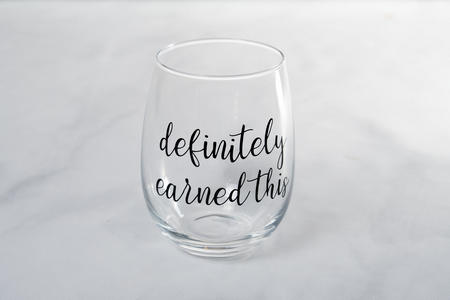 7. Awesome Water – Gold Letters Wine Glass
Take the quote "it's like water to me" by heart with this amusing wine glass! The Awesome Water glass comes in with the quote printed in metallic gold so that others are sure to see your conviction!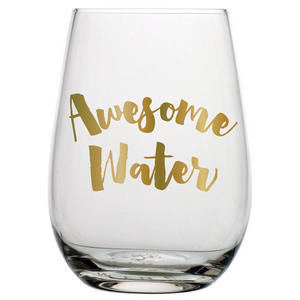 8. Because Kids Wine Glass
Whether they ask you or not, the question a lot of people might have about you is "why do you drink so much?". Well, there is no better answer than this — because kids. This wine glass perfectly curves into your hand to prevent spillage and to provide you with the most comfort while drinking. No need to tell people what your life is like, now people will get the idea before they even ask! Excellent funny wine glasses for moms.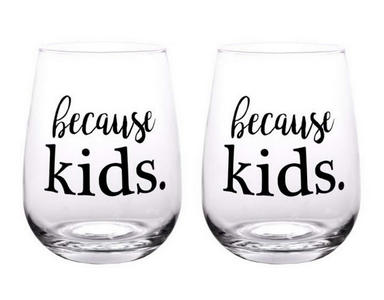 9. I Will Drink to That Wine Glass
The best drink to drink to match any celebration is wine, but what if there's no occasion? Worry not, you can enjoy the little things and celebrate anyway! Your dog learned to sit? Celebrate! You were able to lose a pound? Celebrate! You're 1 day sober? I'll drink to that… and that! Ok, that's a piece of terrible advice, but you get the idea.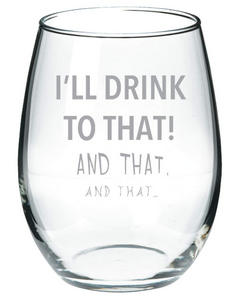 10. You Look Like I Need Some Wine Funny Wine Glass
See someone having a bad day? Do they look like they need something to cheer them up? Why not invite them over for a drink? The funny quote this wine glass comes should be a good conversation starter to set the mood. It says, "You look like I need some wine". If the alcohol doesn't cheer them up, the hilarious quote printed on its glass sure will!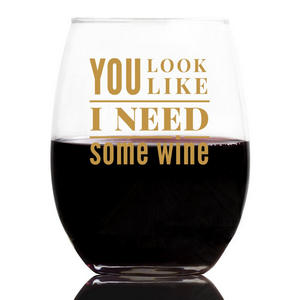 11. Because Work Wine Glass
Why do you need a drink at night? Well… because work. This is a fun gift for your co-worker and even your boss.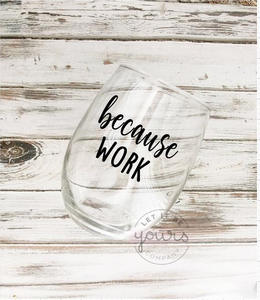 Reserved the 50s club only. Aweseom 50th birthday gift for mom. I'm 50, bitches, and life is awesome. Hands down the greatest funny wine glass for a 50-year-old's birthday.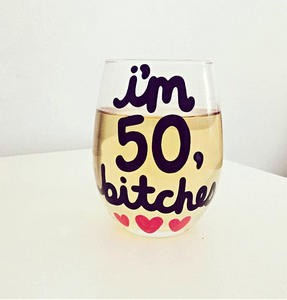 13. I Only Drink Wine on Days That End in Y Wine Glass
I may seem like I drink every day but that is simply NOT true. I only drink on days that end in y. Which is, coincidentally, every single day.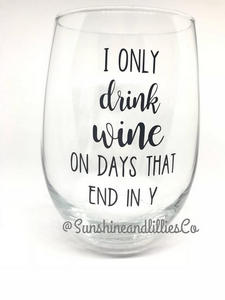 Other Resources Related to Funny Wine Glasses