Check out these interesting ideas for a double, triple, and even quadruple date. Discover 37 unique and fun date ideas that are perfect for two or more couples.
Double dates can be really fun for both new couples and married couples. For new couples, going on a date with another couple — that could be your BFF and her boyfriend — helps minimize the awkward moments that you may have with your partner in between conversations. For couples who have been in the relationship for many years, it makes dating fun again. Not sure what to do on a double date? Check out the ultimate list of best ideas for a double date.
Finding the right date night idea for one couple can be hard. Planning for double dates or group dates could even be more challenging. Though figuring out what activities to do on a double date can be confusing and nerve-wracking, forming a stronger bond with your partner while gaining new perspectives will be a fun experience. Below are some fun double date ideas that are perfect for two couples and more.
11 Best Double Date Ideas for Couples
Fun activities for couples to do on a double date. Perfect for adult, married couples — also works great for student couples who are in college.
Picnic at the beach. Perfect for spring, summer, and fall.
Cook a delicious dinner at home.
Explore Asian restaurants.
Go on a road trip without a specific destination.
Stroll to the bookstore and find reads for one another.
Watch a movie at the movie theater.
Compete against each other on the arcade and pick some plush toys from the claw machine.
Stargazing.
Movie marathon while eating takeouts.
Check out old photos
Invite them to your favorite spot.
Bowling
11 Adventurous Double Date Ideas for Couples Who Are Adrenaline Junkies
If you want a double date that challenges the mind and the body, the following date ideas will definitely get your heart racing while strengthening the bonds between both couples. These ideas are perfect for active men and women but are also suitable for couples who are looking for excitement.
Go for a hike. Exercise is good for you and being one with mother nature helps relax your mind.
Take a trial yoga class together. Already practicing? Practice couple Yoga side by side.
Rock climbing.
Learn some romantic moves in a dance workshop.
Play video games with bets and consequences for more excitement.
Visit haunted houses or just explore the abandoned building down the road during nighttime — urban exploration for the adventurous couples who are up for it.
Try out some self-defense classes.
Hit the gym or dance in a Zumba class.
If it's winter, grab your sled and slide from the mountaintop.
Watch sports games live at home or at the bar.
Participate in an Escape Room activity and work together for your escape.
9 Cheap Double Date Ideas: Things to Do for Frugal Couples Who Are Trying to Save Money
Being romantic doesn't always have to dig holes in your pocket. Try out the following ideas if you are on a limited budget. These cheap date ideas are excellent for teen couples and couples who are trying to save up for the future.
Hop on the bus and ride throughout the whole route.
Volunteer at an animal shelter — have a date that is socially impactful.
Visit open houses for sale and daydream of being able to live in it someday.
Take a walk through the city.
Put on an old cheesy music record and sway together.
Play poker at home. Texas Hold'em.
Charades. Because everyone loves playing charades.
Stay awake all night long talking about plans and dreams. Don't forget one or two bottles of wine to loosen the mind and the tongue if you are above the drinking age.
Take online quizzes about relationship compatibility – cherish it if the result is positive, ignore it if the result isn't what you expect — it's just a test anyway.
6 Good Double Date Night Ideas for Married Couples Who Have the Money to Spend
These date ideas are for you if you're looking to indulge yourselves in an extravagant night out. Get your cash and credit card ready for these activities below.
When you are planning a double date without worries about the budget, the activities listed below will definitely suit your desires and risk your money in exchange for a fun-filled double date.
Be high-rollers in a luxurious casino in Las Vegas.
Dine at a Michelin-starred restaurant in NYC. Think two or three Michelin stars. Classic and always expensive.
Bar hopping in downtown San Francisco to start the evening off — end the night by having a simple after-party in your own apartment.
Shop 'til you drop at the mall.
Hop on a flight. Attend an exclusive concert by a band you all love.
Dinner double date on a cruise ship.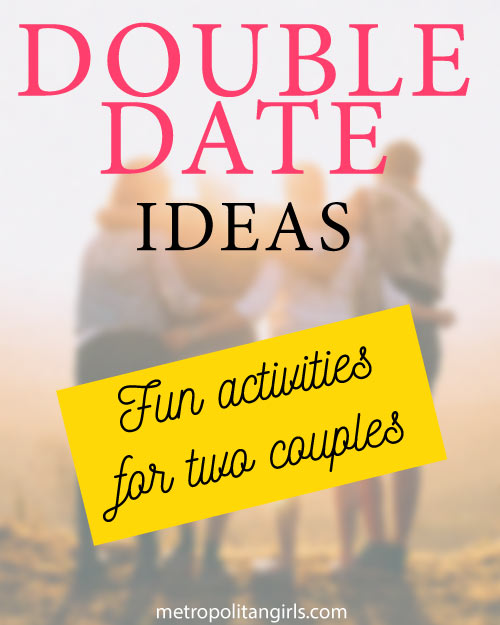 Articles Related to Double Date Ideas
40 Awesome Group Date Ideas – The Red Headed Hostess
20 Great Group Date Ideas – Project Inspired