Ice cream is an excellent date idea. Whether you are going on a first date or you're a married couple who has been married for twenty years, an ice cream date is a casual and fun date for you and your partner to spend some quality time together. Remember, ice cream is always a good idea.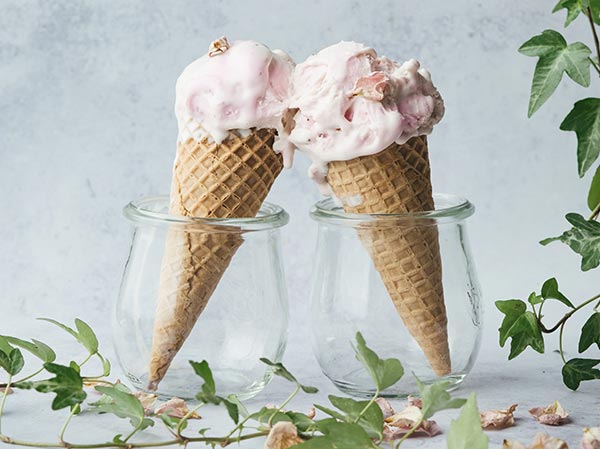 A Practical Guide to Ice Cream Date: Tips & Ideas
In this dating guide, you'll learn everything you need to know about ice cream date. First we'll take a look at what's great and what's not so great about getting ice cream as a date. Then we'll get into the nuances such as picking the best time and location, deciding what to wear, things to do, etc.
Pros and Cons
Advantages in General
Reasons why you should go on an ice cream date whether it's a first date or your 1001st.
Ice cream is awesome – everybody loves ice cream or a variation of frozen desserts. Even if the date gets boring and the conversation becomes dull, you'll still have a great time because ice cream.
It's cute – getting ice cream and perhaps sharing with your partner is such a cute thing to do whether you're 18 or 80 years old. It feels like you're in a Pixar film when the two of you share the same cone.
It's budget-friendly – ice cream is inexpensive. If you're looking for a cheap date idea then definitely give this date idea a try. Just avoid one of those overpriced high-end specialty frozen dessert shops.
It's always the right time to have ice cream – ice cream is the perfect treat to get no matter what time of the day or what season of the year. Morning ice cream? The perfect way to start a day with ample energy. Getting a sorbet when it's a winter wonderland out there? Well that's just you toasting to the snow and ice of the season.
Advantages as a First Date
Reasons why getting ice cream is the best first date idea.
You stay sober – you may get a little sugar rush if you have too much ice cream but other than that your thinking stays clear.
Your safety is guaranteed – the date is less likely to go haywire when you're in public and surrounded by the staff and other patrons. If you feel threatened by your date, you can always get help from the people nearby.
It's flexible – the date is a long as you want it. Stay for a second serving to max out your daily calorie quota or move on to other activities if the date is going well. Alternatively, if you're not feeling the vibe, simply make up some excuses after finishing your ice cream and bow out.
Ice cream says a lot about your date – everything from their favorite flavor ice cream to how they eat it provide a glimpse into their personality. Of course, you shouldn't be using these to judge them, but getting extra data points sure helps when you don't know your date so well.
Disadvantages
Below are some reasons and situations where getting ice cream may not be a good idea.
Unfriendly to people who are lactose-intolerant and vegan – people who have lactose intolerance can't digest ice cream and other dairy-based products very well. And vegans avoid eating food that contains animal products. Fortunately, there are many other frozen treats that do not contain dairy such as soy-based or coconut-based ice cream, sorbet, and frozen yogurt (froyo).
High calorie – one of the reasons why ice cream is so satisfying to eat is its fat and sugar content that give its creamy texture and sweet taste. Sugar and fat are packed with calories–that means you're more likely to gain weight if you don't find ways to burn those calories!
It can get messy – unlike coffee that stays liquid, ice cream melts. And when it melts it drips and that goes to the table or your hand or your clothes. The solution? Avoid cones. Go with a cup or a bowl instead. Personally, I love cones and licking and biting my ice cream. But eating out of a cup with a spoon is a good tradeoff if you want to avoid creating a mess.
Next, let's take a look at some planning tips. Getting ice cream doesn't really require any sort of extensive planning, but here are some things you can do to make sure that the date goes smoothly.
Time & Location: When and Where to Have Ice Cream
What's great about ice cream is you can have it anytime, anywhere. An ice cream date is even more flexible than a coffee date–because eating ice cream in the evening doesn't give anyone insomnia. So you can choose to do it in the morning, evening, or noon. In terms of season, ice cream helps to cool you down in summer. But it's just as fun to have ice cream on a cold winter day–in fact, some believe that wintertime is the best time to get ice cream. In other words, it's never not the right time to get ice cream.
As for location, I recommend three types of venues:-
Ice cream parlor – perfect meeting place for a first date. As mentioned earlier, meeting at a public place like an ice cream shop keeps you safe. Also, isn't it cute that your first date happens at an ice cream shop? Besides, you get dozens of ice cream flavors to choose from (31 flavors in the case of Baskin Robbins). There are also a variety of toppings and sauces available so you can customize your cup of ice cream based on your preference.
Park – meeting at the park for ice cream or a cup of coffee can be a fun second or third date. Just don't do that if you already had ice cream for the first date, that could cause some confusion. The best times to meet are when the flowers are blooming in spring, on a breezy summer day, or when fall foliage is in full swing.
Home – An at-home ice cream date night is one of the coziest and cutest things to do as a couple. Share a pint of your partner–food tastes better when you have to fight for it–or be courteous and corny by feeding each other. Avoid eating ice cream at the dining table, that's just a regular snack, not a date. Some locations to consider include the couch, balcony, backyard, or the nook area if you have one. There is so much you can do at home over ice cream and we'll talk more about that in the next section.
What to do on an Ice Cream Date?
So your date is here and the ice cream is served, what can you do besides eating ice cream? What do other couples do when they're on an ice cream date?
Things to Do at an Ice Cream Shop
Find out more about your date by asking open-ended questions. Here are some conversation topic ideas to get you started.
Talk about yourself and your interests. Remember, a conversation, and relationship in that matter, is a two-way street. On a first date, you want to find out if your date is interesting to you and let them find out if you're interesting to them.
Observe your date's interest level – any eye contact? Do they check their watch or smartphone at lot? Do they just straight out ignore you? Do they show any signs of impatience? If they seem visibly uninterested, a second date may be off the table.
Play games – I don't recommend this activity for a first date because it takes away too much attention from your date. On a first date, you should spend more time talking and get to know each other better. But other than that, some conversation games or two-player card games can be fun to play over ice cream.
Take photos – take a few snapshots of your meeting for memory's sake. Don't forget the ice cream! They deserve to be a part of your photos. #icecreamdate
Flirt – when a date is going well, flirting is usually a natural progression. If you are on a first date and you aren't really well-versed in the art of flirting, I'd say stick to verbal flirting and avoid touching your date–especially if you're a guy. But if you're comfortable and you're sure you have read the vibe correctly, you can add in some gentle, non-creepy light touches.
Eat ice cream! An ice cream date that doesn't involve eating ice cream is hardly an ice cream date at all. A successful date is one that both parties find enjoyable. So remember to really savor your ice cream.
Things to Do At Home
In addition to the activities that you can do outside, there are many more fun things to do at home. Below are some ideas.
Cuddle – cozy up under a blanket on the couch with a blizzard going on outside.
Watch a movie – television and food are made for each other. So bring up that movie you have always wanted to watch or that TV show on Netflix and devour a pint with your partner.
Dinner x ice cream – ice cream is always a great idea. Except when it's the only meal you eat. An at-home ice cream date feels complete when it's preceded by having a meal together. Cook together or order delivery for less hassle.
Play games – there are so many different types of games you can play at home: board games, card games, conversation games, and even PC/console games.
Outfit Ideas: What to Wear to an Ice Cream Date
Getting ice cream is a casual date, so you will want to wear something casual. Don't worry though if the date happens during lunch hour and you're in business attire, there aren't any fashion police to arrest you. Having said that, if you get to choose what to wear, casual attire is definitely more appropriate. That doesn't mean you should be wearing pajamas!  Below are some ice cream date outfit ideas for guys and girls.
Ladies
Cami top (crop or regular) and denim shorts or jeans. Complete the outfit with a comfortable pair of sneakers or wedges.
Sundress – a must-have in every woman's wardrobe. The perfect dress to wear on a summer day. For colder seasons, throw on a denim jacket and a pair of ankle boots.
T-shirt and shorts. Seriously. It's an ice cream date, t-shirts and shorts are perfectly acceptable. Just make sure you look tidy. Put on some light makeup and wear some jewelry if you want to look like you've put some effort into your look.
Gentlemen
T-shirt and shorts. Wear a clean t-shirt, one that hasn't worn out around the neckline. Apply some deodorant and spray a little bit cologne to freshen yourself up and boost your self-confidence.
White t-shirt and jeans. Go for a clean look that makes you feel comfortable with yourself and your date will feel that same way about your presence too. Throw on a hoodie or a bomber jacket when the days get cold.
Collar shirt and shorts.
Button-down shirt and jeans or shorts. This is as formal as you should get for ice cream. Go with a more casual-looking shirt.
For Inspiration: Ice Cream Date Pictures
Below are some interesting pictures we found on Instagram related to ice cream date and ice cream in general.
https://www.instagram.com/p/CEhyeiEJ0_o/
https://www.instagram.com/p/CEfFlLUH_My/
https://www.instagram.com/p/CEPZlUugXqd/
https://www.instagram.com/p/CC3blhEnv3B/
https://www.instagram.com/p/B11tlm4n-TZ/
https://www.instagram.com/p/CAIcsNgBsBb/