Leo, the fiery lion sign, is associated with some incredible birthstones. In this article, you'll find out what are the gemstones that has the audacity to represent the mighty Leo, as well as their meaning and symbolism.
Leo's Birthstones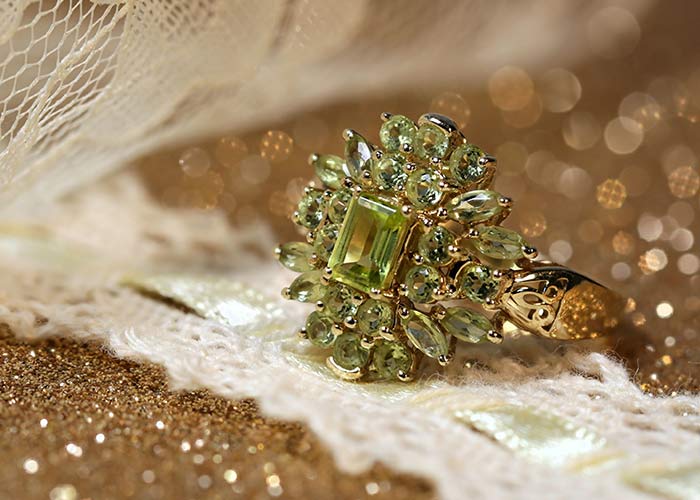 Leo is the fifth sign of the zodiac. It falls between July 23 and August
22. In the northern hemisphere, the sign of Leo covers the end of the summer season every year–a period of time typically associated with rain and unpredictable weather in many places.
Leo natives are fiery, ambitious, but generous-hearted. They are natural-born leaders and they are the life of the party! Other than that, the sign of the Lion is characterized by dominant energy, creativity, charisma, and a touch of dramatics.
4 Birthstones for Leo
Here is the Leo birthstone list along with everything you need to know.
1. Peridot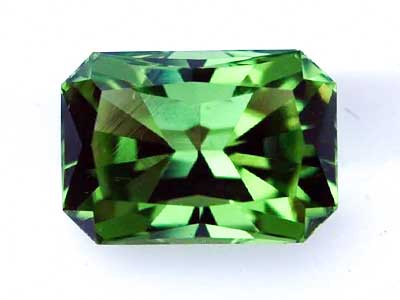 Photo: Cut Pakistani Peridot. Credit: Dave Ault @ Flickr
The first and main birthstone of Leo is Peridot. This gemstone comes in beautiful shades of green that are most appealing to the eyes. There also exist shades or streaks of golden-green, giving off the most soothing effect.
This may not be immediately apparent, but Leos are sensitive, often sentimental, people who care a lot about their honor and dignity. Peridot as a Leo birthstone appeals to the calm and confident side of Leo. It helps them boost their self-image and broaden their intellect. When it comes to relationships and friendships, Peridot increases their loving and caring instincts. It helps them keep sight of the important things and relieves their irrational stresses.
Peridot is also an August birthstone. That means people born in this month benefit greatly from this soothing and uplifting gemstone. It helps them shape their personality and achieve their goals and dreams. It is also known to boost creativity and feelings of joy.
The first record of this beautiful green gemstone is traced back to Ancient Egypt, on an island in the Egyptian Red Sea. Peridot is amongst the oldest gems in the world.
Read also: Leo Birth Flowers
2. Tiger's Eye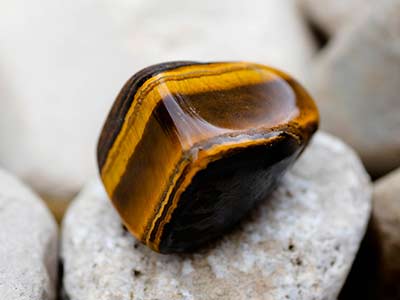 Photo: Tiger's eye – cube cut. Credit: Alvin Trusty @ Flickr
The Tiger's Eye works in perfect sync with the bursting energy and creativity of Leo. This golden to red-brown stone can act like a stabilizer and enhancer of energy. It grounds them and re-centers their thoughts.
Moreover, in Ancient Egypt, Tiger's Eye was first used as a protective stone. It has also been known to bring luck and fortune to the wearer. This means the Tiger's Eye is a stone of luck for Leo.
As it enhances the Lion's willpower, they can quickly heal from mental and emotional traumas, retaining their usual sunny self.
Tiger's Eye's chatoyancy and color are said to bear resemblance to the eye of a tiger, hence its name.
Read next: Best Gift Ideas For Leo
3. Ruby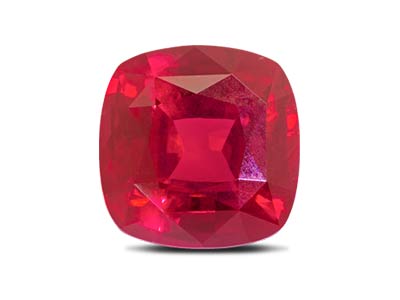 Photo: Ruby. Credit: Amila Tennakoon @ Flickr
The beautiful gemstone in shades of red symbolizes nobility and passion. It is a significant Leo birthstone as it purifies their spirit and increases their intuition. This dignified stone helps Leos in attaining spiritual wisdom and enlightenment.
Along with that, ruby's deep red colors indicate its inclination towards energies of pure love. Hence, if Leos use this gemstone to manifest love and passion, they are sure to see results. Furthermore, this stone boosts creativity and brings vitality into one's life.
Ruby is also a July birthstone, so it specifically appeals to Leos born in the month of July. Along with feelings of passion and spiritual wisdom, there exist energies of emotional strength in this gemstone.
In ancient times, Ruby was used as a symbol of invulnerability and power.
Ruby is also called the stone of kings for it was favored by kings, queens, and royalties throughout ages. Such regal stone is perfect for the king of the beasts Leo.
Read also: Careers for Leo
4. Onyx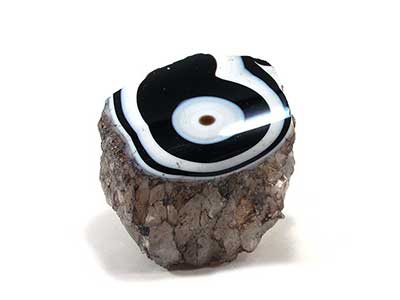 Photo Credit: Robert M. Lavinsky @ Wikimedia
Onyx is a protection stone for Leo. It keeps its owner safe from evil energies and negative emotions. It has a deep black color with white bands. Its appearance is bold, distinct, and unmistakable—adjectives that can also be used to describe the sign of the Lion.
This somber-looking stone is especially useful in times of loss, grief, or heartbreak. It absorbs negative emotions and keeps them from overwhelming you. One can say that Onyx acts as the spiritual support one needs in everyday life.
Moreover, Onyx also helps greatly with tough decision-making under stress or grief. For Leos, this proves to be immensely helpful since they can be prone to impulsiveness. Lastly, it keeps your mind more focused on the good parts of life rather than dwelling on disappointments and negativity.
Read next: Signs Leo Likes You
Conclusion
In this article, we've discussed four unique gemstones that represent Leo. As birthstones of the Lion, they represent different aspects of the sign and bring vastly different benefits. These gemstones are excellent gifts to get for someone who's born under the sign of Leo.
Birthstones by Zodiac Sign
Aries | Taurus | Gemini | Cancer | Leo | Virgo | Libra | Scorpio | Sagittarius | Capricorn | Aquarius | Pisces
Birthstones by Month
January | February | March | April | May | June | July | August | September | October| November | December