What are the gemstones for January? Why are these gemstones considered the January birthstones? Find out what are their origins, symbolism, and meanings for people who were born in the month of January.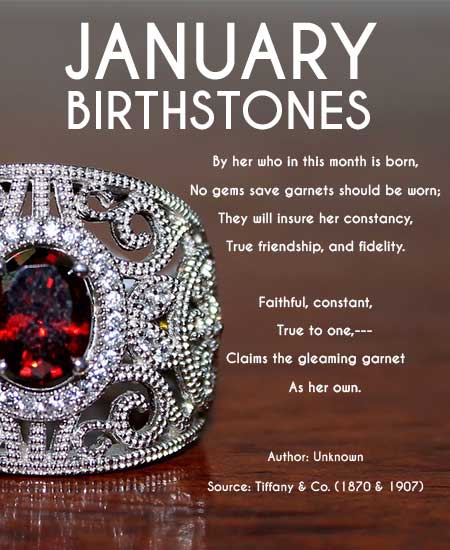 Poem Source: Natal Stones: Sentiments and Superstitions Associated with Precious Stones
The human being's fascination with gemstones is as old as the human race itself. It has been worn by people from different cultures across all epochs for a plethora of reasons. There are a lot of precious and semi-precious stones that are not only beautiful but also beneficial to their wearer. The introduction of the birthstone concept made it easier for people to select a gem that perfectly fits them. Titus Flavius Josephus, a Jewish Roman historian introduced the idea of selecting the precious stones that would represent the person born in the associated month. Here are the birthstones for January.
1. Garnet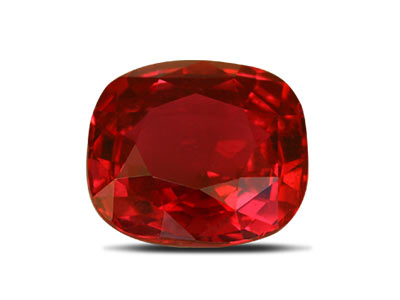 Photo Credit: Amila Tennakoon from the Gems of Sri Lanka album.
Garnet is both the traditional and modern birthstone for January. It is a calming gemstone used to promote mental health. Garnet symbolizes faith, cheer, and constancy. True to its symbolism, constancy, garnet had been constantly regarded as the birthstone for January since the 15th century. All but the official primary birthstones January has changed over the years.
It is believed that garnet can constantly balance the wearer's yin and yang energy. Most people opt to wear their corresponding birthstone for protection and to attract good fortune. The January birthstone offers more than that because it can also help increase productivity and promote good health–both mental and physical.
The history of garnet goes as far back as 3800 BC. Ancient Egyptians wore the gemstone around their heads for it was believed to bring good health.
The precious stone is also symbolic of lasting friendship and is believed to attract good karma. Although deep red is the common color of garnet, there are also other varieties and hybrids that come in different interesting colors including green, orange, red, and pink.
Garnet rose to popularity during the Victorian era. It is not an expensive gemstone but it offers a plethora of benefits to its wearer. When worn, the precious stone is believed to enhance your strength, regulate your heart rate, and even improve skin conditions.
The garnet is a common jewelry gemstone. It can be found in charms, necklaces, rings, and earrings.
Read also: January Birth Flowers
2. Red Zircon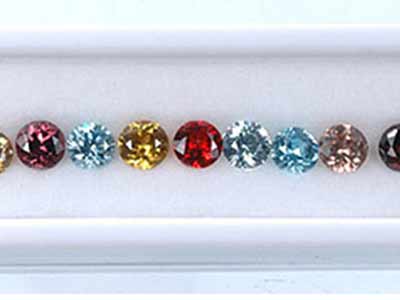 Above: a collection of zircons in various colors. Red zircon is in the middle. Credit: Robert M. Lavinsky
Red Zircon is a good alternative January gemstone. It is believed that wearing red zircon brings prosperity and wisdom. The gemstone is also worn to improve sleep and can also help in warding off bad dreams. It can help improve your concentration and it has strong healing energy. Furthermore, it is also a great gem choice for couples because it can bring harmony and love that leads to a happy marital life. So start hunting for matching red zircon jewelry if you're both born in January because they'll improve your relationship tremendously and they looking amazing.
Zircon is the oldest rock fragment that was ever discovered. The Jack Hills zircon found in Australia was dated to be 4.375 billion years old. It is as old as the earth itself and has survived the worst catastrophes and conditions the planet ever encountered. Zircons are sometimes mistaken as cheap replicas of the diamond but they deserve better attention than that. It is a very durable stone that you can wear on a daily basis without worries–knowing its indestructible nature. Zircons are a worthy addition to anyone's jewelry collection for it is a stone that has survived the test of time and it can also enhance its wearer's passion for life.
Similar to the garnet, red zircon is also a popular red gemstone used in jewelry making.
3. Black Onyx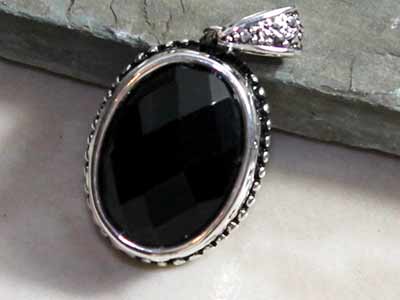 Above: a black onyx necklace pendant. Credit: User topzhang from Flickr.
An unorthodox gemstone for January babies is the black onyx. As discussed earlier, the garnet has been the January birthstone for centuries. Black onyx's deep black color is a stark contrast to garnet's signature red color. If the garnet is to align with January folks' energies, the black onyx is to complement them with a different but still positive spiritual force.
The black onyx is a powerful semi-precious stone that is commonly used as a talisman or amulet because it is believed to grant its wearer magical powers. Wearing a black onyx can help you in terms of decision-making for it grants instinctive feeling and self-control. The stone can also take away your negative energy and has been used to relieve stress and fatigue. One of the best things about onyx is that it can make an excellent personalized gift. You can have it carved with any figure that you please.
January is the first month of the entire year and it is when we can start our life anew. This makes the black onyx a fitting birthstone for this heraldic month for it is regarded as an ultimate stone of protection that can guide you spiritually and physically as you begin the new year. It is further believed that this stone preserves the memory of its wearer which makes it an excellent choice of stone for daily use.
Wrapping Up
In addition to the garnet which is commonly accepted as the January gem, we have also suggested two additional birthstones that are believed to be spiritually and psychologically beneficial to folks born in January. These two alternative gems are red zircon and black onyx.
Birthstones by Month
January Birthstones | February Birthstones | March Birthstones | April Birthstones | May Birthstones | June Birthstones | July Birthstones | August Birthstones | September Birthstones | October Birthstones| November Birthstones | December Birthstones
Birthstones by Zodiac Sign
Aries Stones | Taurus Stones | Gemini Stones | Cancer Stones | Leo Stones | Virgo Stones | Libra Stones | Scorpio Stones | Sagittarius Stones | Capricorn Stones | Aquarius Stones | Pisces Stones