There are many reasons to stay home for a date night. Maybe there's a thunderstorm or blizzard outside or (ahem) Covid. The truth is you don't need any justification to stay in with your date. Personally, as an introvert, I love the idea of spending some quiet and cozy time at home with my partner. Hanging out is fun but it can get boring if that's all you ever. That is why couples look for new dating ideas online. If you need inspirations for things to do on a date night at home, check out this list below. You'll find activities that you can do in all corners of your house from kitchen, bedroom, bathroom, living room, balcony, to the backyard.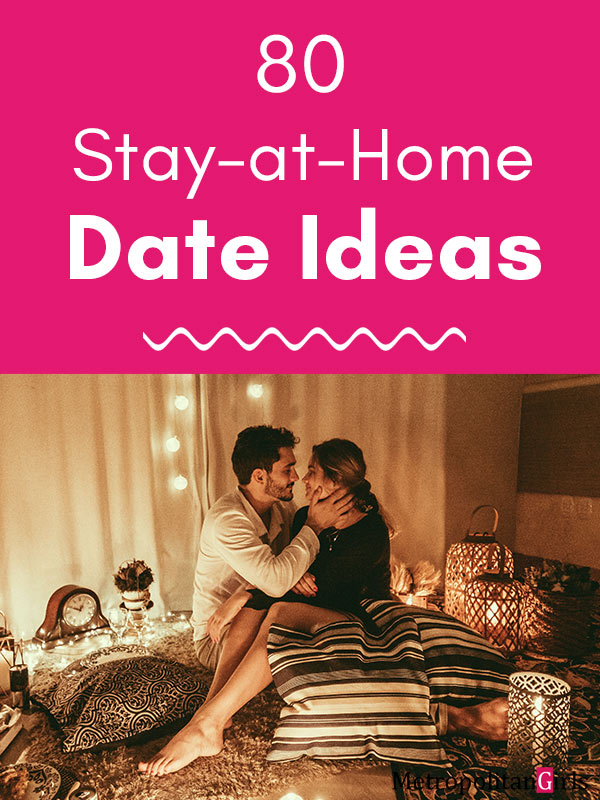 1. MOVIE MARATHON
Pick some movies and watch it like there's no tomorrow. Most people go for popular franchises like Harry Potter, Shrek, Fast & Furious, etc. Others select their movies based on actor/actress, director, or genre. Complete your movie night experience by preparing some snacks and drinks. Some ideas include popcorn, hot dog, pizza, beer, and soda.
2. CHECK OUT YOUTUBE VIDEOS
Jump down the rabbit hole that is YouTube. Start by searching for a particular topic that interests both of you. For example, cat videos, funny clips, or 4K 60fps walk in Kyoto. Let the site's recommendation engine takes you from one video to another.
3. CREATE A TO-WATCH LIST
There are so many shows to watch on Netflix. But as you have experienced before, sometimes it's difficult to decide which movie to watch. Well, how about doing some research and creating a "to-watch" list of the movies, TV shows, and anime that you're interested in watching?
4. AT-HOME TREASURE HUNT
Provide clues that bring your date from one location to another in search of the final "treasure." Prepare and hide the treasure before the game. The treasure could be anything from a chocolate bar, a wrapped-up gift, to a piece of paper that says "the journey is the treasure after all." Organize a hunt for one another so everyone gets to play treasure hunter. Alternatively, just organize it for your partner. Follow along and take photos of his (mis)adventures and giggle like a maniac when he's stuck at a certain seemingly nonsensical clue.
5. EARTH HOUR
After dark, turn out the lights for an hour. Only aromatic candles are allowed. A dimly-lit room that smells like vanilla spell romance. Use this opportunity to enjoy a romantic dinner or get on the couch for some intense snuggling. Switch off your phones. Nothing ruins a romantic moment like a ringing phone.
6. PRETEND YOU'VE JUST MET
It happens to the best of us. All couples get used to each other eventually and everything becomes routine. This dating activity will help break the monotony. For this idea, pretend that the two of you are meeting for the first time ever. Establish some kind of backstory. Have you been chatting on Tinder? Perhaps you're at a coffee house and your partner caught your attention. Or just relive the actual moment you were meeting for the first time. Wear the same clothes, makeup, perfume, and see how it turns out this time.
7. ROLE REVERSAL
It goes without saying, you're usually you. But for this unique date idea, how about becoming your partner? At the same time, your partner will become you–behaving and talking like you. Hilarity ensues but it also helps you to see the way you're treating each other from an objective angle. In addition to being entertaining, perhaps you and your partner will also learn some relationship lessons from this activity.
8. DESIGN YOUR DREAM HOUSE
What does your mutual dream house look like? Will it have a minimalist theme or feature rustic design? Do you prefer a mansion or long to live in a self-sufficient tiny house? Discuss and negotiate with your partner. As an option, add in more realistic constraints such as a budget. Create a Pinterest board to curate and save your ideas. Use an interior design software to create the layout. The Sims is a fun game and an easy-to-use tool to build your ideal house.
9. PLAN A FUTURE TRIP
At home, there are various virtual tours you can participate online. But even if virtual-reality (VR) tech becomes prevalent someday, you're not going to be able to experience the food, weather, and the local culture. So start planning for a real trip now. Making plans together and having something exciting to look forward to keep a couple close.
10. CREATE YOUR OWN MUSIC PLAYLIST
Create a song list that is unique to the two of you. It'll be a private playlist accessible only by you and your partner. Add in songs that are significant to the relationship. Some ideas are as followed.
Hit songs when you started dating.
The song that the jukebox was belting out on your first date.
A song that you've slow-danced to.
For married couples, Songs that were on your wedding playlist
11. LISTEN TO MUSIC
Music is one of the best ways to set the mood. YouTube and Spotify are convenient and have virtually all sorts of music available. But there's certain elegance to be found in a turntable and the vinyl records that it plays.
12. SING
Sing along to your favorite songs. Do a Karaoke session at home with your partner. You will need lyrics and ideally music with the original singer's voice removed. Take turns to become each other's audience. But don't forget to sing some duets! Get childish and sing the theme song of a cartoon you grew up watching. Can't carry a tune? Neither can I! It doesn't matter. What matters is that you're having fun.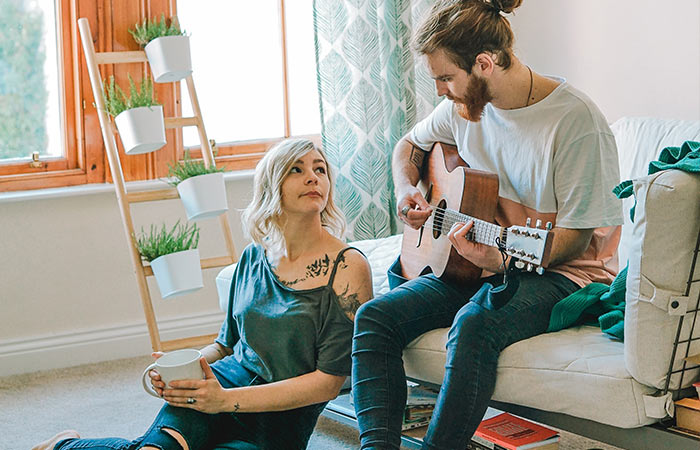 13. DANCE
Put on some music based on your mood. Immerse yourself in the said music and let the rhythm moves your body. Similar to the singing idea, enjoy doing what you do, and be proud of it. Don't worry about the little things like being off the beat. Since you're on a date, dancing with each other is a requirement.
14. LEARN NEW DANCE
Another idea related to dancing is to learn new choreography or new dance moves on YouTube. Both of you should participate. It'd be a unique experience, a fun workout session, and a great opportunity to giggle at each other's clunky movements.
15. GIVE EACH OTHER "PRIVATE DANCE"
The third and last dance idea will get you on Santa's naughty list. When the sun is down, dim the lights and put on some spicy music. Love songs, ballads, pop, hip hop, R&B, etc. Invite your partner to sit down and give him/her a private show of your best dance moves, done intimately.
16. PAINT AT HOME
Chances are you have some painting supplies sitting around that are yearning for attention. Put them to work. Play some music and crack open a bottle of wine for some sip & paint action with your partner.
17. PAINT OUTSIDE
On a beautiful day, leave your house for some fresh air and an en plein air painting sesh. Think balcony, backyard, front lawn, or your garden. As for the painting subject, it'd be more interesting if it's from the surroundings. For example, scenery, flower, plant, insect, pets, your partner, etc.
18. DRAW
For this creative date night, set up the mood and draw something. Follow a tutorial or let your instinct guide you. Draw an impression of your partner–but no peeking 'til it's done.
19. PRACTICE CALLIGRAPHY
Not everybody is into calligraphy but it can be a fun activity for couples to explore new interests together. Maybe you'll both find it intriguing and decide to turn it in a shared hobby.
20. TAKE PHOTOS OF EACH OTHER
Take turns to play the roles of a photographer and model. Use a DSLR or mirrorless camera for better quality images. But your phone camera will work just fine. The photographer gets to decide the theme. Depending on the theme, change into different outfits, wear thematic accessories, and put on a different style of makeup. Feel free to move the furniture around to achieve the vibe you're looking for, turn your living room or bedroom, or kitchen into a home photo studio. Like many date ideas on this list, it's fun only if you put in the effort!
21. CRAFT JEWELRY
Gather your materials online or go green by upcycling what you can find around the house. Make matching couple jewelry for yourselves. For example, rings, necklaces, and bracelets.
The following date ideas are dedicated to pet owners: dog owners, cat owners, and the others.
22. TAKE PHOTOS OF YOUR PET
Be a pet paparazzi. Stalk your pet. Follow it around and record its daily life with photography (and videos). Your real purpose, of course, is to capture its various shenanigans and funny moments on film.
23. START AN INSTAGRAM ACCOUNT FOR YOUR PET
If you're pet parents, your phones are probably brimming with photos and videos of your pet. Put them to good use, start an Instagram account to capture some fans for your pet and to interact with other pet owners. Ignoring the social aspect, Instagram is also a great way to preserve your pet's photos.
24. A DAY WITH YOUR PET
Spend some time with your pet. Think of it as an at-home group date. Play with your pet, spoil it with treats and massages. And of course, teach it some new tricks. Contrary to popular beliefs, pets other than dogs, like cats and rabbits can also be trained to do tricks. Personally, I've taught my cat to give me his paw and come to me when I call out his name. Other activities include playing frisbee with your dog, letting your indoor cat out (on a leash) to explore the surroundings.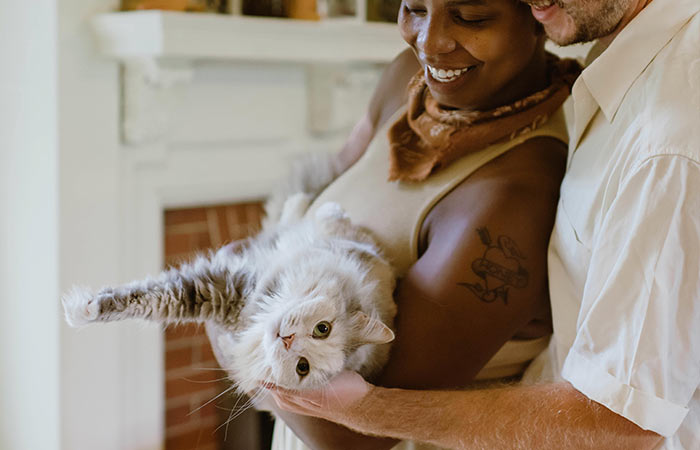 25. MEDITATION
In our ever-connected world, our mind is flooded with information. Meditation is a mindfulness practice that can help train our mind to process information better or block irrelevant information altogether. When you're meditating with your partner, you're sharing a moment of tranquility that makes you feel more connected as a couple on a higher plane.
26. WORKOUT
Some people say "people who sweat together stay together," find out if that's true by sweating it out on a home workout routine.
27. YOGA
Meditative stretching is what yoga is. Improve your physical flexibility together as a couple by doing some yoga at home. Follow these yoga videos on YouTube.
28. PLAY WRESTLING
No one is fighting for the WWE champion title, so go easy on each other. You're "playing" wrestling, not participating in a wrestling deathmatch. Choose a spot for the fight; on the bed or lay out some exercise mats in the living room. The carpeted floor may work too.
29. MASSAGE
Most people, yours truly included, are spending way too much time on their phones. The thing about using the phone for a prolonged period of time is everyone gives in to bad posture after a while. And bad postures cause muscle strain and pain. For this intimate idea, exchange massages with your partner. Take turns to provide an at-home spa experience to each other. Light up some scented candles or better yet–use some aromatherapy massage oil as part of the massage.
30. GIVE EACH OTHER MAKEOVERS
Chances are you've been wearing the same outfits again and again. For this fashion-related date night, get into each other's wardrobes and plan new outfits for various occasions. This is also a great opportunity to rediscover your favorite clothing from the depths of the closet.
31. PEDICURE / MANICURE
Provide care for your partner's fingernails and toenails. Do each other's nails. Use your creativity to create unique nail arts. For a more sensual experience, pamper your date by providing full services: cleaning, clipping off dead skin, exfoliating, trimming the nails, moisturizing, followed by applying nail polish.
32. GIVE EACH OTHER HAIRCUTS
One way to grow closer as a couple is by taking care of one another. One intimate idea is to give your partner a haircut. Another idea if is to dye each other's hair–bonus point if you're sharing the same color dye.
33. TRY OUT EACH OTHER'S PERFUME
Do things you won't normally do–just for fun and some laughs. Swap perfume collection for a day. Try them out, wear them on. Smelling different is a sure way to stimulate the olfactory sense.
34. IT'S HALLOWEEN!
Dress up as a ghoul, vampire, or cute nurse even if it isn't Oct 31. Don't just dress up, get candies, and bring out some Halloween décor. Watch horror films on Netflix and listen to autumnal songs. To feel childish, eat too many candies than your stomach can handle.
35. ORIGAMI
Bring cranes, lions, frogs, etc. to life by folding paper. The art of paper folding, origami, is a hobby enjoyed by many around the world. For this dating idea, find some tutorials online and some paper and start folding away with your partner. Many couples will find it interesting, but origami intrigues introverted couples the most. Spending some quiet time in origami turns out to be a serene experience that introverts appreciate.
36. TAKE A SHOWER TOGETHER
This could be a steamy sesh or a cute little thing to do in which you help wash each other's backs.
37. MIXED BATH
Wind down and relax in a couple's bubble bath. Light up some scented candles. Play some soft music. Crack open a bottle of wine. Just enjoy the intimate moment you're sharing and whisper sweet nothings into each other's ears.
38. BAKE
Participate in the alchemy of baked goods. Turn flour, eggs, sugar, butter, and other raw ingredients into delicious cakes, cookies, scones, and more. Baking together promotes teamwork in a relationship.
39. IRON CHEF – COMPETITIVE COOKING
Stir things up with a cooking competition. You're your own judges and the chef with the most delicious dish win. Set a theme for the competition. For instance, pasta, curry, salad, or burger.
40. OVERCOOKED – COLLABORATIVE COOKING
Have you played Overcooked before? If you haven't you should! It's a collaborative-cooking video game and it's fun to play with your partner. For this idea, you'll be doing it in real life. In contrast to the previous date idea, this activity is about collaboration. Find a recipe online or try to come up with a new one yourselves. Work as a team in the kitchen to cook up an exquisite dinner.
41. PLAY BARISTA
Enjoy the art of making coffee. Try your best to brew the best cup of joe. Research and study coffee online. Decide the brewing method: French press, AeroPress, drip, Espresso, etc. Grind the coffee beans to the right coarseness based on the brewing method. Then let it brew and taste the coffee together. For coffee lovers, brew different types of coffee beans using different methods and do a blind taste test. Try to detect the subtle notes of aroma and taste in each coffee then compare findings with your date.
Another way to play barista is to handcraft your unique drinks that may or may not has coffee in them. For example, you could make a pumpkin spice latte, Belgian chocolate milkshake, and Boba Earl Grey milk tea.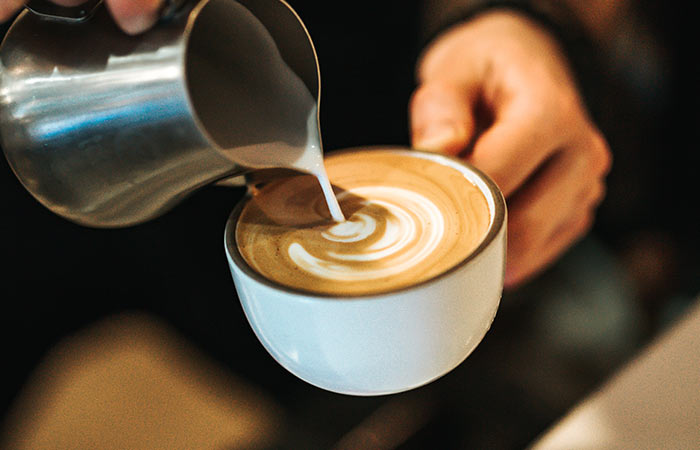 42. BARTENDER
Unless you're planning to pull an all-nighter, for a date night that happens in the evening (or late night), you would probably prefer beverages that don't cause insomnia. Instead of playing barista, go for her after-dark cousin–the bartender. Create and name a unique cocktail that belongs to you and your partner. Try different combinations of liquors, juice, syrups, and herbs.
43. WINE MAKING
Learn the steps to brewing wine and make your own wine at home.
44. GET TIPSY
Once in a while, it'd be fun to enjoy some beer, wine, or other alcoholic beverages with your partner. Wind down, relax, and just hang out.
45. FONDUE
Indulge yourself in the cheesy richness of fondue. Dip veggies, fruits, biscuits, and other foods in thick, melted cheese packed in flavors. Not a big fan of cheese? Go for a chocolate fondue or a salted caramel fondue instead. https://www.delish.com/cooking/recipe-ideas/recipes/a51660/salted-caramel-fondue-recipe/
46. PIZZA PARTY
Organize a house party where you're the organizers, attendees, DJs, bartenders, and the cleaning crew! Come up with a theme for the party. Make up some excuse that calls for a celebration. For instance, Friday is worth celebrating. Throw a party because the weather is awesome today. Celebrate the beginning of August. You get the idea. Put up some simple decoration, nothing complicated–you don't want it to feel like a drag. Prepare some soft drinks and let's not forget some unhealthy amount of pizza! And you invite another couple over, this could be a fun, stress-free double date idea.
47. HOUSEWORK-FREE DAY
Nothing kills the mood like an overwhelming amount of housework. Plan a special date with your partner where none of you is allowed to do any housework for one whole day. Feel like someone needs to do the dishes after dinner? Stop! No housework today.
Below are some date ideas that you can enjoy in your living room.
48. LIVING ROOM CAMPING
Make space for a tent. Push the coffee table aside for extra space, but keep it around so you have a reliable surface to use. Pitch the tent in the middle of the living room. Prepare food and snacks: sandwiches, candy bar, etc. Since you can't make a campfire without burning the house down completely, watch TV instead. Some variants of this idea are pillow fort and blanket fort.
49. LIVING ROOM COFFEE HOUSE
Get some coffee brewing. Play some café music–just search these words on YouTube or Spotify if you aren't sure. Believe it or not, you can also find café noise on YouTube. Set up tables and chairs. If you have a chalkboard, write something interesting on it like "welcome" or "specialty of the day". If you're in your pajamas, get changed into a casual outfit that you'd wear to a café. This date idea is great for any time of the year but is particularly ideal for a rainy day or a snow day.
50. LIVING ROOM PICNIC
To actually feel like a real picnic instead of just regular you eating in the living room on the couch, there are a few things you need to prepare. First is a picnic blanket that makes your mind think of picnicking on sight. For example, checkered blankets with red-and-white or blue-and-white squares. Naturally, you and your partner will be sitting on the blanket that is laid on the floor. Second, a picnic basket. Woven baskets are the traditional choice and they look exceptionally picturesque. But feel free to use other baskets or containers if you don't have one. Prepare food and perhaps some wine. Bring some entertainment, like a card game or maybe a portable vinyl record player.
51. LIVING ROOM FINE DINING
This date is serious business. No giggling around because you're about to dine at one of the most exclusive restaurants in the world–a pop-up fine-dining spot in the middle of your living room. Push couches away or cover them up with solid-colored fabric. Temporarily store the coffee table elsewhere. Replace it with a dining table for two. Be creative if you don't have a table of this size. For instance, you can stack up cardboard boxes and drape it over with a gorgeous velvety tablecloth–just make sure that it's stable! Set the table according to fine-dining standards. Crack a bottle of wine or champagne. Needless to say, coffee mugs have no place here–wine glasses and champagne flutes only. For the food, cook it yourselves or order delivery. What matters is the food presentation and romantic settings. For that matter, don't forget to dim the lights, light some candles, and play some romantic love songs.
Now that we're done with the living room, let's head outside. Don't worry, we're still within the confines of your residence.
52. BACKYARD BBQ
Stock up on your favorite cuts of meats, veggies, fruits, and drinks for a fun backyard cookout. Get that grill fired up and prepare some ridiculously delicious barbecue food for each other.
53. BACKYARD CAMPING
When the weather is right, bring your camping equipment and set off for your backyard. Pitch a tent and stay for a night. Start a campfire if you're comfortable with the idea. The crackling sound of a campfire is soothing and makes camping feels like camping. Cook your dinner at the campsite. If that feels like a lot of work, at least treat yourselves to some s'mores.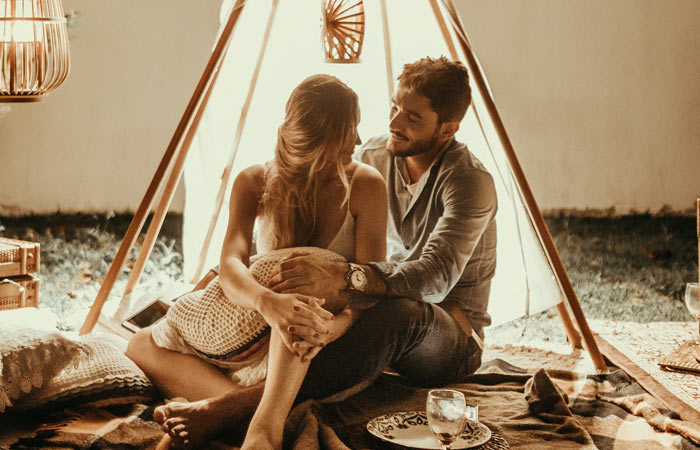 54. BACKYARD PICNIC
On a beautiful day, prepare some picnic food and go picnicking in your backyard. For those of you who have a balcony, you may enjoy your own cozy picnic date on the balcony instead. Similar to the living room picnic idea, it feels a lot more picnicky when there's a picnic blanket for to sit on when enjoying the food. Don't forget to take some beautiful photos of this unique date.
55. BACKYARD POOL PARTY
Don't have a swimming pool at home? No worries. Most of us don't either. Buy a large inflatable pool and organize a private pool date for yourselves. Since you're getting wet anyway, you may as well get childish and have a water gun fight. If the yard gets an ample amount of sunlight, you might be able to get some tanning going.
56. GARDENING
Tend to the garden as a team. Don't have a garden? Collaborate with your partner to start one. Grow flowers, vegetables, fruits, spices, and herbs in your own backyard on the balcony.
57. STARGAZING
For those of you who are lucky to live in an area with little light pollution, look up and check out the stars at night. Lay out a blanket or a sleeping mat and lay down side by side under the romantic starry night sky.
58. ONLINE SHOPPING
Shop 'til you drop without stepping out of your house. In the old days, catalog shopping was all the rage but nowadays online shopping is much more convenient and offers endless things for you to buy. Start by making a shopping list then task everyone to look for the best deals. On a tight budget? Just do online window shopping and keep in the bookmark things that interest you–you can always come back another day.
59. LOOK AT OLD PHOTOS
Dig out really old photos from some forgotten external hard drives. Try to ply open the Flickr account or Myspace account that hasn't been logged in for years for some aged photos. Look at the photos from various stages of your relationship. Another idea is to look at your partner's childhood photos. That's always a cute and fun thing to do.
60. CHOOSE PHOTOS FOR PRINT
While you're going through the digital photos, play the role of a curator, and select important photos for printing. Since you're likely to have way too many photos, set a realistic limit so that you're more selective.
61. START A COUPLE'S JOURNAL
Start by locating a good notebook, one that will last a long time. It should also look attractive, otherwise you might not want to come back to it. Personalize it by decorating the cover based on your taste. When starting a new journal, take turns to add some structure to it, divide the journal into various sections. For example, important dates, our favorites, bucket list/couple's goals, relationship quotes, and message board. On the other hand, you may prefer a digital journal because you'll be able to add different media to it and you can work on it from any locations. The latter is important for couples in long-distance relationships.
62. SPRING CLEANING
Get rid of things that you no longer use from the house. Gather them around, donate to charity, sell them off, or have them recycled. Since this is part of a date, make sure that it's fun and everyone is involved. Overworking will stress anybody out so focus on just one manageable area. For instance, the storeroom or your closets. Be sure to share with your partner when you find an item that brings back memories. Put on the dress you've kept from your edgy phase.
Honestly, writing about housework stresses me out. Let's move on to some fun ways for couples to pass time.
63. BOARD GAMES
Many board games are fun to play with two players. For instance, Monopoly, Catan, Exploding Kittens, and Splendor.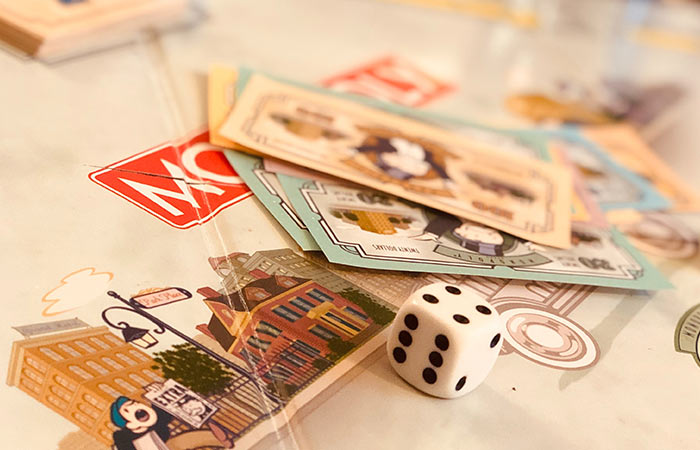 64. CARD GAMES
Play card-based games such as poker, Uno, and Monopoly Deals.
65. 2-PLAYER TABLETOP ROLEPLAYING GAMES (RPGs)
Tabletop RPGs are typically thought of as a group game. But there are many RPGs you can play with just two players. Even the famous Dungeons & Dragons (D&D) can be played with just 2 people (called a duet). Look up games like The Fox in the Forest, Patchwork, Codenames, etc.
66. CHESS
Play a game of chess against your partner. The winner does the dishes.
67. STRIP POKER
Spice up the night with some exciting poker and stripping.
68. JIGSAW PUZZLE
This is an activity that you can do over many evenings. Treat yourselves to a 1000-piece jigsaw challenge. Work together as a couple to get it solved. No pressure though. It's all about keeping your mind occupied and spending time with your partner.
69. VIDEO GAMES
There are so many fun multiplayer games to play on a gaming console or on the PC. Many couples love Stardew Valley–a cute and colorful farming game with pixel graphics. I've personally tried it and loved it. In this game, you can cultivate crops, take care of livestock, go fishing, mining, and even get married.
70. MOBILE GAMES
Sometimes the best way to relax is to just play with your phones. While you're at it, how about a couple's game night on mobile? There are so many fun multiplayer games you can play on Android or iPhone. Stardew Valley, which was mentioned above, can also be played on mobile devices. Other games to check out include Among Us, Draw Something, chess, Risk, etc.
71. PLAY 21 QUESTIONS
21 Questions is a conversation game. In it, the participants ask questions in order to learn more about each other. There isn't a strict format for this game. But here's one way to do it. Gather a list of questions–21 questions in total if you want to stick to the namesake. Then take turns to pick and ask a question from the list.
72. PLAY WOULD YOU RATHER
Another popular conversation game is Would You Rather. It's like 21 Questions except that the questions have to begin with "Would you rather…" Here are some sample questions:
Would you rather be at the beginning of time or the end of time?
Would you rather time-travel to the past or the future?
Would you rather get a tattoo on your forehead or your butt?
Would you rather be cooking or doing the dishes?
73. SHOW AND TELL
Kids do Show and Tell all the time. There are no reasons why you shouldn't do it. In fact, Show and Tell is a great way to get to know someone better.
74. MINI GOLF
Turn your house into a mini golf course. If that sounds like too much work, just the living room will do! Instead of hazards like sandpits and water in a real golf game, you're faced with different challenges instead. Challenges such as the golf ball might roll under the couch (couch hazard!) or get stolen by a cat (feline hazard!).
75. LASER TAG
Paintball and water gun fights are fun but they are messy when doing them at home. Laser tag is just as fun but without the mess.
76. DEBATE
Stimulate your brain cells and practice critical thinking by engaging in a healthy debate with your partner. Set some ground rules, no personal topics, no personal attack–neither of you wants an otherwise intellectual date night to turn into a gloves-off fight. Choose a topic then choose a side. Your choice doesn't necessarily have to reflect your actual opinion.
77. READ
When is the last time the two of you have read a book? An actual, physical book? Spend a quiet evening at home with your partner by reading some books. Stay away from your phones for an hour or two. No TV, no music either. Think of it as digital detoxing.
78. COUPLE'S GOALS
Come up with a list of goals you're hoping to achieve as a couple. Break them down into short-term and long-term goals.
79. PILLOW FIGHT
Play fighting on the bed or in the living room with the pillows.
80. CREATE YOUR OWN DATE IDEA LIST
Because everyone is unique, date ideas that are interesting to one couple may be boring to another. For that reason, sit down with your partner and brainstorm for activities that you'd want to do together. Remember to write it down.
And that wraps up the list of date night activities you can do at home. It's a big list, so I'm positive that you would find at least some helpful ideas from it. Have fun dating!