Teen Boy Stocking Stuffers
Previously we did a blog post on teen girl stocking stuffers. In which we shared 99 stocking filler ideas and the legend of stuffing stockings (hint: it has something to do with gold coins and St. Nick). If you're interested you can find out more from the link above.
Anyway, we thought we should do a post for teen boys.
When it comes to teen boys, we think that they're harder to shop for than teen girls. For one, boys usually don't use makeup, so we have to steer clear of that category. However, you will still find suggestions like face masks in this list since those are more common.
No longer a kid, not yet a man. Shopping for teen boys can be challenging but if you're willing to spend some time and effort, I'm sure you will find the perfect stocking filler for them.
Below we have put together a list of 99 ideas that will help provide some inspiration in your quest to find the perfect small gift to fill your sons, siblings, or nephews' Christmas stockings.
It's a pretty long list, so definitely not all of them will appeal to you. Feel free to take what you need and ignore the rest. Enjoy!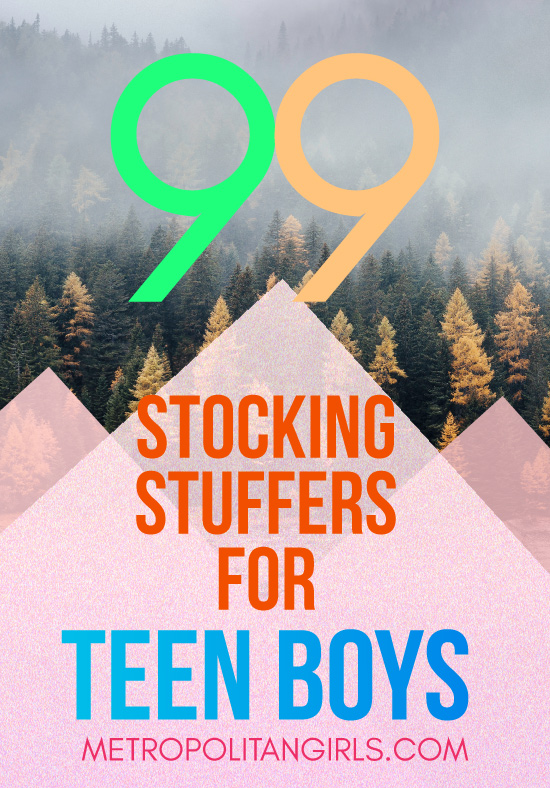 Stocking Stuffers for Teen Boys
His favorite candies – seriously, who doesn't like candies?
Power bank
Book
Magazine
Acrylic paint set
Movie ticket
Persevere inspirational coffee mug
Harmonica!
Journal/diary
Wallet
Lip balm
Bracelet
Hoodie
I Spend All My Time on Snapchat funny t-shirt
Sports shoes
Socks (socks-inception!)
Post-it notes
Fountain pen
Notepad
Belt
Winter gloves
Move Heaven and Earth shopping tote bag
Scarf
Sweatshirt
Flashlight
New phone!
Sunglasses
Necklace
Sunscreen
Lotion
Wireless mouse
Keychain
Watercolor paint set
Beer jerky
Soft drink
Card game
Board game
Shampoo
Toothbrush
Towel
Bookmark
Kindle!
Disposable shaver
Electric cordless shaver
Shaving cream
Perfume
Body spray
Stick deodorant
RC Car
Model kit
Steam gift card!
Phone case
Screen protector
Face Wash
Toner
Face mask
Nail trimmer
Game controller
Camera!
Memory card
Calculator
Scissors
Magnets
Playing cards
Poster
Wall decal
Cash!
Teeth whitening strips
Wireless speakers
Tumbler
Baseball glove
Golf ball
Guitar picks
Guitar string
Violin
Knee protector
Exercise ball
Exercise mat
Water gun
Swimming shorts
Postage stamps
Antique coins
Wristwatch
What do you think of these ideas? Did you find anything interesting? What do you think should be the 100th idea? Do you have anything to add? If you're also shopping for the main Christmas gift, be sure to check out these cool gift ideas for teen boys.
Let us know in the comment section below, or find us on Pinterest!
If you're looking for even more ideas for boys, check out these blog posts:-
Metropolitan Girls – 30 Tween Boy Gifts
The Spruce – Tween Boy Stocking Stuffers
Vivid's Gift Ideas – Christmas Gift Ideas for Teen Boys
PDF file of this teen stocking stuffer ideas article
Here's a few ways to keep this article for reference later:-
Save to Pinterest (use the image at the top of this article).
Keep this gift guide in your browser's bookmark
Download it as a PDF file by using this link: 99 teen boy stocking stuffers PDF
Stocking Stuffer Guides