Buying gifts for a teen guy can be challenging, but we're here to help! Discover more than 30 gift ideas teen boys love in this gift guide. Teen boys are notoriously difficult to shop for — but not if you cheat a little by referring to the teen boy gifts listed in this comprehensive gift guide.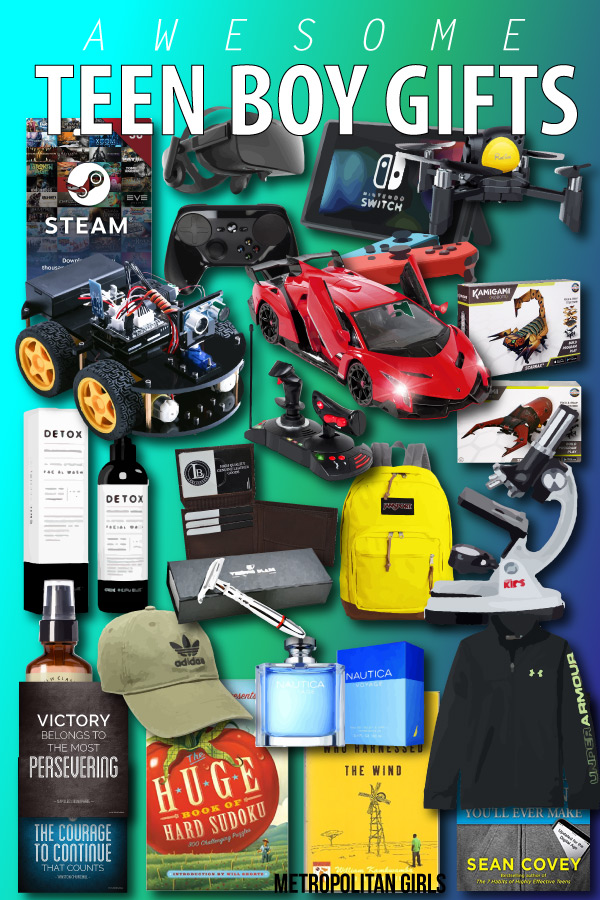 Related: 99 Stocking Stuffer Ideas for Teen Boys
Related: 36 Christmas Gifts For Teen Boys
We're targeting mid- to late-teens in this gift guide, which means teenagers who are 14, 15, 16, 17 years old. Early on when we started working on this teen guy gift guide, We tried to target all teen guys, but the difference between a younger teen and an older teen is just too big in terms of maturity. These ideas are great for virtually all occasions; for example, Christmas, birthday, and graduation. There are ideas from different categories, some are fun, some are inspirational, and some are sentimental. By the way, while these gift ideas were chosen for a teen boy in mind, the ideas work well for both genders depending on the preference of the teenager themselves. After all, every person is unique in their liking. Also, while this guide is written for adolescent boys, most of these are also really cool teen girl gifts.

Below are more than 30 gift ideas for teen boys that we think are pretty awesome.
Inspirational Gifts for Teen Guys
Inspiration is the fuel of the soul. Life is dull without some inspiration. On the other hand, an inspired life makes you feel more energetic and motivated. In turn, this energy and motivation help you to become more productive at achieving your goals. Below are some meaningful & inspirational gifts for teenagers that will keep them motivated and inspired.
1. Motivational posters
These motivational posters feature inspirational quotes from famous historical figures. The quotes come from Vincent Van Gogh, Winston Churchill, Henry Ford, and Napolean Bonaparte. The posters will go well on a teenager's bedroom wall or his table. At 8″ x 11″, these posters are on the small side, which makes it an advantage because they won't be cluttering your wall or tabletop.
2. Engraved compass with Henry David Thoreau quote
For most of us, the compass is not something that we commonly use in our daily life. However, it is not its function but its symbolism that makes it a great inspirational gift — a precious keepsake. The compass provides the direction, preventing you from getting lost. This compass goes beyond its expected function by featuring a famous quote by American poet Henry David Thoreau. The quote says, "Go confidently in the direction of your dream. Live the life you have imagined", and it's engraved on the back of the compass.
The compass features a vintage design. It comes with a leather case.
This bronze vintage-inspired necklace features a famous William Shakespeare quote that encourages virtue and goodness in an individual. These meaningful necklaces are also great for guys.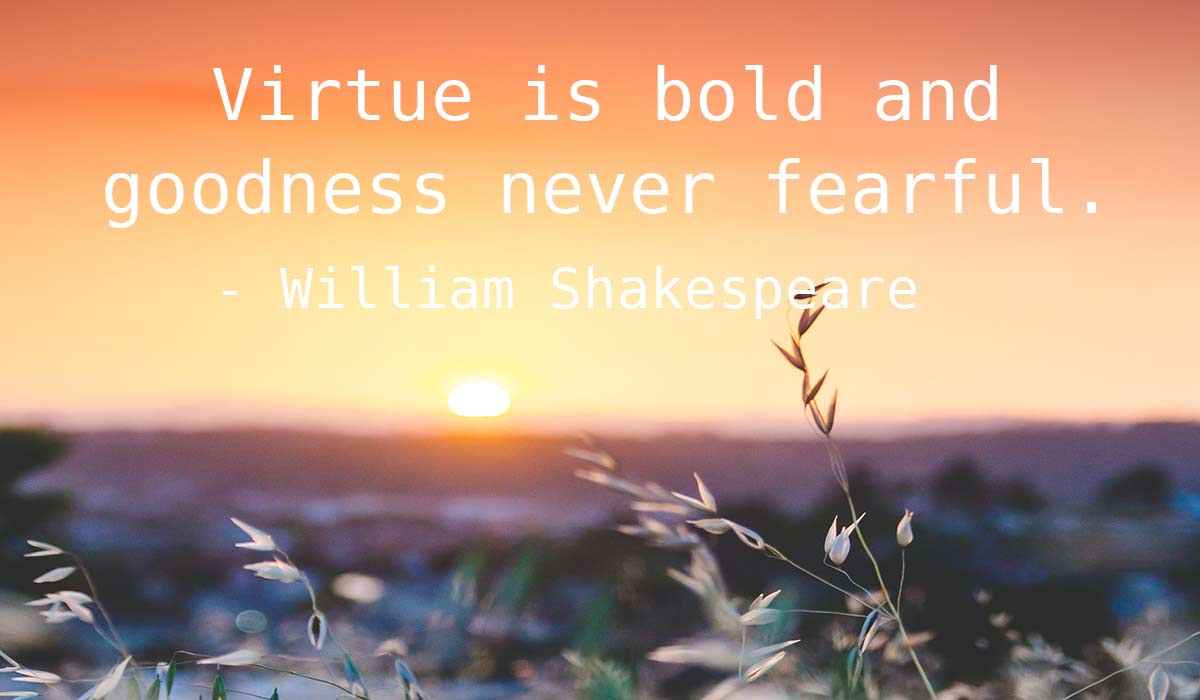 Without perseverance, many successes would have been failures. It's not too late to entice a teenager to become curious about perseverance. You can do this with the help of a simple mug that has a meaningful Confucius quote on perseverance. The quote says "Keep going. It doesn't matter how slowly you go, as long as you don't stop". Mugs with quotes are cheap but meaningful teen gifts.
5. Improve yourself with this self-help book: The 6 Most Important Decisions You'll Ever Make
Written by the bestselling author of The 7 Habits of Highly Effective Teens, Sean Covey (whose father is the author of The 7 Habits of Highly Effective People). This book is a useful guide for teenagers who are slowly transitioning into adulthood, during which they will inevitably have to make some life-changing decisions. This book keeps its teenage readers informed and prepare them for these moments. A must-read for teenagers.

Educational STEM Gifts for Teenage Boys
STEM gifts (science, technology, engineering, and mathematics) and other educational gifts are getting more and more popular. It's not hard to see why. These STEM gifts below are fun to play with.

1. DIY Drone
Build your own remote-control drone with this kit. Note that this drone does not have a camera attached. Check local aviation law before buying this aviation STEM gift.
2. The Boy Who Harnessed The Wind
An inspiring book. This non-fiction is about William Kamkwamba, a Malawi boy who built a windmill despite poverty and other circumstances. All that he had was knowledge, some scrap material, and an unwillingness to bend to obstacles.
3. Microscope
A beginner microscope is exactly what you need to get a teenager interested in microbiology without having to spend an arm and a leg. This microscope by AmScope features 6 magnifications from 20x to 1200x (microscope magnification guide). It also comes an accessory kit that has 52 components which include a Petri dish, specimen slicer, and tweezers. Also in the kit is a shrimp hatchery that you can use to hatch shrimp eggs (also included) for observation. All in all an excellent starter microscope kit. One of the best STEM gifts about Biology.
4. Smart Car Kit
One of the more engineering-centric STEM gifts on our list. This kit provides you with the material and instructions that you need to build a smart car. In the process, a teenager gains a deeper knowledge of mechanics, electronics, and computer programming.
5. Wooden Dinosaur
An interesting STEM gift which helps to improve problem-solving skill and logic. Build a wooden dinosaur that responds to external sounds, such as clapping. It's fun to get it built. Once it's complete, the dinosaur becomes an interesting and interactive home decor piece.
6. Build-a-Robot – Kamigami Terrix
Kamigami Terrix is a series of insect-robot building kits from Mattel. At the moment, there are four models available on Amazon (two shown above): scorpion, beetle, ladybug, and praying mantis. What makes these insert robots unique is you are building them from foldable plastic parts, as opposed to the more popular metal-based parts. Once built and programmed (via visual programming), you can then control these little insect bots for battle or just for fun.
Check out this video below if you're interested to see this STEM toy in action.
Athletic Teen Boy Gift Ideas
A cornerstone habit is a habit that, once acquired, improves all other aspects of your life. And exercising is one of the cornerstone habits. Exercising regularly helps improve an individual's health and productivity — which is important for one's academic endeavor, social life, and basically everything else. Encourage teenage boys to get more exercise with one of these cool sports athletic gifts.
1. Exercise Mat
A necessity for everyone. A good exercise mat, thick and durable, provides adequate support for your body, preventing unwanted injury when you exercise. With this mat, you can turn any space into an exercise dojo. With it, you can do push-ups, stretches, sit-ups, and more with added confidence.
2. Dumbbell Exercise Cards
Dumbbells are easy to get started but hard to master because there are just so many different ways you can make use of them. This set-of-2 dumbbell playing cards provide detailed illustrated instructions on how to do different exercise with dumbbells.
3. Dumbbell Set – Build Up Body Mass
A versatile piece of fitness equipment. Use it to build strength and tone your body. Become healthier and better looking with the right exercises that make use of a dumbbell.
4. BPA-Free Water Bottle – Stay Hydrated
Keep yourself hydrated with the help of a water bottle that is free of toxins. This water bottle is BPA-free and is ready to be your little agent of hydration.
5. Survival Cross Skip Rope – Keep Fit
This is not your regular skip rope from Walmart. Survival Cross skip ropes are used by professionals from all over the world to train for agility. The rope is designed to move fast and swift, providing you the challenge that you need but never got from other lesser skip ropes.
Fun Teen Boy Gifts For Gamers
Sometimes fun should just be fun — not educational, not anything — just pure unadulterated fun. These fun teen boy gifts below are the embodiment of fun.
1. Popular Gaming Console: Nintendo Switch
The internet is crazily in love with this Nintendo console. The console itself is pretty standard, but the games that you can play with it are just unbelievably fun. Some of the titles that have received overwhelmingly positive reviews are Super Mario Odyssey and The Legend of Zelda: Breath of the Wild.
2. For Advanced Sudoku Players: Huge Book of Hard Sudoku
I recommend this gift for advanced sudoku players. The sudoku puzzles in this book are rated hard so it definitely will be challenging. Puzzle-solving is fun and it keeps your mind active. You may not want to get this gift for beginners or people who are not exposed to this game before; the puzzles in there may be too difficult.
3. VR Gaming Headset Oculus Rift
Definitely consider this gift if your budget allows. Backed by Facebook, Oculus Rift is the virtual-reality gaming headset you need to play the latest, most cutting-edge VR games. With it, you can immerse yourself in the virtual realm that makes you feel like you're really in the game. It does need a powerful PC computer to work with, so make sure you do more research before making the purchase!
4. Steam Gift Card for PC Gamers
So, he is into PC gaming and you're looking to buy him some games. Problem is you are not familiar with the latest games and what kind of games he likes.
If you're in this situation, consider getting him a gift card that he can use on Steam store to purchase any PC games he wants. For the uninitiated, the Steam store is a digital online store that sells PC games. This gift card is digitally delivered through email, so you may want to print it out and put it in some envelope if you want to give him something physical on Christmas morning.
5. Steam Controller
Some games are more fun when played with a controller. Watch a video review of this controller here:-
6. RC Car – Red Lamborghini
Red Lamborghini RC car with doors that open upward (open like this, if you get the Silicon Valley reference) and LED headlights that are actually functional. This car is a 1/14 scaled replica of an actual Lamborghini with extreme details. Advanced two-handed remote controller for realistic maneuver. Other colors available: orange and silver.
Fashion. Apparel and Accessories For Teenage Guys
Education and games are important, but fashion sense is not something that a teen boy (and anyone else) should ignore!
1. Plain White Tees
T-shirts are a necessity in everyone's wardrobe. And they are also great gifts for teen guys. Especially when it comes to the plain white tees, these white t-shirts are a timeless classic that is never going out of style. It's easy to understand why: the plain white tee provides an extremely clean and casual look when worn on its own, and also it pairs well with virtually anything — hoodie, leather jacket, jeans, shorts, etc.
2. Jansport Backpack for School and Travel
When it comes to backpack, Jansport is one of the most trusted brands in America. The bag that we're showing above features a classic Jansport design with some remarkable twists. It features an outstanding color combination and has a suede leather bottom — which I think is a really cute detail. In terms of functionality, it has one main compartment which has a convenient laptop compartment inside, and multiple smaller compartments for you keep your stationery and other smaller items organized. There are myriad other colors available, so be sure to check it out. Padded straps for ergonomic support on the shoulders. Backpacks are good gifts for teen boys because of their usefulness and versatility.
3. Under Armour Jacket
This Under Armour jacket looks really cool despite its simplicity. But there are other jackets too look at if coolness is the only factor we are considering. This is a sports-friendly jacket. It is designed for both everyday wear and sports. It features what the brand calls a Moisture Transport System which wicks sweat and dries fast. Made of durable knit material. Full front zipper; easy to take off when you want to.
4. adidas Cap
Some people wear a cap as part of their overall outfit; some people wear it to protect them from the environment; some people wear it on their bad hair day. Whatever the reason is, it's clear that baseball cap is versatile in many aspects. This adidas Originals cap uses a comfortable material. The tighten mechanism it uses is a simple easy-to-use strap.
5. Wallet
Bi-fold leather wallet. This leather wallet looks sophisticated but is actually quite affordable. Bi-fold design with multiple card slots and a pull-up flap which is useful for storing your ID. It has a convenient coin pocket and a compartment for storing cash bills.
6. Timex Ironman Watch
Sporty, bold, and eye-catching. The Timex Ironman series watches are great for everyday wear and sports activities. Its boldness is not just for the looks, it is durable and has a water resistance rating of 100 m (330 ft). Some of its features include stopwatch, countdown, and alarm. Also, it lights up with the press of a button — perfect for use at night or in a low-light environment. These watches are cool gifts that teen boys will love.
Teen Gifts for Boys: Skincare and Cologne
Personal hygiene is one of the most important factors in keeping yourself likable and sociable.
1. Nautica Voyage Cologne for Men
Protect him from AXE. Get him his first grown-up cologne that smells great.
2. Detox Face Wash
An organic face wash that is perfect for a teenager boy's acne-prone skin. This charcoal facial cleanser also minimizes pores. Some of its ingredients are aloe vera gel and coconut oil.
3. No-Shine Lip Balm
Some guys would rather get cracked lips than applying lip balm on their lips. Some of them feel uncomfortable having shiny, glossy lips. This is why they need this no-shine lip balm.
4. Shaving Cream
Prepare your skin for a round of shaving with the trusted sandalwood shaving cream from Taylor of Old Bond Street.
5. Aftershave – protect his face from harm after shaving
A shaving session that doesn't end with applying aftershave on your face is as incomplete as Pizza without the cheese. Prevent your post-shaving skin from getting irritated and make yourself smell like sandalwood.
6. A Proper Razor
The right way to shave is with an excellent-quality razor like the Viking Blade's The Godfather series razor. Disposable shavers give you a clean shave, The Godfather razor gives you a clean shave AND makes you feel like you're ready to take on the world. It comes with five platinum-coated razor blades and a travel case.
Teen Boy Gift Guide Spec
These gifts above are ideal for teen boys, teenage boys, teen guys, teenage guys, teenagers, adolescents, tweens, tween boys, 14-year-old boys, 15-year-old boys, 16-year-old boys, 17-year-old boys.
Occasion: Christmas, birthday, graduation, just-because, Thanksgiving, Easter, appreciation,
Gift guide's target audience: mom, dad, grandma, grandpa, friend, classmates, best friend, girlfriend, teacher, teenagers
What do you think?
If you have any questions or anything to add, just leave a comment below. Thanks for reading.
For a smaller but affordable gift idea, check out our article on stocking stuffer ideas for teenage boys.
Teen Ideas