Discover the best Valentine's Day gifts your boyfriend will absolutely love and adore. Surprise your man with the perfect V-day gift that will make him smile like a happy little boy.
Best Valentine's Day Gift Ideas for Your Boyfriend
You will find gifts that belong to different categories — some of them are romantic while some of them excel at being practical. There are suggestions for coffee lovers and book lovers. I'm confident that you will find something helpful from this list.
Pendant Necklace for Guys
On this Valentine's Day, lovers express their love for each other. And love can take many forms. One of which is some encouragement. Encourage your boyfriend to pursue his goals with this meaningful pendant necklace from Dogeared. It's a small pendant with a cactus design — a symbol of perseverance and unyielding will. He can choose to wear it if he wishes to, but it can also be a keepsake for him — as a source of encouragement and a reminder of your love.
Funny Proud Boyfriend Mug
If it's practicality you're looking for, you just cannot go wrong with a coffee mug. But don't stop there, sprinkle some humor on it.
I Love You Sentimental Box Sign
This heartwarming wooden box sign is the perfect love reminder. If you and your boyfriend don't spend much time together, this gift is for you. Of course, even if you two are together 24/7, when it comes to love — the more the merrier.
Notebook / Journal
If he keeps a journal, he will love this thoughtful gift. Stunning exterior — leather cover available in various colors — accompanied by nautical elements such as the compass, anchor, and ship's wheel. The pages within the notebook are spiral-bound, which means you can add (refill) and remove pages as you wish. The default pages that come with the notebook are blank. Your boyfriend can also use this notebook as a sketchbook or personal organizer. Btw, check out this article on the benefits of journaling by HuffPost.
Portable Espresso Maker – Nanopresso – Valentine's Gifts for Coffee Lovers
As a coffee junkie, this gift is always close to the top of my wishlist. Chances are, your coffee-loving boyfriend will appreciate this amazing portable coffee maker too. With Nanopresso, you can enjoy an aromatic cup of espresso literally anywhere. All you need is some ground coffee, hot water, and apply some pressure.
Humorous Tee – T-shirt for Guys
A must-have fashion piece in everyone's wardrobe. T-shirts can be expressive and are generally a fun gift to receive. Below are two t-shirt designs that will thrill your boyfriend.
Most guys enjoy genital humor, especially when that humor also happen to portrait his genital in a positive light.
Vanilla humor about a man's love for the delicious muffin. While we're at it, throw in some reference to popular Power Rangers catchphrase it's morphin' time.
Drunk Stoned or Stupid – A Fun Party Game
A card game designed for parties. Not a requirement, but this game is best played with a group of close friends who are intoxicated (or stoned) to a certain degree. Draw cards from the deck, decide who in the group is most likely to … "wake up with half a burrito in bed" or "call dibs on people at party". It may sound kinda awkward now, but it warms up really quickly.
Paddywax Hygge Soy Wax Candle – Relax at Home
Guys enjoy aromatic and decorative candle too. This soy wax candle from Paddywax is an eye candy, it has this mind-calming look that blends into any environment. On the inside is a 2-wick wild fig and cedar scented candle that is hand poured in the USA.
Remind him of your love with a necklace
A romantic token of love. It's true, every love story is beautiful, but the love story between you and your boyfriend are always going to be your favorite. This pendant necklace features a simple design that emphasizes the message that it carries.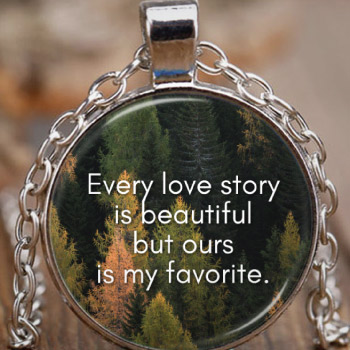 Rainy Day Fund Wooden Bank
Do you see some loose change at your BF's?  Help provide a home for those poor lost coins. Loose change can accumulate into a larger sum that could become useful on a rainy day.
Funny Boxers
It's always fun to receive undergarments from your partner. Especially when the undergarment, boxers in this case, is funny or erotic.
Stainless Steel Couple Bracelets
Couple bracelets are so romantic. The two of are always reminded of each other's love and intimacy when you wear these bracelets.
Customizable Light Box
Create a lightbox with your own love message for your boyfriend. It just looks so cool! 90 letters, numbers, and symbols to craft your message with. Simply slide the characters in. Powered by batteries or USB. This light box was featured in Bustle's under $25 gift guide.
Inspirational Vintage Compass with Thoreau Quote Engraved
Inspire and encourage him to pursue his goals. This vintage compass features a famous Thoreau quote, "Go confidently in the direction of your dreams. Live the life you have imagined". The compass comes in an antiquated leather pouch which goes really well the vintage theme of the compass.
Fossil Grant Sport Chronograph Leather Watch
Navy blue and rose gold — a breathtaking combination of color and material. The Fossil Grant watch is an irresistible dress watch that also works as an everyday timepiece. Your boyfriend will be impressed by this amazing gift from you this Valentine's Day.
Bookstore Candle for Book Lovers
Cozy. Bookstore. Old library. These are the feelings your boyfriend will get as he lights up this handmade soy-based candle. Wind down after a long day with the help of this earthy candle.
Tabletop Zen Garden – Decor
Rake sand. Arrange rocks in mind-stimulating patterns according to your preference. Add some greenery to complete the picture. Your imagination is the limit with this tabletop zen garden kit. This is ideal for people who spend a lot of time sitting at his table, but it also goes well on a shelf.
Pencil Holder
Help keep your boyfriend's desktop organized with this unique pencil holder. Made of wood. A home for stationery that looks like antiquated books from a century-old library. Who is this gift perfect for? A man who appreciates antiquity and books.
What do you think?
And that wraps up our V-day gift guide for the boyfriend. Did you find anything useful? What do you think is the perfect gift for your boyfriend this year? Let us know by leaving a comment below. Happy Valentine's Day!
Latest Boyfriend Gift Guide
More Ideas for Boyfriend