Are you looking for the perfect 21st birthday gift ideas for your boyfriend?
Not sure what to buy for him for his special day? No problem, we have rounded a list of 20 creative gift ideas for you to get some inspiration from. I'm sure you'll find something useful from the comprehensive list.
Check it out and let me know what do you think in the comment section below when you're done.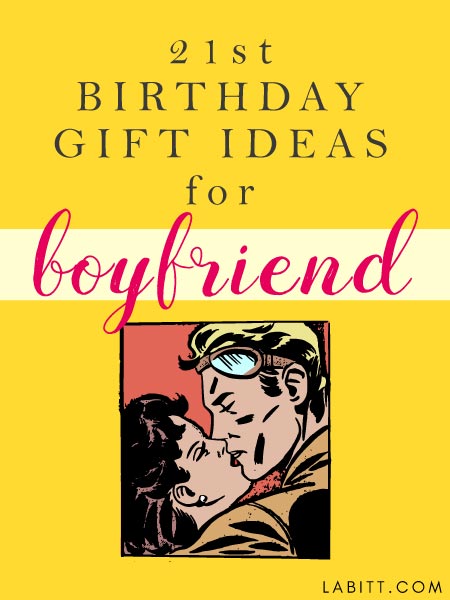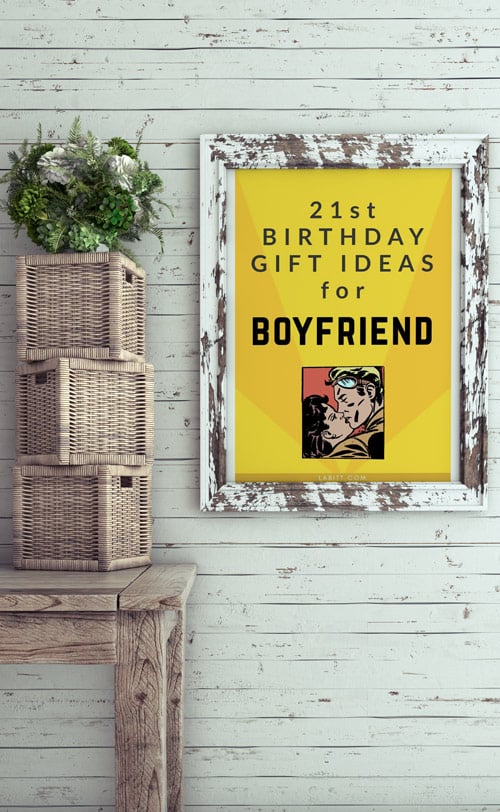 Crosley Executive Turntable
Have a journey back in time when you listen to the nostalgic sound of the vinyl record. Surprise your boyfriend with this unique and thoughtful gift on his birthday. With this vintage-style turntable from Crosley, you and your boyfriend will spend many romantic evenings together with the rich and warm music only a turntable could uniquely produce.
The turntable's belt-driven mechanism allows it to play at three different speed settings. This capability allows you to listen to virtually all types of vinyl records — new and old. Crosley's Executive series turntables also allow you to rip music from a vinyl record. The digitized music is transferred to your favorite digital devices such as your computer or your smartphone; while it's undeniable that the suitcase-shape turntable is travel-friendly, for the time when you feel like you want to listen to your favorite vinyl record on your phone, this feature will come in handy.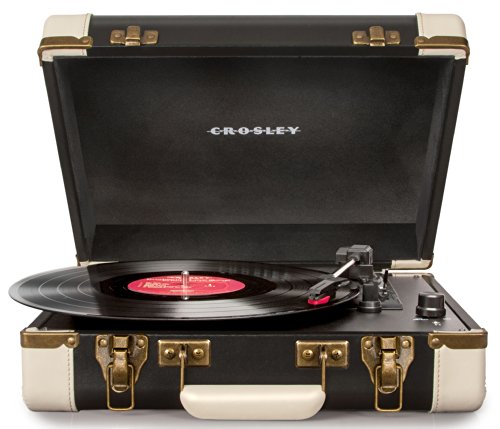 In terms of the design, its vintage suitcase design is absolutely stunning. Built with the finest details, the leatherette suitcase's clever use of brass-plated hardware adds to its overall sophistication. It is an excellent home decor piece that can breathe liveliness and nostalgia into the room it occupies.
There are other colors available, such as red and brown.
This entry-level turntable is perfect for a man who appreciates vintage items that are aesthetically pleasing. However, you may want to skip this turntable if your boyfriend is a true audiophile, as there are other more expensive, better-sounding, but less aesthetic turntables.
Retro Flip Down Clock
Time is the single most scarce resource we have. It's unstoppable and never renewable. Once it has passed us by, it's gone, forever.
That is why it's so important for us to be mindful of the minutes that are passing us by.  And what better way to appreciate time than a clock?
This unique retro-inspired clock tells time like no other clock does. It flips its minute cards for every minute that passes. And when minutes turn into an hour, the hour card gets flipped. The whole process leaves you with a vivid impression of the passing time — truly a great reminder for your boyfriend to spend time with the people we care about — with the girlfriend, for example.
The clock is battery operated. Its body frame is made of stainless steel which gives off a warm retro shine.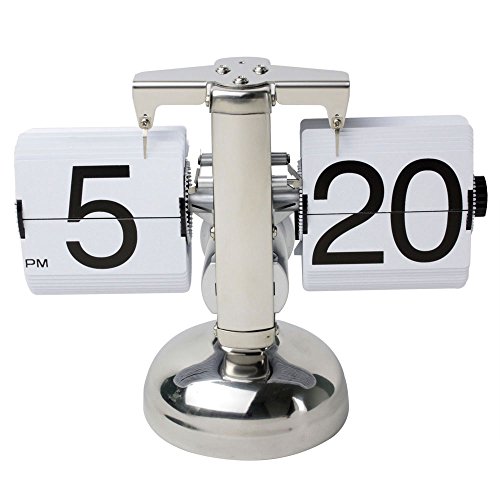 Knock Knock Vouchers for Lovers
Romantic vouchers for people who are in love. Celebrate love and intimacy on your boyfriend's birthday by getting him this thoughtful love voucher booklet. Its affordable $8 price tag proves that you don't need a lot of money to spice things up — unconditional love and some effort work wonders. This creative booklet provides 20 unique vouchers that empower your boyfriend to make vanilla romantic requests, for example, a candlelit bath. I'm sure he will appreciate this lovely birthday present from his beloved girlfriend.
If you're looking for something a little bit more naughty, I suggest that you check out my adults-only blog post 20 Sexy Gift Ideas for Him.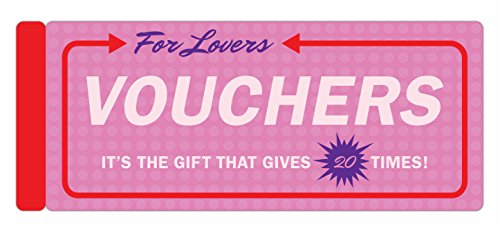 Kenneth Cole Risky Business Messenger Bag
Bold, stylish, fashionable. This Kenneth Cole bag has the look that speaks volumes without speaking. But don't be fooled by its polished exterior and affordable price tag, it is just as great in terms of functionality and quality.
Made of rich, full-grain cowhide leather that guarantees ruggedness while offers an irresistibly soft touch. It has a fully lined gusset and flap-over closure design. Its fully adjustable shoulder straps can be adjusted to your maximum comfort. The messenger bag offers a spacious main compartment with full-length zip pocket and two smaller front pockets for different storing needs. The amount of storage the main compartment offers is unparallel — you can easily store a 500-page book, a laptop, a notebook, and more in it, with space left.
This bag is absolutely versatile, perfect for both business and pleasure. Your boyfriend will love the versatility and the uncompromising aesthetic of this quality bag.
All in all this is a great bag, however, some buyers said that while the straps are adjustable, they couldn't shorten it enough for people who are slightly shorter.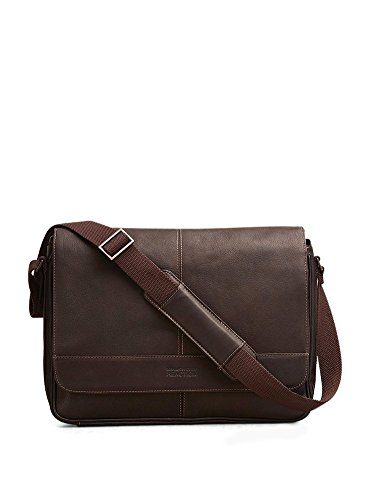 Fun Boxers Men's Boxer Shorts
Briefs or boxer shorts? Different men have different preferences. There are men who prefer briefs which minimize movement and touch, and then there are men who prefer better circulation and freedom. These funny boxer shorts are for the latter.
Allow your man to breath easy and gain unparallel freedom in the crouch area with this funky pair of boxer shorts. Eye-catching funny design: on the boxer shorts, it says "the man, the legend" with one finger that is pointing up and another that is pointing toward his manhood. I'm sure your boyfriend will appreciate this humor and compliment from you. Different color schemes and designs are also available, aside from the black and gray design shown below.
Made of 100% cotton — no synthetic material. Front button for convenience.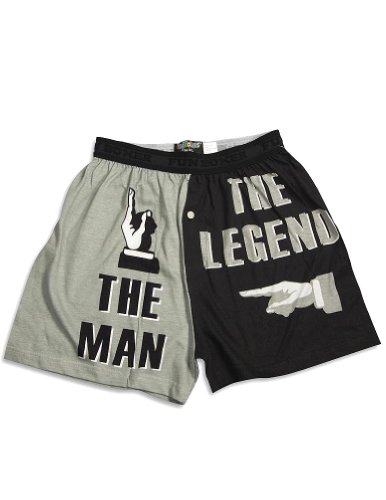 Poem For Boyfriend
Nothing gets more sentimental than a loving poem for the man you love. From contemporary American poet Genie Graveline, Once in a Lifetime is a poem that talks about finding your true love and how blessed and grateful you feel for having him or her. The lovely poet is accompanied by an equally beautiful watercolor illustration of a blooming garden in spring — with thriving plants and zesty birds.
The poem is quite compact in size at 8 inches x 10 inches, but love is about quality, not quantity, so is this best-selling poem, it is the message and thoughtfulness that counts. The poem arrives matted, ready to be framed and hang. Alternatively, if your boyfriend prefers, he can keep this memorable birthday gift from you in his drawer where he can keep it safe and private.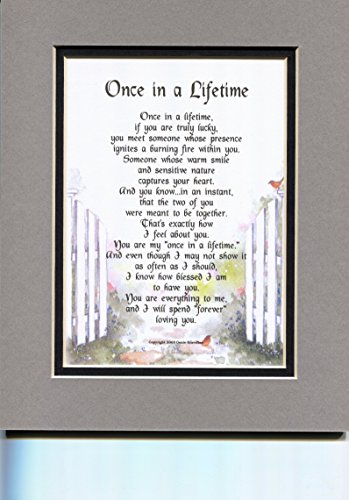 Best Boyfriend Ever Keychain
A small and simple gift that means so much more than its size and simplicity. Your boyfriend can carry this token of love with him every day and be reminded of the love and intimacy of you two share. It says "Best Boyfriend Ever" on the key tag. The key tag is made of actual wood.
Use it to make keys more findable, or use it to identify luggage, water bottles, and more.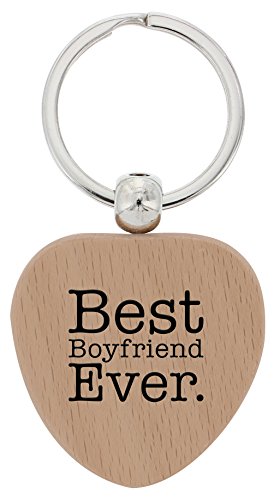 Don't Just Fly, Soar Home Decor
It's important to get inspired consistently. An uninspired man or woman is boring, dull, and lifeless; he is unproductive and lacks a stronger drive to move forward. Someone once said that the best partner in life helps you to become a better version of yourself, so help your boyfriend achieve greater heights by getting a reliable source of inspiration. Bodhi Paw's hand-painted quotes are perfect for consistently providing small doses of inspiration. Hand-painted by the cat-loving folks behind Bodhi Paw, every acrylic art piece is produced through tens of hours of dedicated hard work and love. And since it's all done by hand, they are all unique.
The specific wall art that I'm recommending here says Don't Just Fly, Soar in unique cursive lettering. Get out of your comfort zone and do great things. The background is a depiction of the galaxy in simple black and white with thousands of stars and some shooting stars that are gliding across the galaxy. At 8″ x 10″, the painting is perfect for his tabletop or bookshelf. You can also frame it up for the wall.
[Limited Time Offer] Get 10% discount when you use coupon code LABITT10 during checkout.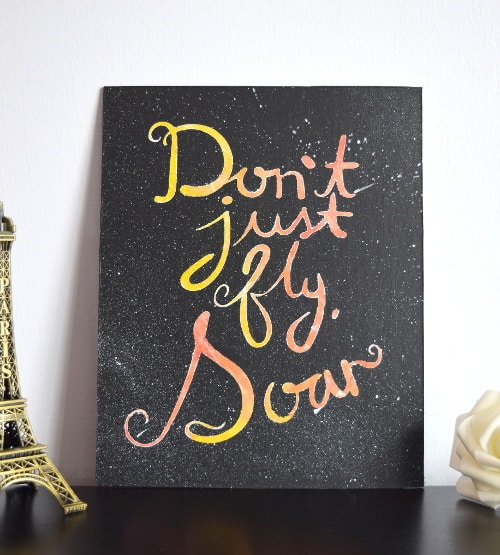 World's Awesomest Boyfriend Mug
On his birthday, show appreciation for his love and attention for you with this unique coffee mug. Let him know how important he is to you in a humorous way with the World's Most Awesomest Boyfriend mug. Light-hearted cartoonish design. Sturdy mug with sexy curved handle. It is capable of holding 11 ounces of coffee or other beverages.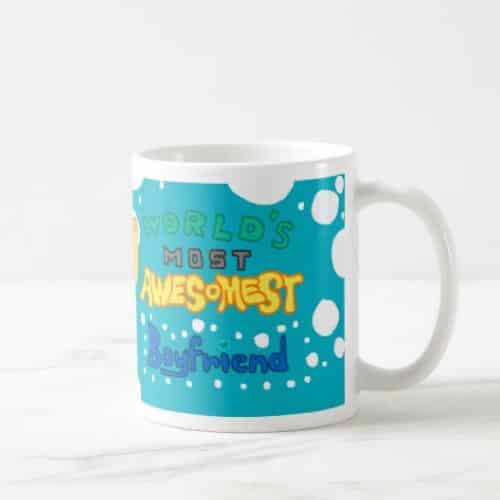 Steam Gift Card
If your boyfriend likes to play computer games, he is going to appreciate this thoughtful, well-researched birthday gift. How about a gift card that allows him to buy any game he likes? I'm sure that will thrill him.
Some information, Steam is an online digital game store where you can buy and download game instantly. And it's hugely popular, chances are your boyfriend is using it if he's a gamer, but it never hurts to do some detective work first! This gift card adds credit to his Steam account, which then can be used to make purchases. There are gift cards of different denominations available: $20, $50, and $100 — so you can choose based on your budget.
Note that this is a digital gift card, a code will be sent to you immediately when you complete the order. To make this gift more meaningful and less abstract, I would suggest that you get a nice birthday card and write the code inside together with your wishes for him.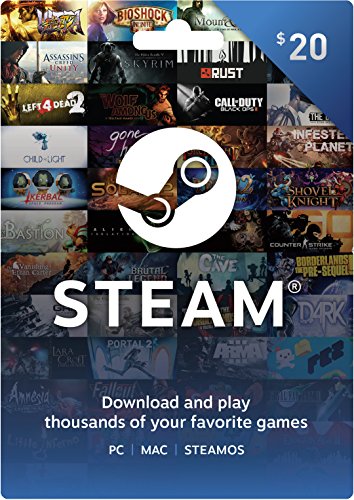 Funny Retro Vintage Tin Sign
This funny tin sign is perfect for a beer lover's birthday. It has a rustic vintage design that goes well with virtually any space in the house. The tin sign depicts an overflowing foaming beer that is deliciously golden in a sleek beer glass. The beer glass is shown standing against a soothing natural green background which makes the beer glass really pop in the foreground.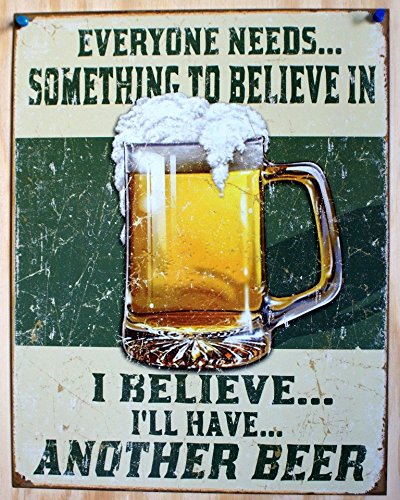 Best Cock Cook Ever Apron
Funny apron in zesty yellow for energetic men with a sense of humor. It says best cock cook ever on the apron's front panel. Recommended for a boyfriend who enjoys cooking. The apron is 24 inches long and 18 inches wide, which is just the perfect size for an average male. If your boyfriend is taller, there is also a longer version available which offers more protection. The apron is machine washable.
Shown below is the standard yellow apron, two other colors to choose from are khaki and white.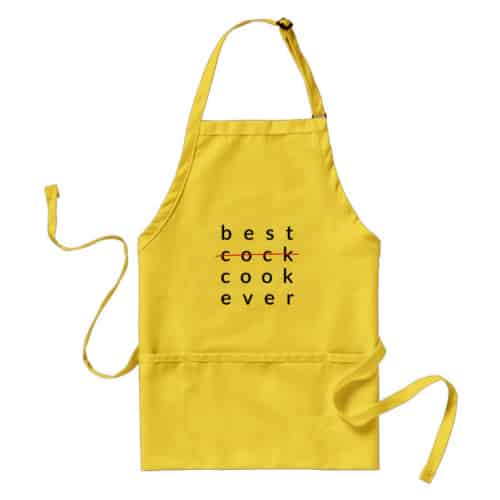 Primitives by Kathy Wood Box Sign
A quality wooden box sign from Primitives by Kathy. Based in Lancaster, Pennsylvania, Primitives by Kathy has some of the best-selling home decor products on Amazon. And these decorative items, including the box sign I'm showing you here, are well received for a reason. Sturdily crafted with natural wood, painted and distressed into a rustic retro design. The presence of this box sign instantly lightens up its environment.
Its compact size makes it especially suitable for surfaces like the tabletop and bookshelf. Its alcohol theme goes well with the kitchen top or on a bar table.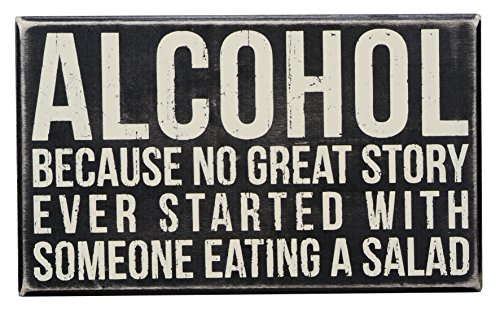 Zen Pencils
Motivate and inspire your boyfriend with this comic book that has inspired thousands of people. Zen Pencils is a hugely popular inspirational webcomic turned New York Times bestseller. Zen Pencils takes inspirational quotes from famous figures and illustrates them with comics that is both entertaining and engaging. Some of the famous figures that the series has covered include William Shakespeare, Isaac Asimov, and C.S. Lewis. If you'd like to start reading Zen Pencils, its website has provided a helpful page that shows you what comic to start off with. Started by Australian artist Gavin Aug Than in 2012, Gavin's journey with Zen Pencils is nothing short of inspirational by itself.
This book that I'm recommending is a 176-page compilation of some of Zen Pencils' best comics. With this physical comic book, your boyfriend can read up on his favorite inspirational figure anywhere he prefers.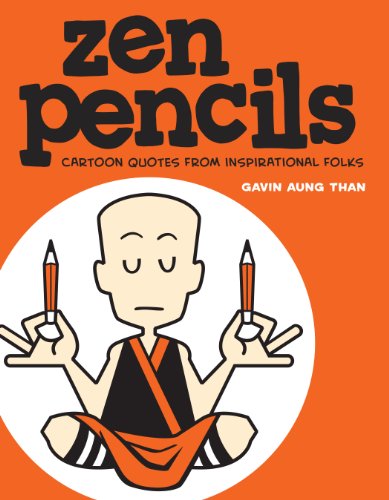 Timex Men's Weekender Analog Canvas Strap Watch
Punctuality is important for men and women who wanted to be respected at work, at college, or among friends. Nobody likes someone who is always running late to their appointments. And I'm sure you don't want your boyfriend to be late to your special dinner date night either. The Timex Weekender watch, while affordable, keeps your man punctual and helps upgrade his style at the same time. These benefits do not diminish the comfort of wearing this watch, on the contrary, this watch is very comfortable for the wrist. Its cheap price tag and great features seem suspicious at first, but looking at this watch's overwhelmingly positive reviews proves otherwise.
Quartz analog movement. White dial and a somewhat shiny bezel. The hour and minute hands are black for this design, while the second hand is gray in color. The strap is changeable, so you can change it based on your mood when you're wearing it out (alternative straps are sold separately). Besides the gorgeous orange-navy-blue design shown below, there are more than 15 other designs available. So be sure to check out all the options before you make the purchase for your boyfriend.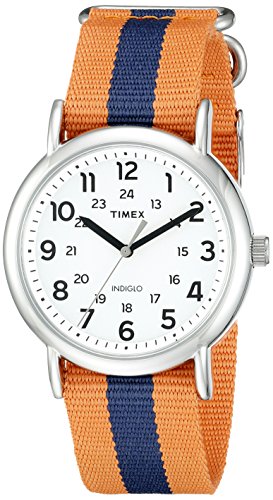 Imperial Barber Grade Classic Pomade
Style your hair for the occasion with the help of an Imperial barber-grade pomade. Extra holding strength that helps prevent your hair from messing up. Unlike the more traditional oil-based pomade used to be popular among the "greasers" in the 1940s-1950s, this pomade is entirely water-based. What does it mean? It means that it's non-greasy, low-shine (almost matte), and reworkable — simply apply some water to restyle your messed up hair. This product works great for all kind of hairstyles, although I would suggest this for short to medium-length (guys standard) hair only. It's perfect for the trendy undercut hairstyles.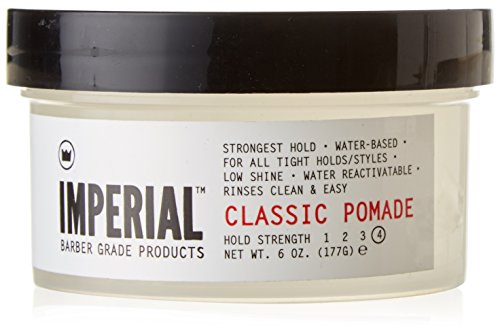 Gentleman Jon Complete Wet Shave Kit
A disposable shaver is great but shaving with one is a chore, it's not something for you to enjoy or be particularly proud of. Help your boyfriend discover a whole new possibility he never knew existed before with this extraordinary shave kit from Gentleman Jon. Upgrade the shave from a mere chore to a full-fledged Zen experience. The shave kit provides everything that you need in each of the shaving steps — from prepping to shaving to finishing up. It includes 6 carefully curated shaving accessories: safety razor, badger hair brush, alum block, stainless-steel shave bowl, shave soap, and Astra razor blades. All these accessories arrive inside a box that has a nostalgic vintage design.
Daily Power Scrub Facial Cleanser
A multi-purpose facial cleanser for men. Your boyfriend will love you more for this efficient cleanser. It is a face wash, toner, and exfoliator in one. Perfect for any lifestyle and skin type.
The cleanser is proudly made in the USA with 100% natural ingredients only; that includes the exfoliating beads that are extracted from plants — no worries about polluting the environment because these beads are biodegradable.
Rugged & Dapper is based in California.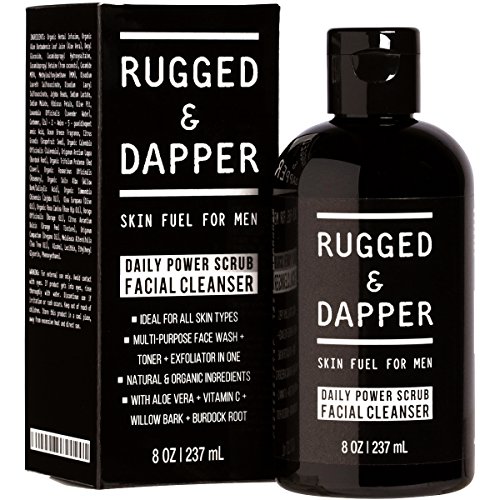 Timberland Men's Hunter Color-Block Wallet
Your boyfriend's wallet may be due for an upgrade. Consider this quality men's wallet from Timberland's Hunter series. Unique design that stands out from the crowd — distinct black and brown color-blocking with embossed Timberland logo on the lower corner of the wallet. Made of 100% genuine leather. This wallet features a trifold design with ID window, 8 card slots, and 2 bill slots.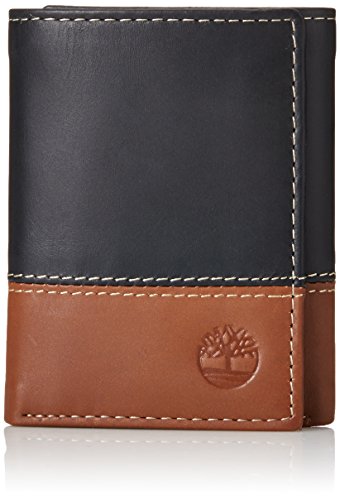 LLF 24K Gold Foil Poker Playing Cards
A beautiful eye-catching set of gold foil playing cards. I think this gift works for everybody but it is especially great for men who like to play poker or just like to collect unique playing cards. This is a standard deck of 52 playing cards. The cards are gold in color all around, both the cover and the number side are covered in gold with cool embossed patterns. Luxurious exterior aside, these cards are great in terms of quality too. They are scratch and stain resistant, waterproof, and durable.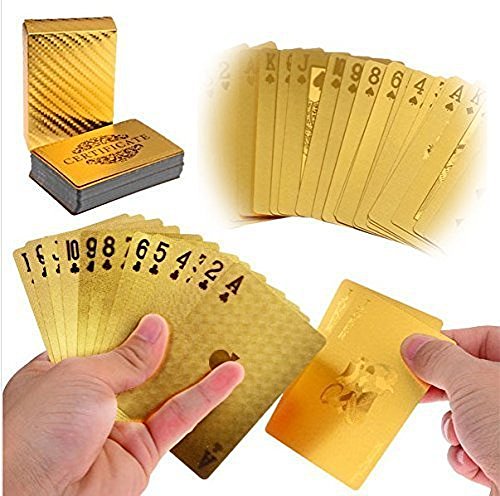 What do you think of these ideas? Did you find anything useful? Do you have other recommendations? Let us know in the comment section below.
Follow me on Pinterest for more great ideas for boyfriend like these.