Are you asking "what gift should I get for my best friend's birthday"? In this article, you will find a list of Unique Best Friend Gift Ideas just for you. The gift ideas range from mostly sentimental gifts to some funny gifts. They are great for your BFF's birthday, Christmas, Best Friend Day or just because! I'm sure you will find the perfect gift idea for your bestie here.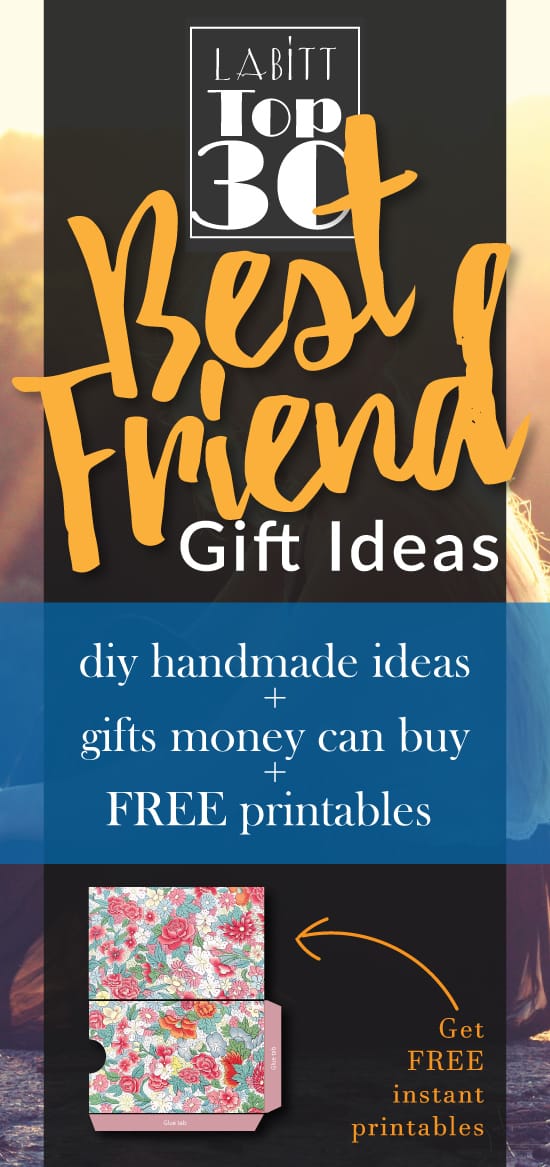 If you're looking for a DIY idea, we've also got you covered! You will find 8 unique DIY gift ideas in Section 2. In Section 3, you will find free gift card holder printables. They are in vintage floral design. I made them just for you and your best friend's special day. These unique gift card holders will props up the sentimental value in an otherwise impersonal gift card.
Sentimental Best Friend Gifts
Aristotle said that wishing to be friends is quick work, but friendship is a slow-ripening fruit. Friends are easy to find; good friends are harder to find, and best friend… well a best friend is not someone that you can just go out and find. It's the result of the fermentation of many years of friendship with a deep understanding and mutual support. Best friends are like stars, that's why you must treasure them and cherish the moments you spend together.
Whatever the occasion may be, surprise your best friend by getting her a nice sentimental gift. Show her how much you appreciate this bond between you.
We have put together top 30 best friend gift ideas for you to get inspiration from. Many of them are sentimental, some of them are funny, all of them are awesome. Your bestie is going to love them.
1. Dogeared "Maya Angelou" Flower Charm Pendant Necklace
A beautiful cut flower pendant necklace from Dogeared's The Legacy Collection. This lovely pendant necklace comes affixed on a sentimental keepsake card. On the keepsake card is a meaningful friendship quote by the late Maya Angelou that reads "No one can take the place of a friend, no one". Maya Angelou was a famous American poet and civil right activist. Your best friend will definitely love this sentimental gift. If you like this idea, you will love these pendant necklaces with meaningful messages.
2. I'm Grateful You're My Friend Poem
What better gift than a poem to show that you appreciate you and your best friend's friendship? She will be reminded of your friendship when she sees this sentimental poem. It is decorated with pretty watercolor floral graphics. This beautiful poem can be kept in your bestie's keepsake or as a wall decor after framing. The poem is 8″ x 10″ which is small enough for easy storage and travel — definitely a gift worth getting if she lives in a smaller space or likes to moves around. The font face that it uses has a Middle-Age feeling to it.
Just an idea — frame it before presenting it to your best friend; that way the poem is ready to hang the moment she gets the gift. I'm sure she'll appreciate this sentimental gesture.
Sometimes the best declaration of friendship is brutally honest.
Colorful and funky wine glass for your bestie. This wine glass is hand-painted in bold colors: bright pink, green, cyan, and etc. The word Sister is painted across the wine glass at an angle which highlights you and your best friend's closeness. There's definitely a vibe of sentimentality to it.
Great look aside, it is great for wine tasting or simply, as a room decoration. I think you should get at least a pair of these — one for yourself and one for your best friend. I think that would be a really cool and fun idea.
A lovely figurine that expresses the true friendship bond between two best friends. Beautifully handcrafted from 100% natural wood with the finest level of details. Simple and pure. The combination of its material (wood) and earth-tone colors allow it to bring a sense of tranquility to your best friend's house. It is a perfect decoration piece for the bedroom, living room, or study. A great gift idea for best friends who are like sisters.
6. Kate Spade New York "Best Friend Ever" Bangle Bracelet
Jewelry is another good gift idea for your best friend. Especially stunning jewelry like this sentimental bracelet by Kate Spade. She will definitely be thrilled to get this gold bracelet. Chic and classy. This bangle is engraved with sweet phrases like "best friend ever", "partners in crime","birds of a feather", "two of a kind" and more. Sentimental, maybe; cool, definitely!
7. Local Newspaper Best Friends Mug
A funny coffee mug for a best friend who has a sense of humor. Local woman named best of the best friends. Yes! That's right. Your best friend has been named the best best friend. Not that it makes any sense but it is cute though! Get your best friend this funny newspaper mug and have a good laugh together.
8. Double Heart Friendship Necklace
A friendship-themed jewelry piece your best friend will love. It's a pretty sterling silver pendant with unique double-hearted design. Two hearts are locked together as a way to depict the closeness between you. On the heart is a sentimental saying "True Friends Are Joined At The Heart". Definitely, a thoughtful item that your best friend will appreciate.
9. Friend Storyboard Frame
A memorable photo in a good-quality photo frame makes a great sentimental gift for best friend. Obviously, you will have to choose and print out the photo yourself, but when it comes to choosing the right photo frame, this photo frame below is the perfect frame as a friendship gift. There's a meaningful friendship quote on the frame that says "friends are the family we choose for ourselves".
There are two sizes available: 4R and 8R.
10. Good Friends Box Sign
A sentimental friendship sign that is straight to the point. It says "good friends are like stars, you don't always see them but you know they're always there". Made of wood. This sign can free stand or hang on a wall. It's not a big sign – roughly about 6″ x 2″. Its compact size makes it a great gift idea for a long-distance best friend.
11. Sterling Silver I Love You to The Moon & Back Pendant Necklace
For true BFF only. Show your bestie some love this unique pendant necklace. Part of the pendant looks like a crescent moon, the other part looks like a full moon. It says "I Love You to The Moon & Back". I think there's a certain sentimentality to it, but there's also definitely a dash of humor in this gift idea.
None of us can escape from life's many hassles, but at least we can take some time to sit back and enjoy a cup of rich coffee. That is the kind of spirit this humorous mug embodies.
13. You're So Awesome Journal
This is an active gift idea. This gift actually requires some amount of effort from you. To complete this book, you have to spend some time to write down the awesomeness about your friend. The payoff is of course — she will be touched by the warmth and love in the book.
14. I Think I Am In Friend-Love With You
A meaningful and humorous book for a true friend. I Think I Am in Friend-Love with You is a book that expresses the love for a friend. Filled with quirky illustrations and delighting content, this book will definitely make your best friend smile.
15. Friendship Is …: 500 Reasons to Appreciate Friends
An illustrated book about friendship by the Lisa Swerling and Ralph Lazar, famed illustrators and the authors of Happiness Is… . This book illustrates the best things about true friendship through cute light-hearted drawings and clever words.
To live a balanced and meaningful life, it's important to learn to not give a damn about certain non-essential things. This humorous tote bag feature a wild fox is a constant reminder for you to stay focused on what really matters in life.
17. Pink Android Robot USB Charger
This innovative gadget is a wonderful gift for a friend. It is a USB phone charger that has 4 feet data cable that connects to any devices with micro-USB port. The robot's eyes will light up when charging and it has movable arms. It charges battery fast and looks cute on a desk.
Also available in green, black and white.
18. Knock Knock Vouchers for Friends
Are you familiar with the concept of a love voucher? Well, this is a love voucher for friends! Claimed by its creator as a gift that gives 20 times (because there are twenty vouchers in the booklet). The vouchers classy and clean, and reject saccharine sentiment for real affection and utility. By giving your best friend this voucher booklet, you empower her to request desires from Honest Opinion to Treat for Dinner. I recommend this gift for true best friends only, if you can't commit to the vouchers inside, avoid this idea!
19. Friendship Tree Treasure Box
Friendship is akin to sheltering tree. A fantastic keepsake box made from pewter. Finely crafted in a timeless design.
20. Not All Who Wander Are Lost Necklace
Vintage-inspired brass pendant necklace that features a Tolkien-style quote, "Not all who wander are lost".
21. Sunny Day, Rainy Day Tote Bag
Sunny day or rainy day, I will always be at your side. A cute bag that many girls will love. Show your bestie your love and promise to support her whenever she needs you.
This is a multi-purpose, functional bag. Made from durable canvas.
22. 250 Fun Things To Do With Your BFF
If you're always looking for fun things to do with your best friend, we recommend that you get this book. This cool idea book contains 250 amazing stuff to do with your BFF! Most of the ideas inside do not require a lot of money, you just need to invest in some time — and what's better than spending some quality time with your bestie, am I right?
23. Dogeared Friendship Anchor Pendant Necklace
Remind your best friend of how grateful you are to have her with this lovely friendship anchor pendant necklace gift. Yet another quality product from the famed jeweler Dogeared, this friendship-themed piece is in the shape of an anchor. Made from sterling silver, dipped in gold. The pendant necklace is affixed on a keepsake card with a gold finish — definitely eye-catching. What's more, the sentimental keepsake card comes with a meaningful text paragraph about true friends — and how they are like an anchor that you can hold on to. A great gift idea for your bestie, be if for her birthday, best friend day, or just because.
24. Willow Tree Friendship Keepsake Box
Beautiful friendship keepsake box by the famed Willow Tree. Handcrafted to the highest details. Two girls are depicted on the box cover, sitting on the floor, seemingly talking to each other about life and what the future may hold. Inside the box is painted with turquoise color; the bottom of is a sentimental friendship saying "forever true, forever friends".
The box is 3″ x 3″ which is spacious enough for smaller objects. It comes in a gift box, ready to be presented to your best friend.
25. Knock Knock Why You're My Bestie Fill in the Love Journal
A quality friendship journal by Knock Knock. With guided prompts inside, fill this Why You're My Bestie journal with what your best friend and you have been through together.
26. Funny Mug – I'm Not Always A Bitch, Just Kidding
A fun gift for you two to have some laughs. Only present this gift your best friend if she has a good sense of humor. This funny mug says "I'm not always a bitch. Just kidding, go fuck yourself", as a way to fun at her.
27. Umbra Anigram Copper Bunny Ring Holder
A small and awesome gift that doesn't cost an arm and a leg. Exquisitely beautiful, especially with the right lighting. This bunny ring holder is coated in copper which gives it a very outstanding color — think rose gold. It looks great on your vanity tabletop.
Its reasonable price tag and high aesthetic quality make this a bestie gift that I strongly recommend. There are also other designs available beside the bunny. It's definitely worth checking out, even if you're not getting it for your bestie.
28. Mark My Words Best Friend Mug
A beautiful coffee mug that has a floral design on it. It gives off a gentle sentimental vibe, more so with the best friend quote on the mug's body that says "best friend — a best friend knows everything about you and loves you all the more". I'm sure your best friend will love to be reminded of how great she is as a friend as she sips her morning coffee.
29. I Didn't Fart Funny T-Shirt
It's a funny fart joke t-shirt.
30. Rosebud Perfume Company Menthol & Eucalyptus Salve
I'm not exaggerating if I call this eucalyptus salve from Rosebud a swiss army knife of skincare. I mean it seriously, you can use this salve to moisturize your lips, relieve chapped skin, diaper rash, blemishes, detergent burns and rough cuticles. Your best friend is going to love this great skin care gift made by the traditional well trusted Rosebud.
31. New Botany 24k Gold Face and Body Scrub
Not your grandma's cucumber body scrub (is that even a thing? Maybe, I don't really know). From First Botany's Cleopatra Gold Series product line, this face and body scrub has pure 24 K gold elements in it. I don't know how effective it can be, but it sure looks luxu-glamarous! Imagine scrubbing your body with gold after a long tired day and getting that feeling of "Ohh.. I have earned this" — so rewarding. Your best friend deserves that experience, and you can give it to her with this awesome gift.
32. Natural Handmade Organic Bath Bombs Gift Set
Everyone decent human being deserves a good, long, and hot bath at least once in a while. Transcend the hot bath experience into something even greater with the help of one of these handmade natural bath bombs. On the outside, this bath bomb gift set has the perfect look for an impressive gift — each bath bomb is carefully wrapped in color paper then placed in a gift box with a red ribbon tied around it. The bath bombs themselves are nothing to sneeze at, they are made with vegan ingredients that promote natural healing, such as shea butter, essential oils, and clays. They are free of artificial colors or dyes, so you don't have to worry about residue in your tub — having to clean up after a relaxing hot bath can be a killjoy you know!
Four colorful candles come together free in the gift set.
33. Burberry for Women Eau de Parfum
Classy perfume for women from Burberry. Your bestie will love its outstanding perfume notes — musky base notes of sandalwood, amber, and cedarwood, smoothened by delicious sweet vanilla at the top.
This Eau de Parfum comes in a modern, irresistibly sexy glass bottle with a futuristic industrial-style cap. It is impressive already just by the bottle itself. Your best friend will be impressed by this gift.
34. Benchmark Bouquets Rays of Sunshine
Flowers! Everyone loves flowers. They look and smell great. And it's more than just the externalities, it's the way flowers make us feel; the presence of flower in sight and in scent make us feel more at ease and calm. As a result of that calmness, we become more mindful and happy. So what do you think? Wouldn't it be great to bring some calmness and happiness into your bestie's life? You can do that with this lovely fresh sunflower bouquet that comes with a vase. Send it to your best friend's home directly from Amazon, remember to include a note with your wishes when you do it.
35. Kala Learn To Play Ukulele Starter Kit
Now, this gift idea is not for everybody. However, it is a great gift, perhaps the best gift, that you can get for your best friend if you know that she is interested in learning how to play the ukulele. It's a good gift idea for a best friend who has a knack for learning new things — especially music instruments. If your friend meets any of the criteria above, then she will absolutely love this ukulele starter kit by Kala. And when you present to her this kit, she will adore you for that, forever.
Here's what's inside the kit: ukulele (obviously), tote bag, ukulele playing quick start guide. On top of that, you are also getting free online lesson and tuning app.
DIY Handmade Gifts for Your Best Friend
If you have some free time to kill and are looking to make something truely unique, below are some DIY ideas to inspire you.
1. Vintage Floral Gift Card Holders – Easy to make vintage-style floral gift card holders. Print, cut, glue, and present! Free printables in the section below. Add sentimental value to an otherwise impersonal gift card.
2. Portrait – Can you draw or paint? Do what you're great at. You can make a pencil drawing of her, or paint an acrylic portrait. If you're more comfortable at computer graphics, make her a little cartoon version of herself. While you're at it, maybe add a little sentimental friendship quote, that will thrill your best friend.
3. Painting – Similiar to the portrait idea above, but in this case without the gift recipient appearing in the artwork itself. Painting something for her, something she'll like and use to decorate her room with. For example, scenery or fruit still-life. Quotes about friendship or inspirational quotes are great themes too.
4. Greeting Card – Make a simple greeting card from a cardstock. Cut out a cardstock, then decorate it with your favorite Sharpies. Don't forget to include your wishes for your best friend and perhaps a sentimental friendship quote from a famous person. You can get some quote ideas below.
5. Photo Album – First, buy a small photo album, then go to a photo shop to have best of you and your bestie's photos printed. Fill the album with the photos and present it to her with a small note. I'm sure she'll be touched by your effort.
6. Framed Photo – A watered down version of the photo album gift idea above. For this idea, print out one or several photos and framed it with a good photo frame before presenting to your best friend.
7. Emergency Stash – No, not a first aid kit, although that is a practical and thoughtful gift idea too, but no. We're talking about emergency stash that is a box of tasty, sinful candies and chocolate bars. First, find an empty box, second, fill it with your bestie's favorite snacks!
8. Write a Poem – if you have the poetic skill, consider writing a poem about friendship for your best friend. Print it out on a good paper then present this sentimental gift to her.
---
Even More Ideas
Didn't find a gift idea that works for you? No problem, check out more gift guides for best friend on these websites below.
Vivid's Gift Ideas – Best Sentimental Gift Ideas for Best Friend
Marie Claire – Trendy Gifts for Her
Pinterest – Girl Gifts
Metropolitan Girls Pinterest board – Creative Gift Ideas
---
Vintage Floral Gift Card Holder Printables for Your BFF
Below are some gift card holder printables that I have designed just for you guys. I'm sure your best friend will love it when she gets her gift card in one of these vintage-style floral holders.
The vintage floral designs pattern from old books that are in the public domain. I really love these floral patterns. They will add some sentimental value to your gift card gift. Your best friend will love this sentimental gift card presentation.
I did make some adjustment to the colors so that the floral design stand out more.
There is a total of four designs: china, oriental floral, red floral, and dark floral. You can download them individually below, or all four at once below in one PDF file below. If you only need one gift card holder, you can choose to download and print only the particular design — that will help you to save some printer ink.
1. China
2. Oriental
3. Red
4. Dark
5. Download all four
Buy gift cards by clicking on the link below.
And that wraps up the best friend gift ideas article. What do you think? Did you find a suitable gift your BFF?
More Gift Ideas for Friends
30 Best Friend Gift Ideas (Popular)
40+ Christmas Gifts for Best Friends
16+ Christmas Gifts for Friends
Christmas Gift Ideas for Best Friends [2016]
Sweet Christmas Gift Ideas for Friend [2015]
Christmas Gifts Your Friends Will Love [2014]