Christmas Gifts for Mom
Are you shopping for Christmas presents for mom? Not sure what mom wants for Christmas? Get inspiration from this Christmas gift guide. Discover a list of good Christmas gifts that mom actually wants and loves. Discover unique Christmas gift ideas that include stylish fashion, chic accessories, cool gadgets, quality cookware, and more.
Christmas Gift Ideas for Mom
This Christmas, let mom knows that you care for her by getting her an awesome Christmas present. Here are 15 Christmas present ideas for mom to help you out.
Let's start the list of mom gifts with this gorgeous handbag by Rebecca Minkoff. The chic and elegant style is perfect for every occasion. Unique color, genuine leather. Mom will definitely love to carry it to work, party, shopping, and more. Remember to check with mom what kind of bags she currently has before buying.
2. Bath & Body Spa Gift Set
Mom may seem to have everything she needs, but trust me — she'll love this awesome  Christmas gift. Pamper her this Christmas by getting her this Bulgaria Rose Garden bath gift set. Inside the presentable gift box are rose-scented shower gel, body butter, bath salt, and pink shower puff. Mom will be feeling loved and relax when she smells like rose after using one of these products. This will be an unforgettable Christmas present for mom.
Add a touch of color to mom's kitchen with this 15-piece blueberry speckled cookware set. The cookware set has a heavy-gauge construction that heats up quickly and evenly. And they feature durable nonstick interior; so mom can cook with less oil, less fuss, and have more fun! This gift idea is perfect for moms who cook somewhat frequently. If mom doesn't cook much, this gift might not very useful.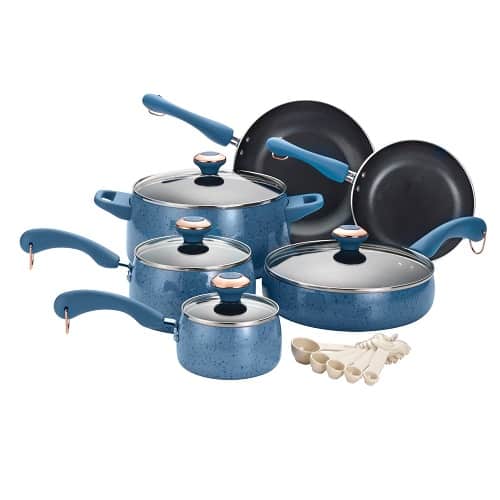 4. Zodiac Mug
Does mom like Astrology or horoscope? Get her a zodiac mug. Not just any zodiac mug, silly — one the represents her zodiac sun sign. Not sure what her sign is? You can find out through her birthday. There are various designs available: constellation, watercolor, symbol, and floral — make sure you take a look at all of them. Mom will love this simple Christmas gift.
Xmas present for mom who likes to bake stuff
KitchenAid mixer is the best household ever, period. If mom is into baking, chances are she already has a KitchenAid mixer somewhere in her kitchen. But if she doesn't, she will be thankful for this thoughtful gift that you're buying for her. Make no mistake, this is an expensive Christmas present but it will be so worth it. Bottom line: if you want to splurge on a gift for mom who likes to bake — this is the best Christmas gift.
6. Mom Jewelry
Jewelry is a good Christmas present for mom. Mom will love these pendant necklaces below.
The first one is a pink heart pendant necklace. The heart is made of natural rose quartz. And it features a filigree-like rose pattern which is really intriguing. This Christmas present is perfect for mom who likes rose and the color pink.
The next pendant necklace is a sentimental gift idea for mom from her daughter. The pendant necklace features a mama bear and daughter bear. It is affixed on a keepsake card that features a mother-daughter quote. The quote says "mother & daughter – always linked, forever love". This is a cute Xmas gift idea for mom.
Check out this heart pendant necklace article or this meaningful necklace article for more ideas.
The perfect mug for mom to enjoy her daily cuppa. This whimsical mug features clever witticisms in simple design. It reads "coffee keeps me going until it's acceptable to drink wine". This is the perfect Christmas gift for moms who love both coffee and wine.
Good quality makeup and skincare products are Christmas gifts that mom will want. This 8-color lip palette is a wonderful choice for mom. Highly pigmented, 3 unique finishes of cream, matte, and highlighter. With this complete lip palette, mom can create contour lips, ombre effect, and customize your lip color. Don't act surprised when mom ends up looking 10 years younger thanks to this awesome Xmas present from her daughter.
9. Photo Holder
A lovely sentimental Christmas gift for mom. A pot of flower-shaped clips to hold photos, memo, cards and more. To turn this into a sentimental present, print out family photos and fill the tree before giving it to her this Christmas. Mom will love this meaningful personalized home decor.
Stunning magnolia ring holder in mesmerizing gold. Mom can hang her rings on the "petals" or keep them at the center of the dish. This is a holiday gift that mom will want for sure. It will look amazing on mom's vanity table. This ring holder is an eye candy!
11. Bath Bomb Set
This relaxing Xmas present will bring mom's bathing game to the next level. These handcrafted bath bombs are moisturizing and therapeutic. Once you drop it into the bath water, the bath bomb fizzles and releases aroma that relaxes your mind. It also creates a visual experience by coloring the water in interesting color. But don't worry, these bath bombs are carefully formulated to not stain your bathtub. Mom will love this Christmas gift that helps her wind down after a long day.
This popular mini instant camera is one of the best Christmas gifts for mom. It is easy to use, handy, and really fun. With this techy Christmas present, mom can capture wonderful memories and share them instantly.
Awesome makeup brush for mom to create a flawless look with ease. Made of soft, synthetic hair fiber for superior coverage and even application to the whole face in seconds.
14. Neck & Shoulder Massager
Nothing beats a good massage when your body sores from doing housework or spending too much time in front of the computer working. Won't it be great if mom can get a good massage at the comfort of her house? With this Christmas present, mom can take care of her muscle soreness without leaving the house. In addition to the neck & shoulder region, the massager also works on the waist, arm, and leg.
Aroma makes people happy. Smelling great boosts your confidence and makes you feel more energetic. This aroma gift for mom is a popular perfume — Clinique Happy. Introduced in 1997, this perfume has a distinct floral and citrusy aroma. This is a Christmas present that will impress both mom and dad.
More Christmas Present Ideas for Mom
Spotify subscription
Netflix subscription
Scented candles
Juicer
Blender
New phone
Tablet
Airpod
Power bank
Laptop
Backpack
Cardigan
Sweater
Scarf
Spa gift card
And that is for the list of Christmas holiday gift ideas for mom. Follow us on Pinterest for more ideas!
How to Choose a Christmas Present for Mom
So we have already shared a number of Christmas present ideas we think mom will love. But which gift should you go for? Here are some tips and tricks on how to find out what mom really wants for Christmas.
Find out her Christmas wishlist – Google her name. Go on social media, such as Facebook & Twitter, to see if she has her wish list published anywhere.
Conspire with dad – talk to dad, ask him for ideas
Observe mom's daily life – pay attention to her routine to see if there's anything that you can buy to improve her quality of life.
Get her a sentimental gift for Christmas – sentimental gifts almost always never fail. But it can get repetitive if you keep giving her sentimental Christmas presents year after year.
Ask her directly – ask her what she wants. This is kind of a boring way but it is also straightforward and less error-prone.
Even More Gift Ideas for Mothers
See all Mom Gift Ideas.
External Resources