Working moms deserve great Mothers Day gifts. This Mother's Day, let's celebrate with the mom who works hard to achieve the very best her family and career. Get 9 best Mothers Day gifts for working moms here. Read below to discover now!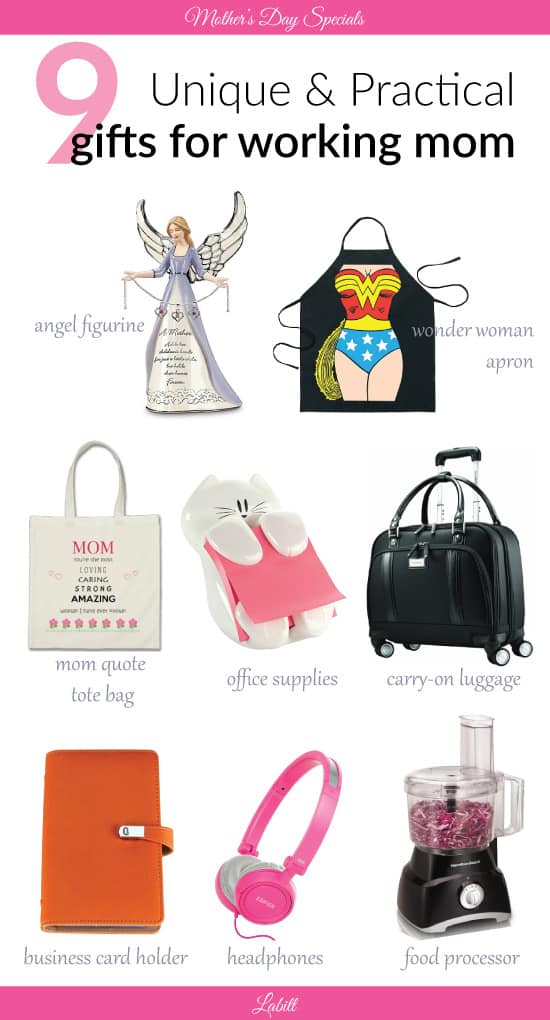 1.   Mother Angel Figurine
Moms are like an angel who always cares for and protects us. This beautiful angel figurine best portrays the love of a mother to her children. She is spreading her wings and holding a silver chain dangling with heart charms personalized with birthstones commemorating each child.
The inscription on the dress reads, "A Mother Holds her children's hands for just a little while, but holds their hearts forever". It is a wonderful figurine to honor the precious relationship between mothers and their children.
2.   Samsonite Women's Spinner Luggage
For working moms who need to go on business trips. She will definitely appreciate this carry-on luggage. It features a padded compartment for storing laptop, multiple accessory pockets, spacious room for files, documents, clothing and more.
Well built, good design, sturdy. Looks professional and stylish to transport all her business needs with ease.
3.   Wonder Woman Apron
Ever feel like she is the superhero at your home? Get this awesome Wonder Woman apron for your mom. Cute graphic, vibrant colors. Makes one of the best Mothers Day gifts for working moms.
4.   Bonsai Juniper Plant
Office decoration is another great gift for working moms. This mini bonsai Juniper is perfect to bring her peace and tranquility at work. Easy to care, evergreen. Bring you relaxing nature scene and enjoyment all year round.
5.   Cat Figure Pop-up Note Dispenser
Office supplies are practical. It is also inexpensive. Mom will definitely love this adorable cat sticky note dispenser. Functional and fun. Makes a nice gift for mom from kids.
6.   Hamilton Beach Food Processor
Working moms are busy. They need to juggle between work and family. This Mother's Day, get her a good kitchen appliance to speed up her work at the kitchen. This Hamilton Beach Food Processor is a fantastic choice. Powerful, fast, versatile. It can slice, shred, mix and puree just about anything you put in it.
7.   Amazing Mom Tote Bag
This multipurpose tote bag suits perfectly for your amazing mom. Made from fabric with a lovely design. Reads "MOM, you're the most loving, caring, strong, amazing woman I have ever known".
8.   Business Card Organizer
Another practical gift for working mom — elegant business card holder with 120 clear pockets to hold more than 200 business cards, ID, and credit cards.
Quality PU leather cover with magnetic closure. Looks professional and feminine.
9.   Edifier H650 On-Ear Headphones
We are coming to an end for the list of 9 practical and unique Mothers Day gifts for working moms. Before we end, let's take a look at electronics for her. Mom will love this pink headphones by Edifier. Features soft leather ear-cup, adjustable headband to fit lady's head, and crispy clear sound for superb listening experience. It is also foldable and lightweight perfect for travel.
Price under $30. Also available in white, orange, blue, purple and black.
That's the list of 9 Practical Mothers Day Gifts For Working Moms. Thanks for reading.
Don't forget to follow us on Pinterest!
More Gift Ideas for Mothers
See all Mom Gift Ideas.