Hi readers, we are sharing a collection of 18 stylish backpacks with unique designs. These bags are chic, functional and affordable. They make an awesome bag for school, travel, shopping, and more activities. Scroll down to check them out now!

1.   JanSport Superbreak Multi Tropic Gold Backpack 
Good quality school bag by popular brand JanSport. Vibrant pineapples pattern that feels fun and summery. It has spacious compartment with a front pocket. Fits textbooks, binder, notebooks, calculator, and more.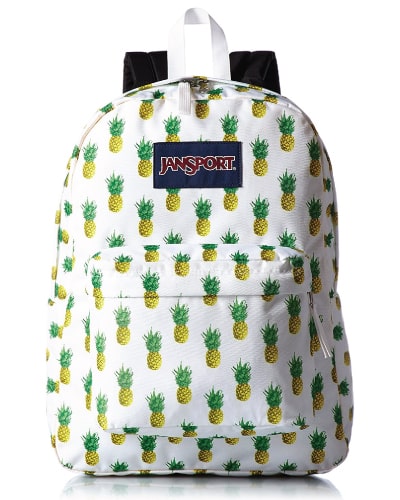 2.   Zicac Transparent Bag
If your school or workplace allows clear bag only, you can opt for this cute clear bag with mint straps. Made of soft plastic material with adjustable shoulder straps. It has two pockets at the sides and one front pouch.
Also available in pink.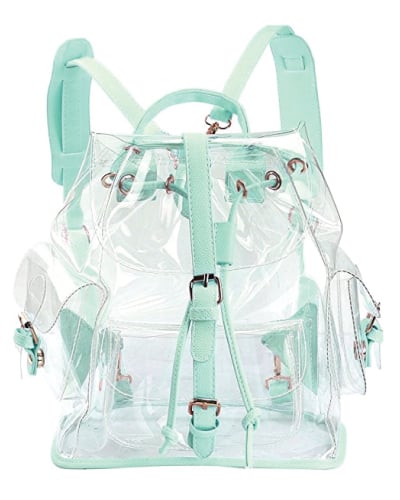 3.   Kenox Vintage Mint School Bag
Vintage design that never goes out of style. Made from waterproof lightweight Polyester. This bag is beautiful and durable. Features a roomy main pocket with laptop compartment, a front easy-access zipper pocket, an internal zipper pocket, and two side pockets.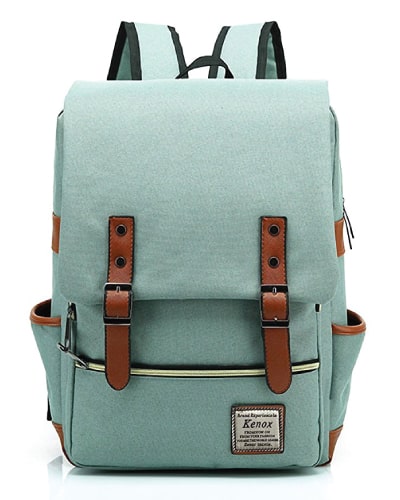 4.   Candy Pink Heart Bag
Girls, you will definitely love this pink bag. It has a small pocket in the main compartment and a separate slip pocket with the clear heart-shaped window. Looks sweet and adorable. Perfect for tween and teen girls.
Also available in black, white, blue, mint, lavender.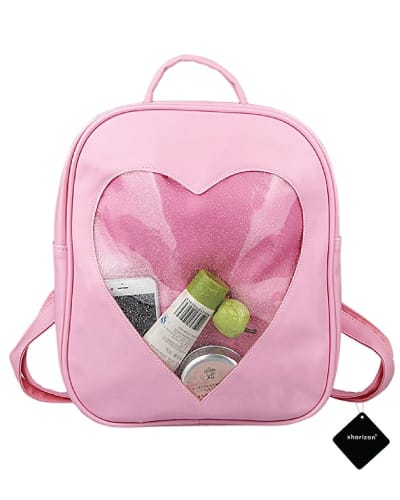 5.   Sky Blue Floral Canvas Bag 
A pretty rucksack for girls. Pastel blue with flowers design. Made of canvas with fabric lining. Features padded slot for electronics, two slip pockets, one front pocket and two side pockets.
This bag comes with a zipper pouch great for storing makeup, stationery, and other small accessories.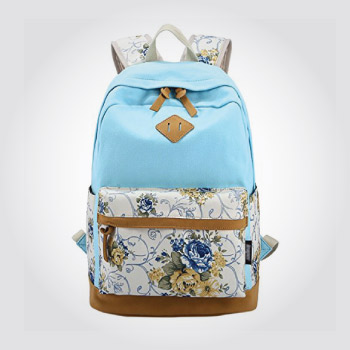 6.   Leaper Doodle Drawings Backpack
Another cute school bag for her with padded pocket and spacious compartments. The design of clouds, umbrella, and rainbow is unique and attention-getting.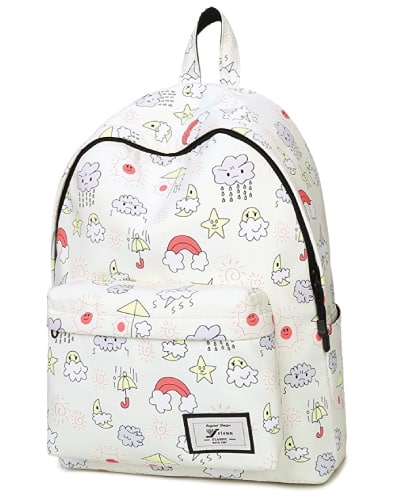 7.   JanSport Superbreak Tahitian Orange Backpack
Vibrant orange bag to store your stuff. Carry it and feel the happy vibes.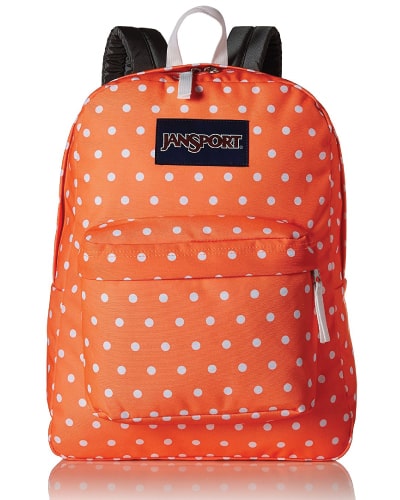 8.   Tie Dye Daily by NEFF 
For the tie dye fans. Rich colors, cool-looking. Fantastic style for both guys and girls.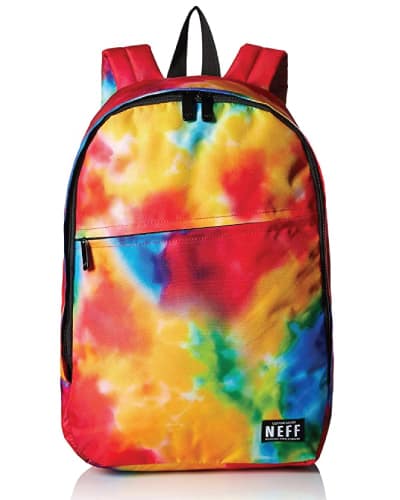 9.   Emoji Backpack 
Express it with emoji. Lightweight canvas bag with padded laptop pocket, utility pockets, and side pockets. Well-built, strong. Walk down the street with all sorts of moods.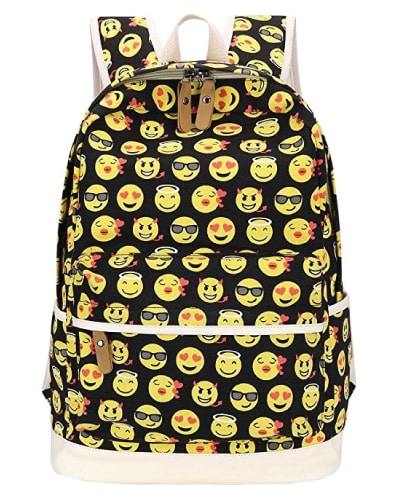 10.   Turquoise Floral Blooms by Vaschy
Hello tropical flowers! Aren't you look simply amazing with the turquoise background? I wanna carry you and feel the Hawaiian breeze.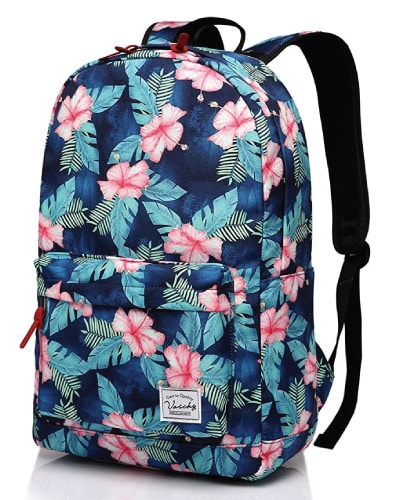 11.   Boho Elephant Daypack
Retro daypack for the ladies. Nice size, lightweight. Matches well with any boho outfit.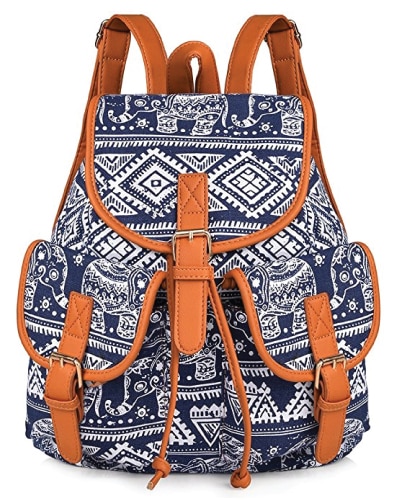 12.   Vera Bradley Campus Backpack 
Chic backpack perfect for high school and college students. Featuring Vera Bradley's La Neon Rose design. Soft fabric, gorgeous pattern. This bag feels light and comfy to carry around. Great for storing heavy textbooks, laptop, and other study materials.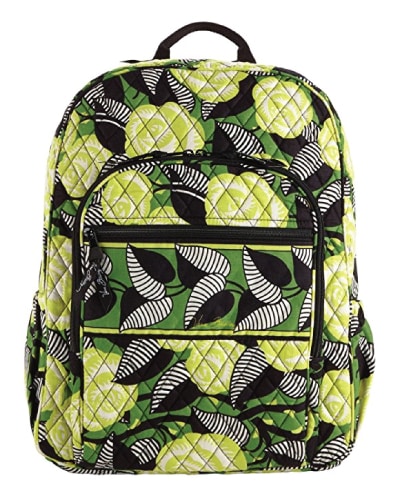 13.   NEFF Disney Collection Abstract Mickey Backpack
Carry a stunning piece of art at your back – modern art with a "mouse" twist. Unique and colorful. An amazing design you don't wanna miss.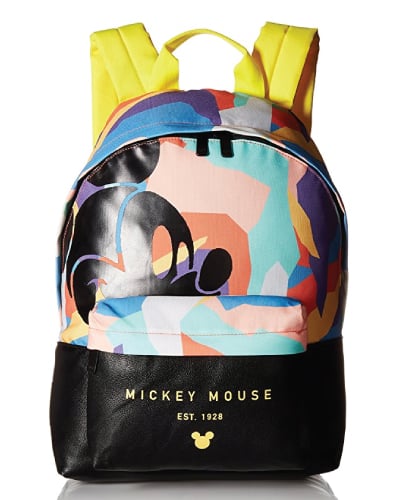 14.   kate spade new york Watson Lane Hartley 
Prefer designer style? Have a look at this daypack by Kate Spade. Black and white stripes, one main compartment, and one front pouch. Simple, clean and stylish!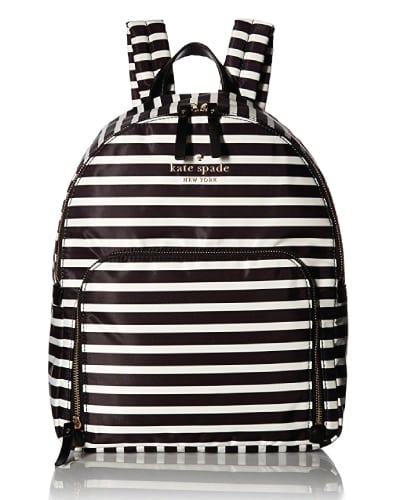 15.   Cath Kidston Guards Backpack 
A bag with the spectacular view of British royal guards and friends. By Cath Kidston. Two compartments, multi-pocket, matt-coated. March to school and other destinations under the protection of guards.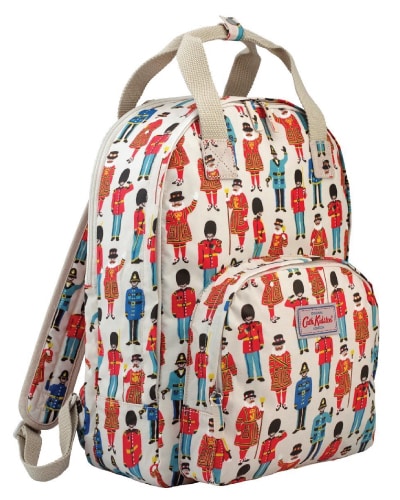 16.   Mini Rivets Studded Daypack
A mini black bag that rocks! Scratch-resistant leather with shiny gold studs. Sleek and fashionable.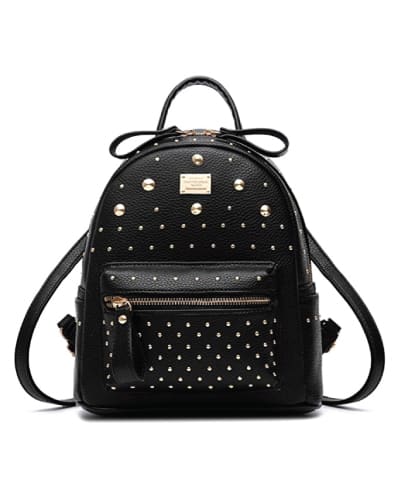 17.   Black and White Cats by Mumoo Bear
Meow meow meow! Can you hear the cats singing? Let's take a look at this cute bag with awesome lots of kitties on it. Big size with multiple storage pockets. It is a wonderful cat bag for the cat lovers.
(This bag also comes in a set with matching sling bag and makeup pouch)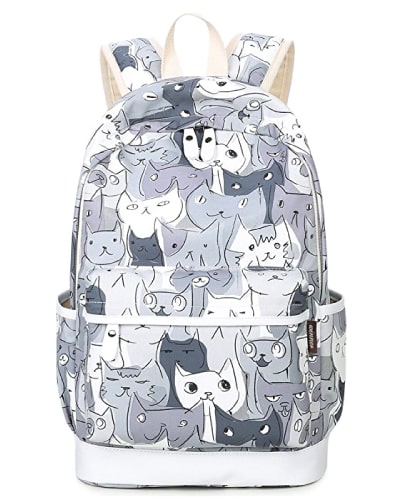 18.   Coofit Leather Backpack
Little black bag with minimal design. Nice leather, good craftsmanship. Classy and lovely!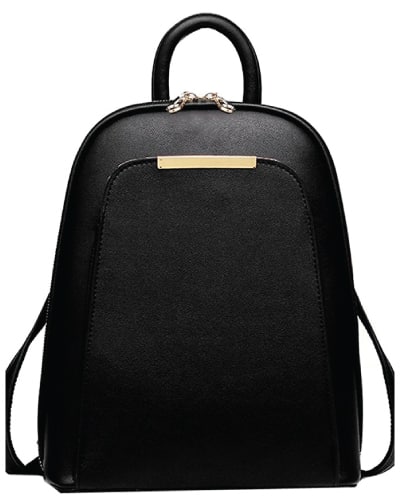 That's our collection of 18 stylish backpacks for school and beyond. Do you like them?