This is where you find the cutest office supplies in purple. Purple color rules! If you love the color purple as much as we do, keep on reading to discover cool office supplies and stationery you will fall in love with at first sight. And yes, they're in purple!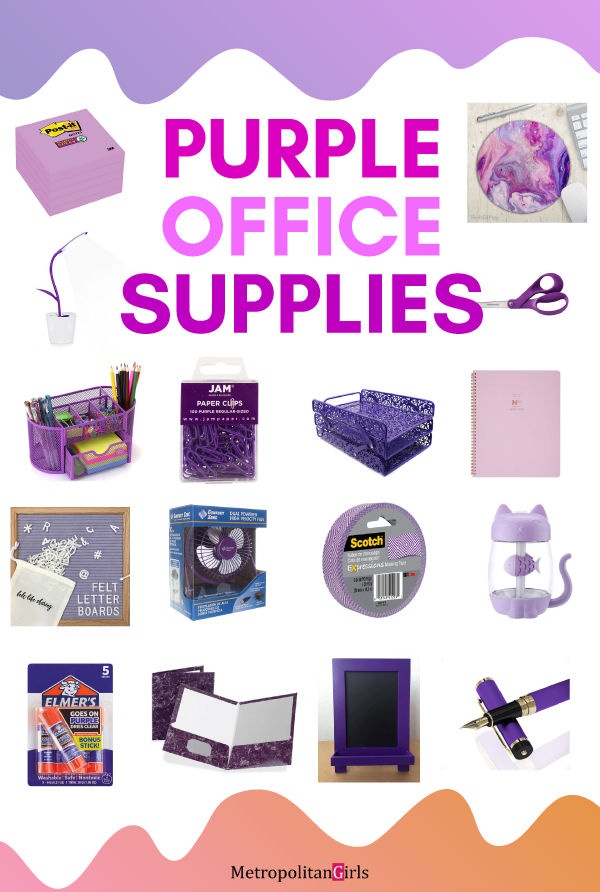 Cute Purple Office Supplies: Purple Stationery, Organizer, Decor
Is there anything more satisfying than a well-organized office space? Well Yes, a well-organized work area with purple accents. It simply makes you feel more clear-headed, focused and inspired when you work in an office like that. The color purple is a traditionally calming color, making it the perfect shade to decorate your office space.
Now we can't always repaint the wall or upgrade the furniture, the next best thing is bringing some brand new purple supplies. Not sure what supply to buy? Get inspiration from the list of purple office supply products below now.
1. Gorgeous Purple Marble Mousepad For Office & Home
Start your little office redecoration right with this funky purple marble mousepad.
Measuring 7.75 inches across, it's the perfect addition to any purple-themed workspace. Only the highest-quality inks are used in production, meaning your mousepad will stay looking vibrant and beautiful.
2. Lavender Felt Message Board
Express yourself with this cute-as-a-button purple felt memo board!
With 300+ letters and numbers, the possibilities are endless – to-dos, funny quotes, inspiring messages – the list goes on! This purple message board is the perfect way to add a bit of personality to the office space.
3. Purple Chalkboard Easel For Important Notes
If a felt message board isn't your thing, have a bit more freedom with this cute chalkboard easel. Compact and sturdy, it would fit perfectly into any purple-themed office. What would you write on it?
4. Affordable Purple Office Desk Organizer
Provide a place for your other purple stationery to call home.
Are you constantly searching for a lost paperclip? Never lose your critical office equipment again with this great organizer caddy. With space for pens, pencils, post-it notes, paperclips, thumbtacks, and erasers, your important supplies will always be on hand.
5. Paperclips
Now obviously you'll need some purple paperclips for your purple desktop organizer, right? This pack of 100 standard-sized paperclips is perfect for adding a bit of personality to papers, organizing documents, and decorating your office. These cool purple office supplies are practical and look fun.
6. Purple File Folders
The space on top of your table isn't the only place that needs a splash of purple – your filing system does too! These lovely purple folders are bright and durable, ensuring all of your important documents stay perfectly filed away.
7. Purple Washi Tape
If you haven't discovered the joy of Washi tape yet, this is your chance!
It's perfect for decorating your space, highlighting important sections of documents, and even filing. It's easy to tear, and an even be written on with pen, pencil or marker. The sky is the limit!
8. USB Lamp
Do harsh, bright lights strain your eyes? Do you prefer to work in the evening?Does your overhead light cast awkward shadows over your desk? Look no further than this fantastic USB-powered lamp. Endlessly flexible, adjustable brightness, super cute design – what more could you want?
9. Fiskars Scissors
No office is complete without a set of high-quality, reliable scissors.
Fiskars are a trusted brand, creating scissors that keep their sharpness and are comfortable to use. Just when you thought they couldn't get any better – they come in purple!
10. Purple Marble Folders
Bling, bling! These high-gloss, purple marbled folders are super-chic.
They'll fit up to 100 pages and even have room for a business card, ensuring a truly professional presentation. You know what they say about first impressions!
11. Humidifier
You know how it is – the itchy eyes, dry skin, tickly throat
… heating and cooling dries out the air around us quickly, leaving us with a string of uncomfortable symptoms. This adorable cat humidifier fits perfectly on your desk, had an automatic 4-hour power-off safety feature and even has a sweet, gradient light at nighttime.
12. Purple Planner
Get a head-start on the upcoming financial year with this lovely purple planner.
It has a weekly two-page spread, places to list the weeks' priorities, and even a future log for forward-planning. Never miss an important appointment again!
13. Purple Ballpoint Pens
Of course, you'll need something to write in your purple planner with – and what better than a purple pen?
This great set of 12 purple ballpoint pens means you'll never be caught without one – keep some on your desk, in your bag, and in your pocket, so you'll always have one handy. One of the must-have supplies for school and office alike.
14. Purple Document Trays
Keep your documents well-organized with these cool three-tiered purple trays.
They're durable and sturdy, and can be used either extended or stacked, so they're only using a small amount of valuable desk space.
15. Purple Desk Fan
Beat the heat in the office with this funky purple desk fan.
It's high-velocity, totally adjustable, and better yet, it's powered via USB, so you won't have to spend time looking for powerpoint adaptors! As an added bonus, it runs quietly for minimal distraction.
16. Purple Post-It Notes
Where would we be without Post-It Notes?
They're such an office staple, used for anything from reminders to to-do lists to quick messages. This cute purple pad is even super-sticky, ensuring no note gets lost!
17. Purple Thumb Tacks
Even the smallest accents matter when it comes to decorating your office
… and these thumb tacks are no exception! They'll make sure every time you glance at your cork board you'll feel happy and calm. What more could you want?
18. Fountain Pen
Everyone needs a beautiful fountain pen, and if you love the color purple, then look no further. This stunning pen is sophisticated and high-quality, hand-assembled and checked for ultimate luxury. Blotchy, bleeding ink? Who has time for that?
19. Elmer's Glue Sticks
Did you ever think you would get excited over a glue stick? Me neither, but here we are
… because these amazing Elmer's glue sticks go on purple and dry clear. Not only is that super aesthetically pleasing, but it makes sure you get the glue exactly where it needs to be – no more guessing.
20. Swivel Chair
When you're sitting down for extended periods of time, it's easy to damage your back and end the day feeling stiff and sore. With a proper ergonomically-designed chair, back pain will be a thing of the past. This one is fully adjustable, comfortable, and, yes – it's purple!
Purple Lovers, Find Any Office Supplies You Like?
Are you loving these cool purple office supplies as much as we are? We can't wait to redecorate with these adorable pieces! Do you have a color-themed workspace? Let us know!
More Office Supply and School Supply
20+ Fun Emoji School Supplies – Discover cute emoji school supplies that are perfect for teen girls. Also included: DIY emoji craft ideas.
Back-to-School Essentials for Elementary School – back to school must-haves for kids in middle school. A guide for tween girls.
Back-to-School Essentials for High Schoolers – What to buy and bring – a Back-to-School guide for HS students.
Cute Back to School Supplies for Teenage Girls – Written for high school and college girls in mind, these school supplies are super fun and cute!
Minimalist School Essentials – Beauty in simplicity. These stationeries are simple yet elegant.
Purple Stationery School Supplies – Love the purple color? You'll love these purple goodies.
Pink Back-to-School Supplies – Pink everything.
Girly Girl School Supplies – School supplies with cute girlish design.
Vera Bradley School Supplies – Designer school supplies that feature colorful and attention-grabbing patterns that are signature of Vera Bradley
Back-to-School Checklist – A checklist with product recommendation
Cool Backpacks For School – Practical and cute backpacks that are perfect for school and college.
Cute School Supplies @ Vivid – a huge collection of stationery, backpacks, and other stuff for school and office.