Discover some of the best gifts for hosts and hostesses. Show some gratitude to the party hosts by bringing some thoughtful gifts. Ditch that boring bottle of wine this year and get one of these hostess gifts below instead.
Best Hostess Gift Ideas
Impress the hostess with these cool gifts.
1. Copper Martini Glass
Stunning martini glass made of copper. Vintage-style drinkware with unique hammered texture. A beautiful addition to your hostess' kitchen. This gift is perfect for two kinds of hosts: hosts who like beautiful things and hosts who are martini lovers. James Bond fans will most like enjoy this gift too.
2. Pineapples Trinket Tray
This lovely trinket tray also makes a good holiday hostess gift. Pretty storage solution. Great for holding jewelry, watches, coins and more.
3. Marble Gold Edged Coasters
The host will also appreciate these unique coasters. Handcrafted from white marble with gold-coated edges. Stylish and chic!
4. Flamingo Scarf
Pretty flamingo scarf that she will definitely love. Vibrant colors, super soft and lightweight. A fan of the flamingos? Check out this cute collection of flamingo gifts.
5. Kate Aspen 'All That Glitters Gold Glitter' Bottle Opener
Glamorous metal bottle opener with gold glitter accent.
6. Flameless Candle Set
These flameless candles feature the flickering wick that Luminaria is famous for. They are made of real, vanilla-scented wax. They feature a 5 hour on, 19 hour off timer and run on 2 D alkaline batteries. These flameless candles match any home décor and are safe around pets and young children.
7. Liquid Intelligence: The Art and Science of the Perfect Cocktail
For hosts who are cocktail connoisseurs. Liquid Intelligence is an award-winning book with more than 120 wonderful cocktail recipes and nearly 450 colorful pictures. Practical tips and techniques are included based on years of rigorous experimentation and study. Looking for free cocktail recipes for a group? Check out these Halloween cocktail punch recipes.
8. Be Awesome Today Mug
A mug to inspire. Minimalist design. Fill your morning with extra positive energy.
9. Happy Holly Days Snowman Cookie Jar
Adorable snowman cookie jar to express the joy of the season. Crafted of porcelain, decorated with a festive holly and berries motif, accented with 24K gold.
10. Sabrine Side Plates Set
Set of 4 sides plates featuring gorgeous turquoise artwork inspired by the Mediterranean Sea. Add a pop of color to your home.
11. Golden Cocktail Shaker Set
Shiny gold shaker mixer for the host to make drinks with style. Made of quality stainless steel. Comes with a double-sided jigger.
12. Oleum Viride Extra Virgin Olive Oil
Authentic extra virgin olive oil produced in a small estate in Brazil. Rich and flavorful — perfect for drizzling over food or use in a vinaigrette.
13. Crown Grade A Maple Syrup
Three bottles of delicious grade-A maple syrup in outstanding packaging, the result is an impressed hostess who will be feeling grateful for this lovely gift. The three syrups are different in terms of colors and tastes, from robust to strong taste. One of the three syrups is a limited-edition syrup that had been aged in a bourbon barrel, something you don't see every day.
14. Cameron's Gold Roast Coffee
A solid blend of bold & mildy sweet coffee from Cameron's.
15. 180 Snacks Nut Crunch
Have some healthy snacks with this premium variety pack from 180 Snacks. 21 bags of nutty goodies.
16. Bamboo Food Tray
This rotating party tray has seven different sections for different snacks. It is all-natural and vegan-friendly so anyone would be happy to receive this. At 12 inches it is the perfect size to serve hors d'oeuvres.
17. Shatterproof Glassware
Beautiful, festive, and shatterproof. Celebrate special occasions and festive seasons with this gorgeous set of glassware — filled with celebratory champagne (or your favorite drinks) of course!
18. Bath Bombs
Take a relaxing, aromatic bath at home with the help of one of these instant-deployed bath bombs. Gracefully packed, each of these bath explosives come with a different scent.
19. Tortuga Carribean Rum Cake
Two of the best things in the world in one: cake & liquor. The rich and flavorful cake is enhanced by the aroma and boldness of the rum, the result is a sensory experience unparalleled by other ordinary non-alcoholic cakes. The hostess will love this cake, the other guests will be having a hard time trying not to overeat this delicious treat.
20. Our Own Candle Company Candle Gift Set
Exquisite candles with outstanding aromatic scents. This candle set comes with four distinctive scents: fresh line, hot apple pie, french vanilla, and lemon pound cake.
21. Live Rosemary Plant
Impress your host with a live rosemary plant. Rosemary is a fragrant and versatile spice essential to every kitchen. This spice gift provides an unlimited supply of rosemary — which is perfect for hostesses who enjoy cooking.
What do you think of these hostess gifts? Did you find anything helpful? Do you have a better idea? Let me know in the comment section below.
Articles related to "Hostess Gifts"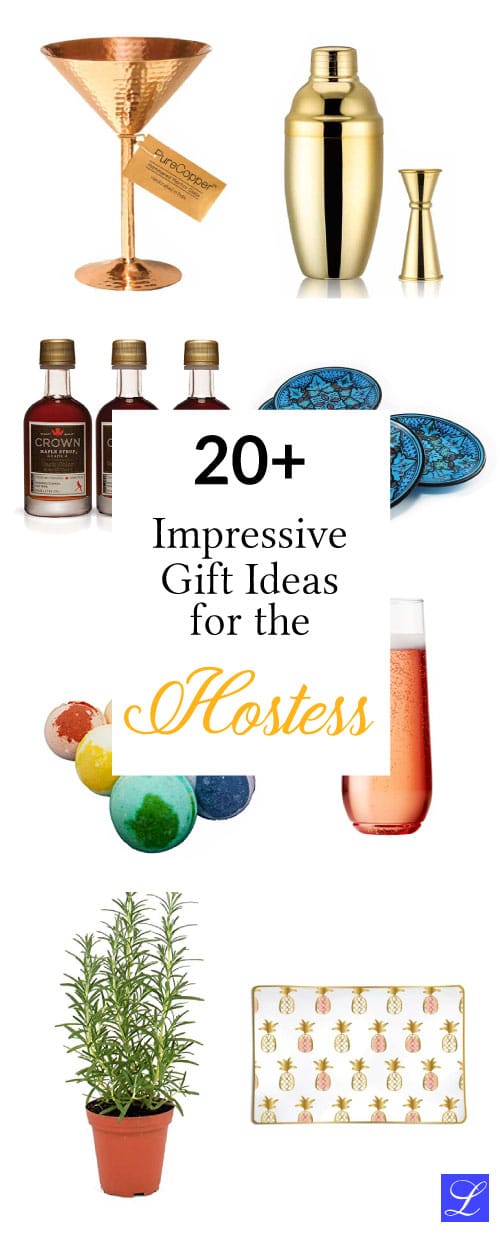 Hostess Gift Ideas