This gift guide was written to provide inspiration for you to find the perfect housewarming gift for the new homeowner.
1. De'Longhi Espresso and Cappuccino Maker for Guys Who Love Coffee
Prepare espresso, latte, and cappuccino at home with extreme ease. A great gift for those who enjoy a perfect cup of coffee without leaving their home.
2. Handmade Inspirational Quote Painting
Bring some inspiration to the house with a handmade inspirational quote painting.
3. Toro Electric Snow Thrower
A gift that is guaranteed to be appreciated by those who live in a snowy area. Great for blowing snow off the sidewalks, walkways, steps, decks, and other residential areas. Clears 4-Inches of snow off a 50-by-20-Foot driveway in just 20 minutes; Moves up to 300-Pounds of snow per minute and blows up to 20-Feet.
4. Mantova Extra Virgin Olive Oil
Four beautiful bottles of tasty Italian infused extra virgin olive oils. Their flavors: garlic, basil, chili, and lemon.
Use it for cooking or salads.
5. Bormioli Rocco Selecta Whiskey Set
Whiskey gift set from Bormioli Rocco. 7-piece. The set includes six 9-1/2-ounce rocks glasses and one 33.75 -ounce decanter with stopper. Crafted in Parma, Italy from fine sands and raw materials. Classic rocks glass design; ornate starburst pattern on decanter.
6. Nest Learning Thermostat
The smartest thermostat you'll find. Besides being capable of monitoring temperature to a great precision, it is also energy-efficient: it goes into hibernation mode when nobody's around. Cool factor aside, it's futuristic look adds a sense of vibrancy to its environment.
7. Blender
Blend almost everything with this multi-functional blender. Make healthy fruit and vegetable juice with ease. Also mix nuts and other harder food.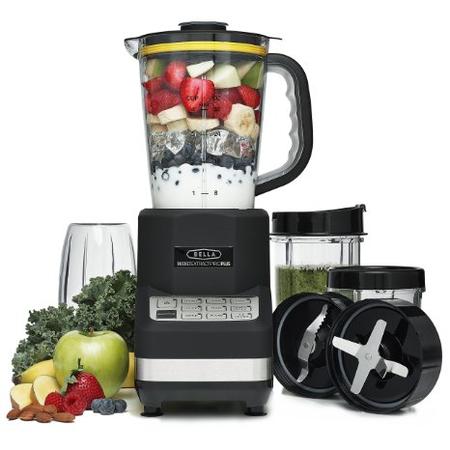 8. Water Filter Pitcher
This pitcher reduces chlorine taste and odor, zinc, copper, mercury, and cadmium, often found in tap water. It comes in various colors for you to choose from.
9. Can You Imagine Melting Clock
Unique gift idea for a housewarming party. This clock appears to be melting but it's fully functional. A conversation piece and a work of art.
10. ZoomZam Wireless Speakers
Listen to your favorites tracks wherever you go without the limitation of a wire with this attention-grabbing wireless speakers.
11. Salt Pepper Shaker Set
The pinnacle of salt & pepper shakers. In this set, each of the shakes represents a season: winter or summer. The salt shaker is Winter, with the salt portraying as the snow. The pepper is Summer, the pepper powder is the sand. It looks so amazing, now I'm tempted to buy one for myself.
By the way, there could be a small flaw with this design. If your pepper is darker, it may look like a weird dessert with black sand. Maybe it is best suited for grounded white pepper.
12. KitchenAid Toaster
A kitchen essential. Make toasts for breakfast or snacks with ease. It doubles a kitchen decoration thanks to its outstanding exterior that features a luscious shade of empire red.
13. Sea Urchin Jellyfish Airplant
Adorable airplants in a mini sea-urchin planter — the combination looks like a jellyfish! Obviously, its unique exterior is going to steal some looks. These little airplants are also surprising great at purifying the air.
14. Rachel Ray Bakeware
15. Mandala Stone Coasters
16. Leatherette Organizer Box
So what do you think of these housewarming gift ideas? Did you find anything that the guy will like? Have you ended up getting a different housewarming gift instead? Let us know.