Recognize your employee's contribution to the company with a great gift. In this gift guide, you will discover 25 employee appreciation gifts that will boost office morale and improve employee productivity.
Feeling thankful for your employee or coworker at work? A small but thoughtful appreciation gift can do wonders in making your staff feel appreciated and motivated.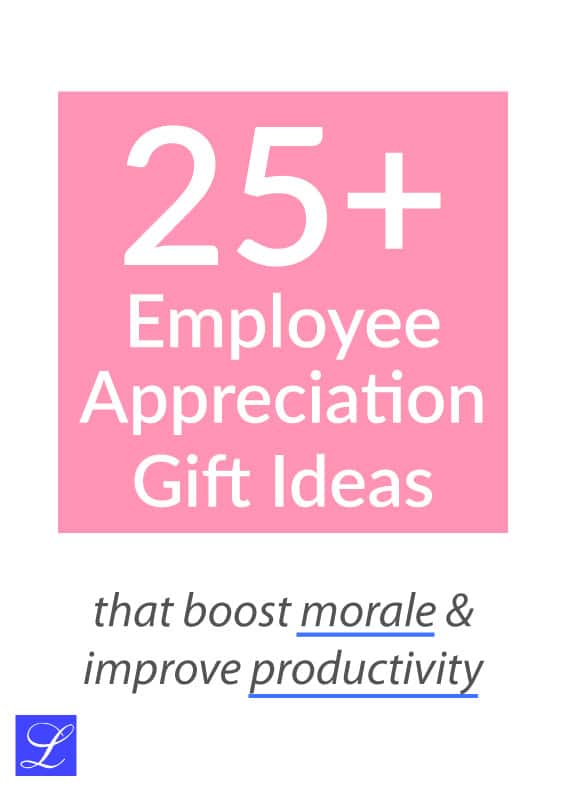 We're careful in selecting gifts that are practical and affordable — this way you won't have to worry about breaking your wallet (or employee-morale budget) if you were to buy in bulk for the whole team. Also, we put in extra care in making sure that these ideas are gender-neutral and race-sensitive. As such, these ideas work for virtually any occasion: birthday, Christmas, Hanukkah, Employee Appreciation Day, and etc.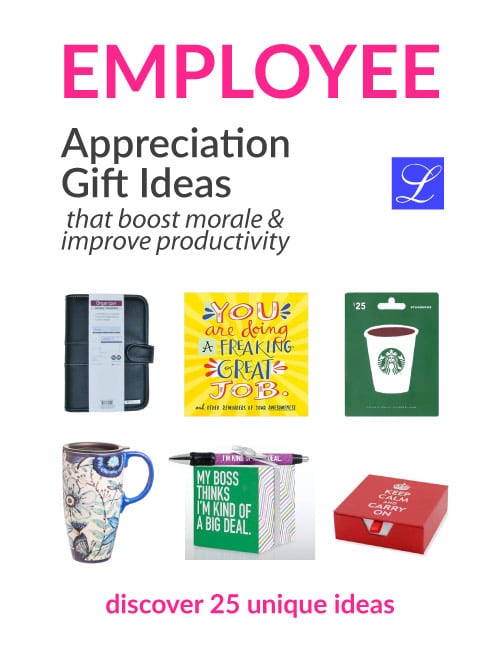 1. PlanAhead Personal Organizer
Being organized is often a prerequisite for high productivity. I know from personal experience that a disorganized life is counter-productive and is the main source of procrastination. A personal organizer is an affordable but effective tool that helps to keep your employee's work and life more organized. This employee appreciation gift that values that significantly outweigh its already affordable price. With a personal organizer, you can keep track of work stuff and meeting schedules, record important information, and make important plans. When it comes to this personal-organization tool, I recommend the PlanAhead personal organizer. It uses an un-dated format; its monthly and weekly sheets work great for any time of the year (and every year, for that matter). The booklet also has space allocated for notes, business contacts, card slots, zipper pockets, reference table and more. Also, the leather exterior of the PlanAhead planner looks professional and sophisticated.
Offices commonly have two physical factors that can degrade an employee's health and productivity: less-than-ideal air quality and no easy access to greenery. An air plant can help to mitigate these negative effects. The air plant is a mini air purifier of nature, through its biological activities, it releases fresh air into its surrounding. Its compact size allows you to gain portable and personal access to greenery on your desktop — a soothing sight that helps relieve your eyes and mind.
Putting a little green plant on your desk makes the office environment livelier. It also makes people feel fresh and more creative. The plant sits in a unique teardrop-shaped glass terrarium. It is fun to look at and easy to take care of — an important characteristic for an indoor office plant. If you're looking for an appreciation gift that helps make the office a healthier place — this is it.
3. Keep Calm and Carry On Memo Notes
Nice and simple memo notes perfect for jotting down important information and sticking them where you can see them. Printed with "Keep Calm and Carry On" on a vibrant red box. Keep your staff motivated and cheer them up during their busiest days.
Everybody loves chocolate! And when it comes to good chocolate, you'll not go wrong with a box of superb-quality Merci chocolate. One box of 20 assorted fine European chocolate is definitely sinfully satisfying. Smooth and rich, this chocolate tastes amazingly delicious. Nothing makes you feel more appreciated then receiving and eating some good chocolate.
A unique office décor with the Zen theme. This tabletop décor is a mini zen garden in a wooden box. The garden comes with a candleholder, rocks, white sand, and rake. It is good for releasing stress — raking the white sand will help clear up your mind. Best tabletop zen kit ever!
6. Grumpy Cat Monday Blues Mug
Something cute and fun for co-workers. This ceramic Grumpy Cat mug has the perfect size for morning coffee and tea. Says "Mondays, I Hate Them". An interesting mug that will become the hottest topic among employees, especially on Mondays. Employee appreciation gift for people who coffee lovers who have a sense of humor.
7. Anker Astro Mini Power Bank
A practical gift your team will appreciate — for that matter, anyone who uses a smart gadget will find this gift useful. The Anker Astro Mini is a powerful portable backup power supply for smartphones and mobile devices. 3000mAh capacity. This power bank is small, lightweight and sleek. It comes in black, silver, pink and blue.
With a price tag that is under $20, it is inexpensive but extremely practical for heavy smartphone users.
If you are still not sure what to get for your employees, then a gift card works well. A gift card like Starbucks or Subway will be very much appreciated. Probably the most practical and conservative idea on this employee appreciation gift list.
Funny wine glass that says "Wine a bit… You'll feel better". 12-ounce capacity and sturdy. A nice glass that your employees will surely appreciate!
10. Note Cube & Pen Employee Gift Set
It is important to recognize the contribution of your staff. Get them this set of sticky notes cube with a pen. Colorful, contemporary design.
The kit delivers a lovely message of appreciation that reads "My boss thinks I'm kind of a big deal". One of the best appreciation gifts for employees under $15.
Classy office decoration for your staff – desktop Zen garden style sandbox. It helps relaxation, releasing stress and clearing up the mind. It contains moldable sand that never dries out. No mess and fun.
12. Keep Calm and Carry On Tea
This delicious tea in beautiful tin packaging makes a wonderful recognition gift. It contains 40 bags of premium English breakfast tea. Uplifting aroma, flavorful, good taste.
13. Budweiser Genuine Sauces Gift Set
Set of four Budweiser genuine original sauces. Great variety, yummy. Like the famous Budweiser beer, this genuine line of sauces contains only the finest ingredients for a truly exceptional taste experience.
14. Banana Pen
These banana pens gonna be a big hit in the workplace. Unique, cute and fun. They'll definitely bring much laughter during the dull working hours.
16. Shades of Indigo Flowers and Butterflies Ceramic Travel Coffee Mug
Your employees will sure love and appreciate this outstanding coffee mug. This gift works for office workers and also employees who are always on the go. Keep their choice of caffeine (or water, if they prefer) warm and tasty.
In addition to its ability to keep drinks warm, this ceramic travel mug is also extraordinary gorgeous.
For those who prefer a more minimalist design, Contigo vacuum travel mug could be a better choice.
18. Starbucks French Roast Coffee Bean
People say America runs on coffee. That's only partially true. I think the world runs on caffeine: coffee and tea. The reason is obvious: coffee energizes the human mind and keeps us stay focused. What's the implication? Improved employee productivity.
I recommend this French roast coffee bean from Starbucks. Great tasting aside, it's a well-known brand and thus saving you from having to explain the lesser-known indie coffee brand that you don't know much to begin with, if you bought that.
19. Brillante BR-CP1-350 Glass French Press
One of best ways to make the best coffee is using a French press. It really brings out the aroma and the taste of the beans. In fact, Starbucks CEO Howard Schultz uses French press to brew his morning coffee for him and his wife.
Your coffee-loving staff will absolutely love this thoughtful gift.
20. You Are Doing a Freaking Great Job: And Other Reminders of Your Awesomeness
An uninspired, unmotivated employee is an unproductive employee. Keep your staff happy and inspired by getting them a gift that reminds them of how great they are. Get this as a gift for the receptionist of your office; receptionists are often under-appreciated — I'm sure they'll appreciate your nice gesture!
21. SENSO IPX7 Wireless Earphones
This gift works best for office workers. In you are in the service industry, you probably would not want to send the wrong message. I mean listening to music while serving the customers may not be an encouraged behavior at your company.
Anyway, wireless Bluetooth earphones are great — no more wire tangling with the mouse or what not. The sound isn't always the best compared to the traditionally wired earphones, but the mobility offsets this weakness. The SENSO IPX7 earphones are very well-received on Amazon. It is water-proof and provides noise canceling. Maybe you would even consider a pair of for yourself when you look at it. Be sure to check it out.
22. AT-A-GLANCE Planner
Productivity hackers and gurus will tell you how important it is to have a plan. Help your employees to stay organized and boost their productivity by getting them a good personal planner.
23. Dryden's Execute Collection Pen
Not of us uses a fountain pen on a daily basis, but it's symbolism of being an item that carries great importance make it a great employee appreciation gift. All the better if your employee does use a fountain pen frequently. From Dryden's Execute Collection series, this stunning-looking fountain pen comes in a sleek and gorgeous wooden case.
24. USB Thumbdrive
This is the era of cloud storage, but sometimes the good ol' trustworthy USB thumbdrive is still the best way to move files around. SanDisk Cruzer Blade 32GB USB 2.0 Flash Drive is the perfect USB thumbdrive to give as an appreciate gift: big enough in storage, affordable enough to not break your wallet if you decide to buy it for the whole team.
25. Amazon Gift Card
A versatile gift that you will never go wrong with. Your staff can buy themselves anything they like with their privacy protected from the largest online retailer in America with an Amazon gift card.
There are more than a dozen designs available, for example, there Thank-You, Christmas, and graduation-themed gift cards available for purchase. If you're shopping for a last-minute gift, consider getting a digital gift card instead, the gift card code will be sent to the recipient's email address almost instantly.
So what do you think of these gift ideas? Did you find anything useful? Do you have an idea to share with us? Let us know in the comment section below.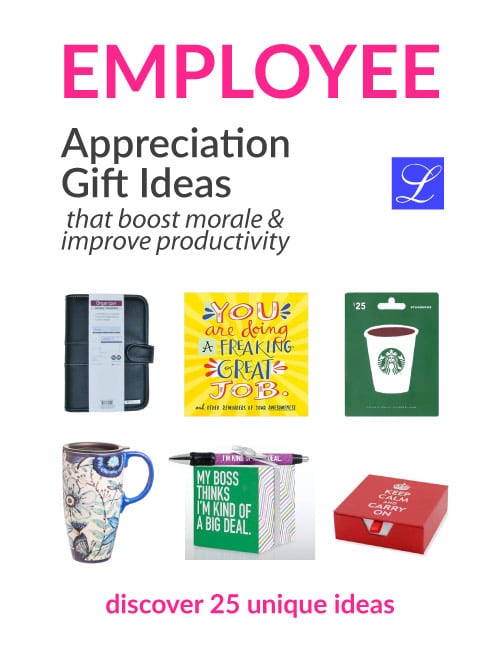 Employee Gift Guides