Thank the Receptionist
Show your appreciation to the receptionists at the office. Without their hard work and dedication, daily office works won't run smoothly. This Receptionist Day, get appreciation gifts for receptionists. See here for 10 creative and fun Receptionist Day gifts.
If you are here for the gift card presentation printables, they can be found at the end of this article.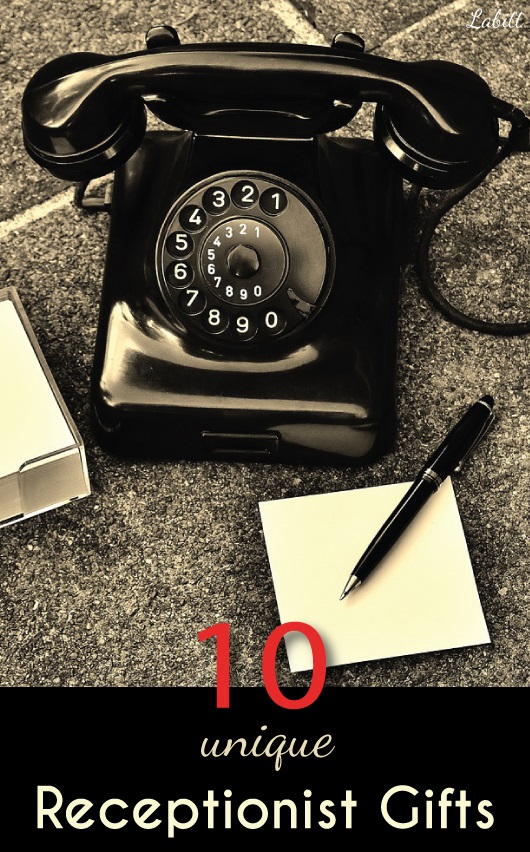 Receptionist Gift Ideas
1.   Plants Enamel Lapel Pins
Let's start our list of Receptionist Day gifts with this set of three chic lapel pins. Leaf, palm, and cactus design. Looks cute and stylish!
2.   Good Vibes Only Inspirational Mug
A simple mug great for enjoying morning coffee. Made of ceramic. Send good vibes to the receptionists.
3.   Juniper Tree Bonsai Plant
Green plant also makes one of the best receptionist appreciation gifts. This mini Juniper bonsai is perfect for workspace. It is evergreen and easy to care. Bring peaceful Zen element to the office.
4.   Diamond Pen
She will definitely love this gorgeous pen. Lovely color with a big diamond on top. For your receptionist to write in style!
5.   Teabloom Flowering Tea Set
Another great receptionist appreciation gift – Stackable teapots with blooming flower tea. Brew delicious tea that blooms into stunning flower in the elegant glass teapots. Make it hot or cold, and enjoy the beautiful view.
6.   Pineapple USB Flash Drive
Receptionist Day gift under $10 – pineapple storage drive. Super cute!
7.   CLEAN Rollerball Layering Collection Fragrance
A collection of five travel-size mini rollerball perfumes. Five unique scents that you can mix and match the mood of the day.
8.   Funny Sticky Notes Packet
Set of 6 colorful sticky notepads with bold acronyms. Features simple and eye-catching design with witty explanations at the bottom.
9.   Cell Phone Camera Lens Kit
For Receptionist Day, you can also get a gadget gift. He/ she will appreciate this 3 in 1 clip-on lens kit. Includes a wide angle lens, a fisheye lens, and a macro lens. Attach it to your smartphone camera and shoot like a pro!
10.   Cat End Pencil Sharpener 
Adorable kitty for the receptionist desk. You can stick a pencil to its rear-end and hear it meow when sharpening your pencil.
That's our list of Top 10 Receptionist Day Gift Ideas. Thanks for reading.
Amazon Gift Card Presentation PDF Printables for Receptionists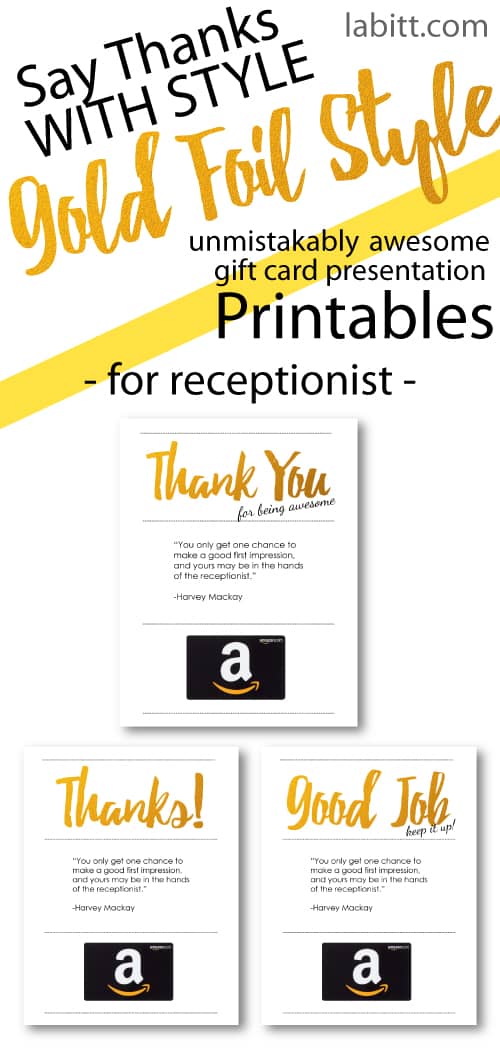 Gift cards are a bit strange sometimes, and I will explain why. What's great about a gift card is that it's a very practical gift; the recipient can use it to buy whatever they want to her fullest content — there's no room for the mistake of buying the wrong gift. However, this can a double-edge sword, because of its superb practicality, a gift card often appears as cold and impersonal. By it self, it is simply not a gift that conveys sincerity and passion, it doesn't have that interpersonal warmth in it.
But we can greatly improve gift card as a gift — by changing the way we present it. And the free printables are here to help; they convey clear and concise thank-you messages in bold, heartening text with gold-foil design. Also included is a lovely quote about the importance of a receptionist. Simply stick a gift card on one of these keepsake printables, and transform a boring and impersonal gift card into a thoughtful, sentimental, meaning gift with a personal touch.
For demonstration, we'll be using an Amazon card, bur other regular-sized gift cards will work with these printables just fine.
There are 3 different designs available in PDF format. They are in US letter size. I recommend that you use a color printer to print them. I have tried printing them black-and-white, but the result is not very satisfying.
(i) Receptionist Gift Card Presentation Printable1: Thank You for Being Awesome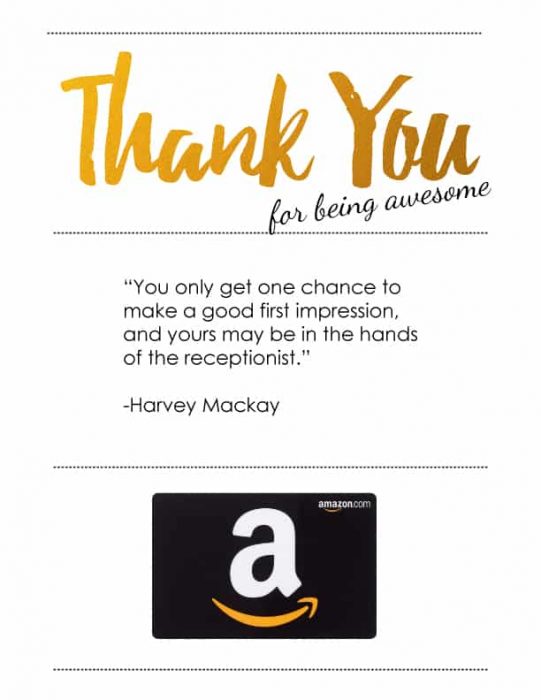 (ii) Receptionist Gift Card Presentation Printable 2: Good Job, Keep It Up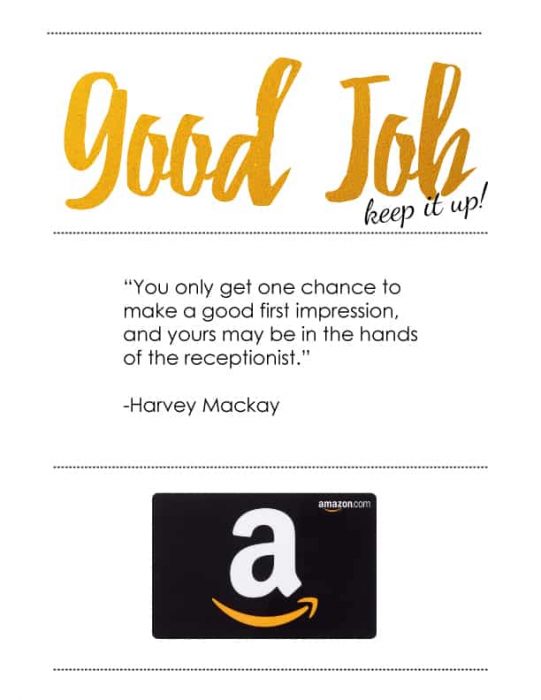 (iii) Receptionist Gift Card Presentation Printable 3: Thanks!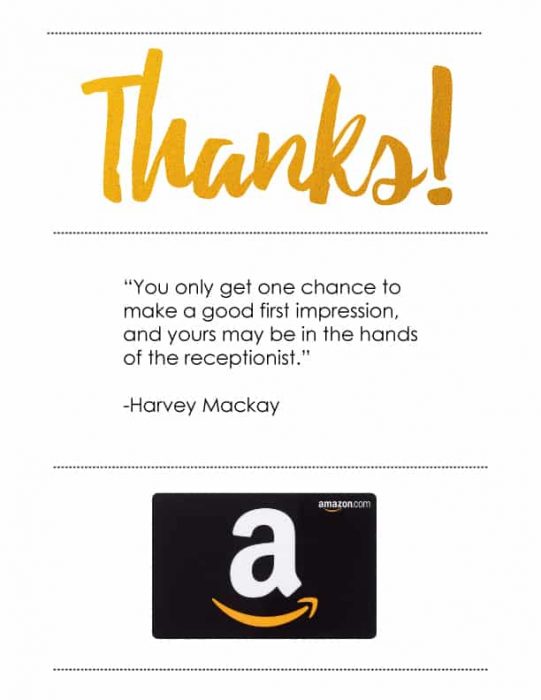 Download receptionist gift card printable #3 as PDF
If you haven't yet, follow us on Pinterest!