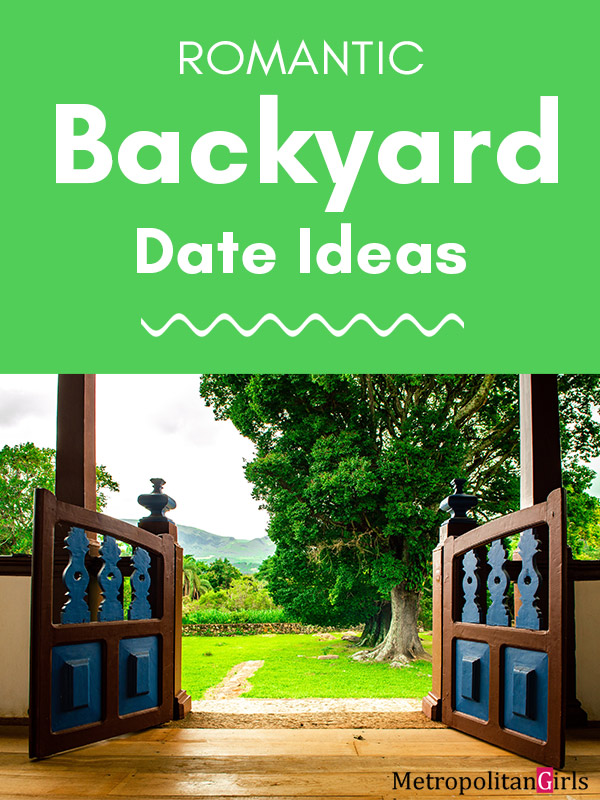 Backyard date ideas for couples who are looking to enjoy romantic date nights in the backyard.
Ideas for Backyard Date Nights
Dating in the backyard can be fun and romantic as long as you're willing to be creative. In fact, it is a great spot for many at-home date nights. Don't worry if you aren't sure where to begin. Below are 27 date night ideas that will get you started with backyard dating.
1. BACKYARD BBQ
Enjoy delicious grilled food with your date in a backyard BBQ cookout. Perform as a team. Work hand in hand to gather fresh ingredients, for example, meat, fish, vegetables, fruits, and s'mores. When you're at the store, don't forget to stock up on some aluminum foil. They'll come in handy when grilling food that sticks to the grill, such as fish and s'mores. "Plain water would go really with grilled food," said no one ever. So prepare some soft drinks, juices, or beer–in addition to water.
2. TANNING
In spring or summer when there's ample sunlight, head out to the backyard for a couple's tanning sesh.
Enjoy some quiet and relaxing time lying down next to your partner. Give your face and body that healthy golden glow by basking in the warm, revitalizing sunlight.
The Sun is also the best source of Vitamin D; a crucial nutrient about 40% of Americans don't get enough of. Vitamin D plays an important role in keeping the muscle, teeth, and bones healthy.
When tanning, remember to keep yourself hydrated and apply tanning lotion with sun protection. Help each other with the application to improve couple intimacy.
3. OUTDOOR SPA
Capitalize on the perfect weather outside. Take turns in giving one another a massage. Help each other relax by applying force strategically on pressure points. Get yourself a healthy tan in the process.
4. BACKYARD MOVIE DATE IDEAS
The movie date is the default date night activity for many couples. Sure, it's clichéd, but it also works well.
It's a date idea that is tried and proven. Movies are enjoyable even when you're feeling exhausted. At home, movie dates usually happen in the living room or bedroom. To break the monotony, grab your laptop or tablet and head outside to the backyard for an outdoor movie viewing experience.
For a more unique dating experience, get a projector and set up a projector screen to create your very own open-air backyard cinema. If you can move your car to the front of the screen, you have just created your area's one-and-only drive-in movie theater.
Note that you might need to buy a radio frequency transmitter to broadcast the audio over the AM/FM frequency bands so that you can hear the audio in your car. I'll write a more detailed guide on creating a drive-in theater at home one of these days.
5. POOL PARTY
Not everyone has a swimming pool at home. But if you do, it's time for a summer pool party. Don't worry if you don't have a pool–most people don't–just get yourself a portable pool. It doesn't have to be big but it'd be nice if the two of you can at least sit down comfortably in the pool. Splash water at each other, play water gun fight, listen to music, sip on cocktails.
6. SETUP A HAMMOCK
The hammock PR team (if there were ever one) has done a terrific job, because the image of a hammock and the word itself make most people think of relaxation and leisure. For this date idea, you're to hang out in a hammock on a lazy afternoon.
Sounds great? Well, there's a catch, first, you'll have to build it. Start by doing all the research you can on how to make a hammock. Unfortunately, using this article alone as a guide to building hammocks isn't going to get you far!
Here's a better hammock setup guide. That said you'll need two sturdy support poles, e.g. trees or some pillars that are your house's structure. You will also need a canvas or netting and two straps to suspend the canvas from the poles. Here's a better hammock setup guide.
7. BUILD A SWING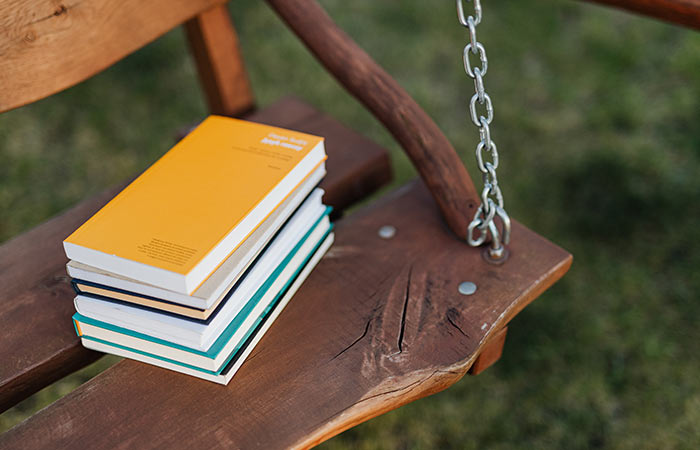 Similar to the hammock idea, build a swing in the backyard. Spending time on the swings as a couple is always a cute thing to do. If you don't have a swing in your backyard, pool together your efforts into building one.
A tree swing is fun for everyone in the family. And it'll forever be a photo-perfect spot. However, it does require a big and strong tree to support the swing. Couples who are adept at carpentry can try their hands at building a two-seater wooden swing.
Others may find it more feasible to order a kit online and assemble it together. And finally, if you prefer, you can always order a pre-built swing set.
8. BACKYARD IMPROVEMENT PROJECT
For a productive date that encourages teamwork, work together to improve the backyard. If you're finding your backyard a little bit boring, maybe it's time to improve it. While it's fun to get hands-on and build stuff, building and crafting are definitely not everyone's cup of tea.
So it's perfectly normal if you decide to shop for stuff that'll make the backyard more fun. As a matter of fact, shopping for the best deals and hunting for coupon codes are activities many couples enjoy doing.
Below are some backyard ideas or stuff you can buy to make the backyard a better place for the family to hang out and for you couple to date:-
Add wind spinners to liven things up.
Build a small patio.
Install solar-powered lights.
Add some chairs and a table.
Mow the lawn.
Install a privacy fence.
Get a jacuzzi.
9. PLANT A TREE
A backyard that is 100% lawn is boring. Not to mention that the lawn is not eco-friendly and require high maintenance. Planting a tree will liven up the backyard immediately. This is a great date idea for married couples. For committed couples, think of it as a way to invest in your shared future, for your offspring. And there's something romantic about that.
A fully grown tree is nature's best air filter. It provides shade in the summer and a shelter for the birds. When the wind blows, it sings the tune of Mother Nature by rustling its leaves. When the season changes, the tree decorates the backyard by changing its clothing accordingly. Depending on the species of the tree you're planting, in spring it might don a floral dress. Years from now, the tree will have grown big enough to support a swing with its tree branch and ample shade for the family to picnic under it.
It will take time to grow before you can reap the benefits. But you know what people say about planting a tree, "The best time to plant a tree was 20 years ago. The second best time is now."
10. GARDENING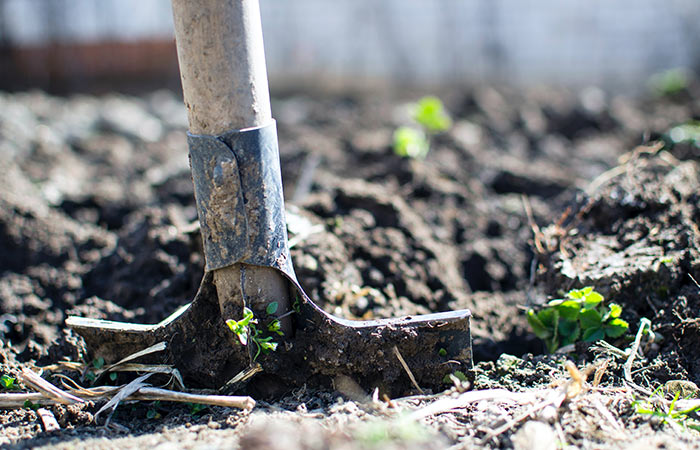 Planting a tree is a long-term investment. But it would be reaffirming to work on something that bears fruit in the near future. Gardening may not be the most romantic date idea ever but it is a fun way to spend some quiet time with your significant other. What to do on a gardening date? Plan the next crops to grow. Create a layout for the garden. Bring that layout to life. Shop for seeds and other gardening tools. Work in the garden together. Remove weeds. Water crops. Sow seeds. Trim off dead leaves. Tilt the soil. Harvest crops. The quiet and peaceful nature of gardening makes it an excellent date for introverted couples.
Earlier, I said that gardening is not the most romantic date ever. But any activity can be made romantic if you're willing to be creative. Here are a few romantic ideas for your gardening date:-
Hug your partner from behind when harvesting crops.
Put your arm around your partner when you're done for the day to appreciate the hard work you've done.
Shoot your date a flirty glance when you're working apart from each other. Smile at him suggestively for some giggles (or is it?).
Kiss under the floral arch.
11. MAKE A MEADOW
For this date idea, you lovely couple will be collaborating in creating a small meadow in the backyard. Until a few weeks ago, I used to have some misconceptions about meadows–that they all occur naturally and a meadow means a vast grassland. Well, a meadow can be a natural and vast grassland, but apparently you can also create meadows on smaller plots of land. All you need is to create specific soil conditions, that couple with the right climate and you get a meadow. To do this in the backyard, first designate an area for the meadow. Next, measure and buy wildflower seeds online. When the seeds are ready, dig up the lawn from the designated area using a pitchfork, tilt the soil, then sow the wildflower seeds. The arguments for a wildflower meadow, as opposed to the lawn, are many but it boils down to aesthetics, bio-diversity, and eco-friendliness.
12. BACKYARD PICNIC
One reason why the backyard is the ideal picnic spot is its proximity to the food source–the kitchen. A backyard picnic is so convenient, there's no excuse not to do it. However, just because it's convenient doesn't mean that you should grab a can of soda, drink it in the backyard in your pajamas and call it a picnic. As with most things, there's a ritual involved and certain rules to follow before you can call eating outside "a picnic".
First, you'll need to find a picnic blanket. Even though it isn't very comfortable to sit on, a waterproof blanket is the ideal choice. Because then you can picnic on a wet lawn without getting wet butts–that doesn't feel very romantic or comfortable. Next is the basket. Nothing feels more picnicky than a woven basket. But if you can't find that, a plastic basket will do just fine. Bring tons of food and drinks, check out these picnic food ideas. We've also touched on the backyard picnic in our at-home date night idea article, so be sure to check that out also. And lastly, don't wear your pajamas! No, I don't mean going nekked–though that is an option for naturist couples. Anyway, change into something casual but presentable, it's a date, so act like one. Remember to bring some games so you have some activities to do during the picnic.
13. CAMPING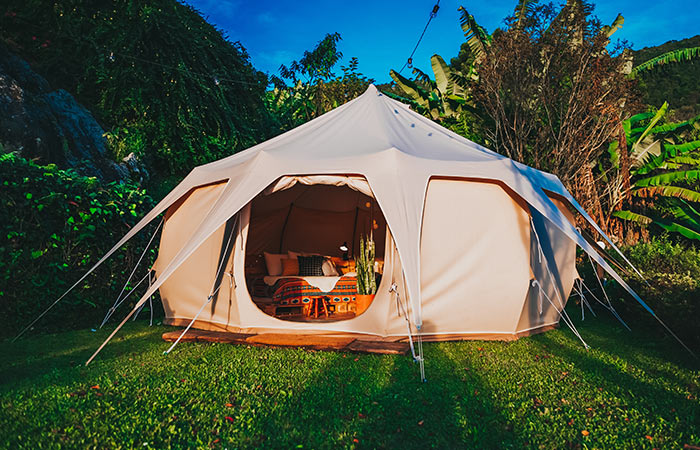 Have you had a sleepover in your backyard? Most people haven't. This backyard date night idea gives you and your partner an excuse to enjoy the backyard in a unique way. In it's simplest form, pitch a tent and use it as your bed at night. Snuggle and cuddle with each other. Ask how the week went. Whisper sweet nothings in each other's ears. And perhaps, you know, get naughty.
For a full experience, start early. Pack the stuff you need from the house because you won't be going back inside (except perhaps for toilet breaks) once you set out for the backyard campsite. Start a campfire. Boil some water and use the boiling water to brew yourselves some bold, aromatic coffee. Prepare food ingredients outside and cook up something using the campfire. For example, soup, stew, baked fish, etc. At night, if the temperature gets chilly, drape a blanket over yourselves and snuggle next to the campfire for warmth. Talk, make jokes, tease each other, and flirt like a new couple–before retreating to the camp for some rest.
14. STARGAZING – METEOR SHOWER
"Dwell on the beauty of life. Watch the stars, and see yourself running with them." ~ Marcus Aurelius.
For couples who live in areas without heavy light pollution, meet your date in the backyard to marvel at the stars. Find a spot in the backyard where there's an unobstructed view of the night sky. Lie down, hold your hands, and appreciate the blanket of stars and other shiny heavenly bodies before your eyes.
Stargazing is an excellent late-night date idea. It can be done as a standalone activity or in combination with other date ideas on this list. For example, it's a perfect addition to the backyard camping date night idea. Couples intrigued by stargazing might be interested in furthering their interest in astronomy. Save up some money and invest in a telescope. With a telescope, you'll be able to fly to the moon with your date (visually, of course) and to visit other planets in the solar system such as Mars and Saturn.
15. BUG HUNTING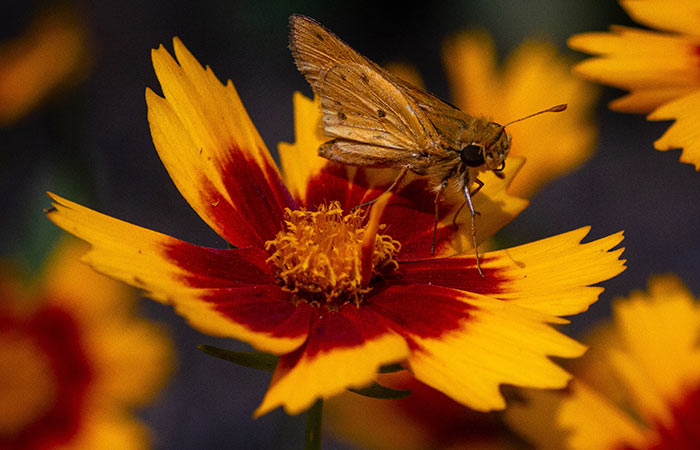 In the months when bugs and beetles are active, grab your nets and go hunt for some bugs. Hunt as a team and keep the bugs temporarily in a jar. Alternatively, fire up the competitive spirit by having a bug-hunting competition. Win by catching the most bugs. When you're done with the hunt, inspect the bugs and find out what they are online. Take photos of them. Pay attention to their behaviors, patterns, and color before releasing them back to their natural habitat.
16. BACKYARD COFFEE DATE
Wake up early to prepare breakfast and some coffee. Change into an outfit you'd wear to a breakfast restaurant. Enjoy a delicious breakfast consisting of umami-packed omelet, hearty bacon, toasts, and refreshing salad. And let's not forget a cup of coffee to wake you up for an exciting, fun-filled day ahead. Enjoy the soothing morning breeze and gentle tunes sung by the birds who have just woken from their slumber. And that's one way to have your coffee date at home, right in your backyard.
Coffee connoisseurs might be interested in a different coffee date. One that involves tasting different coffee beans and different brewing methods. Make small servings of coffee using different beans and methods, then taste the coffees by taking small sips. Don't forget to smell the coffees to pick up their olfactory notes. Finally, swap opinions. In winter, couples living in the snowy north can try a more rustic approach to their coffee date. First, make a fire pit in the backyard to provide warmth and a way to boil water. Next, make coffee using the boiling water. Lastly, enjoy the reinvigorating feeling brought by the coffee and take in the peaceful snowy vista offered by your backyard.
17. ICE CREAM DATE
"You can't buy happiness, but you can buy ice cream and that is pretty much the same thing." ~ Paige Lovelace.
Ice cream is one of the best inventions ever. Some inventions make life easier but ice cream has brought more happiness and satisfaction than most of them. Ice cream is flavorful, rich, and creamy. It keeps you cool in the summer, and it energizes you in the colder months. Ice cream is available in virtually any flavors you can imagine. Vanilla, Chocolate, Rum & Raisin, Cookies and Cream, Belgium Chocolate, Mocha, Strawberry. When you're feeling meh, time for some ice cream. When you need a celebration, time for some ice cream. And for a fun backyard date, well, that calls for some ice cream.
Take out a pint of ice cream from the fridge, add toppings to your heart's content. Stop your date from doing what he's doing and skip happily to the backyard where you'll enjoy some fresh outdoor air and some tasty and rich ice cream. As if sharing a pint of ice cream isn't cute enough, try spoon feeding each other. That'll give you some "new relationship energy".
18. READING
Spend an hour or two in the backyard reading and discussing the books you're reading. Get your partner a new book you think he'll love. Read books from any genre you prefer–fiction and non-fiction. I'm partial to physical books, but e-books work too. Alternatively, magazines and online articles could also offer hours of quality entertainment and helpful information. Eat some snacks and sip on freshly brewed coffee while you read. Homemade baked goods go well with coffee and books.
19. WINE TASTING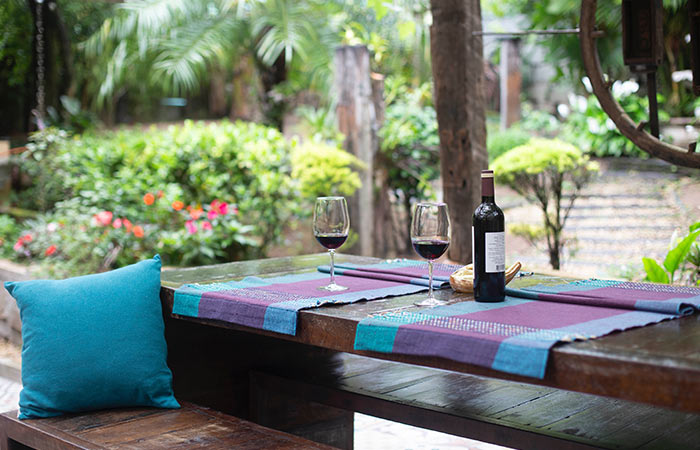 Allocate a small budget for this exquisite experience. Don't go in blind to the wine shop. Do some research online and look for wines that fit your budget and have good reviews. Depending on what you want to experience, you might want to buy a few bottles of wine produced by the same vineyard or different vineyards.
While the nearest vineyard may be miles away, your backyard is literally behind your house. For this date night idea, start by inviting your date to join you for a meal. Wine and empty stomachs are not a happy combination. Get out of your t-shirts and shorts. Dress yourselves in something a little bit more wine-tastingy. Nothing overly fancy. Perhaps a long-sleeve shirt for the gentleman, and an off-shoulder top for the lady. Accessorize with watches, earrings, and necklaces accordingly.
Wine tasting during the daytime allows you to see and distinguish the colors of the wine vividly. But an evening of wine tasting is one of the most romantic things you can do in the backyard. Just don't turn on that 100-W daylight spotlight. Nothing kills the mood faster than a bright and blue-ish light. For a romantic date night in the backyard, a string of orange LED bulbs will do wonders at setting a the mood and provide adequate brightness for your activities. To complement, light some candles to enhance the mood. Let everything bask in that lovely, warm, and sensual orange hue.
To taste the wine, try to experience all aspects of the wine with your senses. Start by visually inspecting the wine. Then smell it and finally take a sip and gargle it a little in your mouth–during which you'll taste it with your mouth and breath in and out to smell it once again. Try to detect the subtle notes in the wine and put that into words then compare your opinion with your partner.
20. OUTDOOR YOGA
You'll need to wipe off your yoga mats after this date but it'll be worth it. Lay out the mats side-by-side on the patio or directly on the backyard lawn. Do the whole yoga routine next to each other. You can do your own poses separately but it'd make you feel more connected as a couple if either one of you takes charge. Another option is to take turns in deciding the next pose. With every pose, pay attention to the tension in your muscles and the sore points in your body. Since you're outdoor, don't forget to enjoy the peacefulness offered by the comforting breeze, singing birds, and rustling trees. When the session is done, sit down for a quick, mindful chat with your partner.
21. TREASURE HUNT
Begin by hiding the treasure in a safe spot. Then plan the clues. The clues can be given directly or as a reward for completing a riddle, puzzle, or physical activity. The idea is to let the clues bring the participants from one location to another location with the treasure being the final destination. Clue making is when your creativity and imagination (and evil nature) shine! For the treasure, may I suggest booby-trapping it? A trap involving water seems harmless and fun–especially on a hot summer day.
A treasure hunt is vastly more fun and complex when it covers a larger area. So consider expanding the hunt to other areas of the house besides the backyard.
By design, a treasure hunt requires a planner and player. If this isn't the kind of dynamics you're looking for, you might want to try a scavenger hunt instead; a scavenger hunt is more collaborative in nature. First, compile a list of items that come to your mind. Then set out to search and take photos of the items.
22. BACKYARD PHOTO SHOOT
Dust off your DSLR or mirrorless camera for an exciting photography session in the backyard. The phone camera would work fine too! While there's a noticeable quality gap between the photos taken by a standalone camera and a phone camera, the phone is much more convenient to use. There are many ways for couples to enjoy a private photoshoot in their backyard and here are some examples:-
Capture little moments in the backyard. E.g. ladybug resting on a leaf, birds perching on a tree branch.
Take portraits of each other. Take turns in playing the roles of photographer and model.
Take wefies! Invest in a Bluetooth-enabled selfie stick that allows you to take photos of yourselves remotely without involving another person.
23. WATCH SUNSET / SUNRISE
Naturally, watching the sun rising and setting is a relaxing thing to do with your partner on the weekends. But doing it on a weekday, especially on a working day, breaks the dull routine of everyday life and that's gratifying. Depending on your location, that may mean that you need to get off work earlier or wake up earlier to spend time with your significant other. At its core, there's nothing complicated about this date. All you need is a spot for you to sit down comfortably in the backyard. In a perfect setting, the spot should offer a view of the sun and the horizon but for most backyards that is an indulgence. So don't worry about that. There are many nuances to appreciate and enjoy during twilight. For instance, the transition of the colors of the sky, clouds, and everything around you; including living things–trees, birds, and your partner– and inanimate objects. The winds might be changing and the temperature definitely does. It's a lot to take in if you pay close attention. For details that catch your attention, be sure to share with your partner.
24. LATE-NIGHT EXPLORATION
The backyard can be full of surprises at night. Its hidden secrets are waiting to be discovered by you and your date. For this late-night date idea, put on your explorer hat, grab a torchlight, and go for a late-night adventure in your backyard. Go around the yard to hunt for fireflies. Listen to various sounds and speculate what they are–perhaps you'd even chance upon an owl. Switch off the torchlight and enjoy the beautiful, glowing painting that is the starry night sky. This idea isn't without its flaws. One, if your neighbor can see your backyard, they might call 911 thinking that there're thieves on your lot. Two, many backyards aren't romantic and exciting at night–to overcome this dullness, create your own hidden treasures in the backyard and go for a couple's treasure hunt at night. Three, for some areas, this date night idea may be outright dangerous. I'm talking about areas that have an active wildlife population, nosy bears, active wolves, etc. So use your judgment!
25. PLAY PRETEND!
Do some roleplay. Pretend that you're someone else. It can feel a little bit childish but there's a child in everyone. Also, being childish with your partner is so cute! This activity can be done with both physical actions and conversation or just conversation alone. Create certain roles for yourselves, establish some kind of backstory, and put yourselves in a make-believe situation. Below are some play pretend ideas for couples:-
You're meeting each other for the first time.
You've swapped your bodies. Now you're your partner and your partner is you.
You're poets who are trying to find their muse in the backyard. Try to look at every little thing in the backyard and develop a sense of gratitude for them.
You're really old.
You're two 10-year-olds.
26. FONDUE
You don't have to travel to Switzerland to enjoy their national dish–fondue. With some preparation, you and your date will be able to enjoy the cheesy goodness of fondue in your backyard. Couple's fondue in the backyard, doesn't that sound intimate and romantic? You'll need a portable fondue pot or a double boiler that keeps the cheese warm and melty without burning. The melted dipping cheese is made from various kinds of cheese, wine, garlic, and herbs. The actual recipe is beyond the scope of this article, so I'll put some links below instead. Some of the more popular fondue dippers are bread, apple, strawberry, cooked potatoes, and bacon. For non-chess lovers (e.g. people with lactose intolerance), there are other variations of fondue you can try, such as broth fondue, chocolate fondue, salted caramel fondue, and oil fondue. Fondue is best enjoyed in fall, winter, and spring. Because it's satisfying to enjoy a hot meal on a cold day. But don't let anyone stop you from eating fondue in the middle of summer. Personally, I find that having cheese fondue in fall surrounded by colorful fall foliage paints a beautiful picture.
27. CHESS MATCH
Challenge your date to an outdoor chess match in the backyard. Choose a spot on the patio or under a tree's cooling shade. Snacks are off-limits because they'll make the chess set sticky. But feel free to enjoy a cup of freshly brewed coffee or tea as the two armies engage in battles. If you want to make the games more exciting, put something on the line. For example, the loser has to buy the winner lunch or the loser has to decide what to do for their next date night.
Wrapping Up…
And that is the last date idea we have for you on this particular list. Looking back, many of these are free date ideas or cheap date ideas that don't cost much to enjoy. Well I guess that's just another argument for having your date nights at home!
Our list ends here but the actual list of backyard date ideas goes on and on. That said, I hope you've found something useful from these ideas.