These matching keychains are the perfect gifts for couples who are in love. Are you looking for matching couple's accessories for your partner and you? Couples in love can't get enough of each other — especially when the couple doesn't get to spend much time together. This truth is compounded many times over when you're in a long-distance relationship (LDR). One great way for lovers and couples to feel more connected is through matching accessories. We have already covered couple's bracelets previously, now let's take a look at some matching keychains for couples and where to buy them.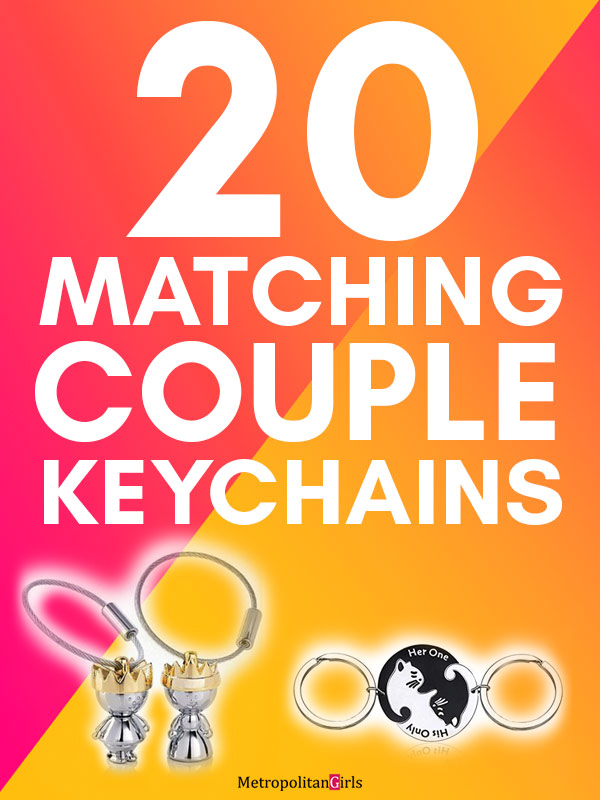 Matching Couples Keychains You'll Love
Looking for the perfect sweet, little gift to give to your special someone to show them how much they mean to you? Look no further than these cute couple's keychains. There are so many great options, you'll struggle to pick just one!
These matching couple keychains are the perfect couple gift. Get them for yourself and your boyfriend, girlfriend, husband, wife or secret lover. They are ideal for your other half's birthday, Christmas, Valentine's Day, and just because. Did we mention that they are also excellent long-distance relationship gifts?
1. Drive Safe Couple Keychains
Sometimes it's the little things that show just how much you mean to someone, which is why these matching keychains are so sweet. They're the perfect reminder to drive carefully, as there's someone special counting on you coming home.
2. Quidditch Matching Couples Keychains
Are you both huge Harry Potter fans? This is the perfect give for your fellow Potterhead! Made with high-quality stainless steel, these Quidditch-themed keychains are the best way to tell your loved one that they're a 'keeper'.
3. King and Queen Matching Keychains
Is he your king? Is she your queen? Then you need these keychains! They're durable and unique, ensuring they'll remind you of your loved one for a long time to come. The gold crowns also add a bit of bling, and the contrast between the crowns and your keys will really make them stand out.
4. I Love You, I Know Couples Keychains
If Star Wars is more your style, show your very own Han Solo how much you love them with this gloriously geeky keychain. Of course, they already know… But I'm sure they won't mind being reminded!
5. Matching Avocados Pair Keychains
Avocados are definitely the food trend currently, and for good reason. They're totally delicious! But did you realize they made adorable keychains too? Me neither! It's no wonder, really, when each half hugs the other. Let your partner know it's time to avo-cuddle with these sweeties.
6. Black and White Dogs
It doesn't get much cuter than this. These lovely pooches are the ideal way to not only match with your partner but add some canine love to your key set. (Bonus points if they resemble your own puppy!)
7. Interlocking Matching Cats Couple's Keychains
If you're cat people rather than dog people, these keychains have you covered. These sweet kitties are reminiscent of a yin yang symbol, whilst spelling out 'Her One' and 'His Only'. They interlock purr-fectly, so they will always remind you of the person who has the other half, no matter how far apart you might be.
8. Mickey & Minnie Keychains For Couples
If you both have a soft spot for all things Disney, these Mickey and Minnie Mouse keychains are ideal. Each one features a sweet pop of color, and are the ideal way to compare your partnership with one of the cutest couples around!
9. Matching Key and Key Fob
Cute key-to-my-heart keychains. These leather and gunmetal gray pendants are a gorgeous, understated way to show your love. The key fits through the lock perfectly, and the stunning dark gray color stays untarnished for the life of your keychains. Win-win!
10. Customizable Calendar Keychains Matched Pair
The possibilities are endless when it comes to the date you could highlight on these gorgeous calendar keychains. Your first date? First kiss? Wedding anniversary? Whichever date you choose, you'll be reminded of the special moment every day when you pick up your keys.
More Matching Keychains For Couples
No? No worries, below are even more choices for you
11. Bottle Openers
Cute AND practical? You got it! Not only are these girl-and-boy keychains super sweet, but they'll also ensure you're never stuck with an unopened drink again. After all, what better way to be reminded of your loved one than to use something they bought you every day?
12. Puzzle Couple Keychain Matching Set
This cute couple keychain set features two puzzle pieces that fit together perfectly — representing you and your partner. No matter where you both are, they are guaranteed to remind you of your loved one.
13. Guitar Picks Keychains
If the two of you have a shared love of music, these guitar pick keychains are ideal. Whether you play guitar or simply listen to music in your daily life, these great couple keychains are sure to remind you of the person you 'picked'. They're silver-plated, meaning they'll keep their shine and quality for years to come.
14. Peanut Butter and Jelly Couples Keychains
I don't know about you, but I am a huge peanut butter and jelly fan. If I received these funny couple keychains from my other half, I would be taking that as a huge compliment! It's basically one of the best flavor combinations in the world just like you two are the best couple combination around!
15. Matching Home Sweet Home Keychains
Have you two just moved in together? What better way to celebrate than with a special couple keychain for your new house keys? Each one features one half of a house, with the both of you inside, as well as a sweet engraving of 'Home Sweet Home'. Too cute!
16. Elephants Couple's Keychains
In the Hindu way of thought, elephants are thought to bring stability, honor and good luck making them such a good charm to carry with you on your keychain. These elephant couple keychains also feature gorgeous leather, giving them a lovely bohemian feel.
17. Year 2017 Matching Keychains
Was 2017 your year? Celebrate how important 2017 was for you two with these gorgeous stamped coin keychains. They come packaged with a cute card saying "what a lucky year!" which is obviously was, because you found each other.
18. I Like… Couples Keychains
Get a little cheeky with these naughty couple keychains! After all, it's always nice to be reminded of your best assets. Every time you glance at your keychains you're sure to smile how nice is that?
19. Magnetic Piggies Couple's Keychains
'Love Me' and 'Choose Me' – that's what these too-cute-for-words magnetic piggy keychains say on their little tummies. If that's not cute enough, each pig has a magnet in its snout, drawing the two pendants together when they're close to each other the perfect symbol for the love between you and your partner.
20. Game of Thrones Couple Keychains
Look out Game of Thrones fans, we've found the perfect couple keychains for you! Featuring the phrase that Danaerys and Khal Drogo said to each other, these gorgeous laser-engraved pendants are perfect to share with your very own Dothraki love.
Did any of these couple keychains strike your fancy? I know it was hard to collate this list without wanting to buy them all. Let us know what you thought- we'd love to hear from you!
Where To Buy These Couples Keychains?
Amazon has plenty of options available and they are really convenient to buy from. The couple's keychains on Amazon are usually quite affordable, however, as most things are nowadays, they are often made in China. You can sometimes find awesome keychains on Target.com and Walmart but they are usually rare. Etsy is an awesome marketplace for this kind of products. Their products are usually handmade but some are manufactured in a factory so you'll want to pay extra attention to the details. Anyway, be ready to pay a lot more if you buy from Etsy.
Share This Article
Read Also