Check out this list of 30 gift ideas that tween boys will love and appreciate. This list includes toys and games, STEM gifts, sports equipment, and more.
Best Gifts for 8-12 Years-Old Tween Boys
These gift ideas work great for Christmas, birthday or just because. They are geared toward young boys aged 8-12. Be sure to check it out and let me know what do you think. This gift guide is written for tween boys in mind, but they are equally awesome for tween girls! Alternatively, check out our gift ideas for tween girls article.
Without further ado, we present to you the 30 gift ideas we think your tween son or any other tween boys will love.
1. Toys and Games For Tweens
It's no secret that tween boys and girls love to play, so get some toys and games for them to play with. Here are my top recommended toys for tween boys.
Gaming Console: Nintendo Switch
With this gaming consoler, your tween boy can play his favorite games anywhere he goes. That's right. Nintendo Switch is both a home gaming console and a handheld device. What does that mean? It means you can play it like a tablet (but with controllers) or hook it up to the TV and play on the TV screen. Still not sure how it works? Here's the trailer that will show you what it is.
Nintendo Switch supports popular games like Zelda, Super Mario, and more.
Steam Gift Card for PC Gamers
If the boy is more of a PC gaming kid, he will love a Steam gift card. Steam is an online digital game store where you to buy and download games. This gift card allows the kids to buy any game they want without a credit card. There are different gift cards available: $20, $50, and $100. After you buy the gift card, a code will be sent to you via email. You can then use that code to add fund to Steam (refer to this official guide if you're not sure how). You can always print it out on a nice paper or write the code on a greeting card to surprise the boys.
Let's Get Old School: Tangle-Free Toy Parachute
Fun glow-in-the-dark parachute trooper toy. Just throw it up, and watch it fly. The higher you throw, the longer it flies. Worth mentioning, this is the original toy parachute. Unlike other lesser toy parachutes, this is built with quality and performance in mind. The parachute is made of rip-stop Nylon which allows this gift to last a long time with even repeated use. It is designed to be tangle-free, so less annoyance more enjoyment.
Off-Road Remote Control Car
Tweens love cool RC cars! The sight and the sound of a remote control car get them excited. They will love this off-road RC car from SZJJX. The RC car is a multi-terrain beast that can handle uneven surfaces: beach, mud, wetlands, and grass. And yes it is waterproof! The RC car can be controlled up to 50m (which is about 164 ft). It comes with rechargeable batteries that offer 20 minutes of playtime per charge.
LEGO Dinosaurs Kit for Builders and Creators
Lego is loved by boys and girls of all ages. With this 174-piece 3-in-1 Lego Creator building kit, the boys can build three different types of dinosaurs. They are Tyrannosaurus rex (T-rex), Triceratops, and Pterodactyl. Each of the dinosaurs has different anatomy and requires different techniques and logic in building them. This is great for stimulating a tween boy's creativity and problem-solving skill. The kids will love this unique Lego kit as their gift.
Rich Dad Poor Dad – CASHFLOW for Kids
Being knowledgeable in personal finance is critical to anyone. As tweens grow into teens then young adults, it's important that they get an intuition on how to properly manage their finances. And what better way than to learn this through a board game? Cashflow for Kids is an educational board game designed by Rich Dad Poor Dad to help kids understand personal financial management. It simulates real-life financial situations in a context that engages the tweens. Learn the basics of accounting, finance, and investing at the same time by playing the game — that sounds like a win to me! A great educational gift for tween boys.
Transformers: Bumblebee Toy
A cool robot that transforms to and from the iconic Chevy Camaro. One of America's favorite transforming robots — Bumblebee. This toy features Bumblebee from Transformers: The Last Knight. The transformations from car to robot and vice versa are smooth. At a 5.5.inch scale, it's not a huge toy, which is great for the tweens to play with. This will be a popular gift for the boys.
Marvel Iron Man Repulsor Gloves
Iron Man is a well-loved American superhero. Red hi-tech robotic armor with tasteful gold accents, built-in AI assistant, and most importantly palms that shoot laser beam? Super cool. With these toy gloves, the tweens can play-pretend that they're Iron Man. Fire plastic missiles with the press of a button. Rubber glove with plastic missile holder and launcher. Press button on the right wrist for lights and sounds! One pair of gloves included. I think this gift works best for younger tweens.
Magnetic Dartboard
Would you prefer to have a more traditional family fun with the kids? Get this magnetic dartboard — everyone gets to play. Unlike a conventional board, this dartboard uses magnetism which means no sharp darts that the kids can injure themselves from. The board is 16 inches in diameter.
Other Toys & Games to Consider
Settlers of Catan – popular board game
Not Parent Approved – card game like Cards Against Humanity but family-friendly
Playstation, Xbox – other popular gaming consoles
2. Just-for-fun Gifts Tweens Love
Here are some just-for-fun gift ideas for your tweens.
Zodiac Mug
Get the tween boy a unique coffee mug that represents his zodiac sign. This zodiac gift is perfect for boys who are into Astrology and horoscope. This is a fun birthday gift.
Dream Big T-Shirt
Encourage young people to dream big with this explicit t-shirt. Have the audacity to dream and plan their grand futures — futures that are perhaps a little too hard to achieve but still within grasp if they work hard at it. This t-shirt is another fun Birthday gift.
Persevere Motivational Mug
Plant the seed of perseverance with an innocent coffee mug. On the mug is the handwritten-style word Persevere, followed by a Confucius quote that encourages you to keep going.
3. Sports Gifts for Tweens
Sports are great for health and help stimulate growth. Help tween boys form a life-long habit of doing exercise with the following sports gifts.
Skateboard
Are the tween boys into skateboarding or are interested to get started? Get them the right equipment to encourage their interest. The Enkeeo 22-inch Cruiser is a compact skateboard designed for youth. It is 22 inches long and 6 inches wide, perfect for a tween. No assembly is required — it is ready to ride right out of the box. The design that I'm recommending below features a joker/graffiti design, but there are other designs available. For a skateboard-loving boy, this will be one of the best Christmas gifts for him. Click the image below to see more variants.
Spalding NBA Street Phantom Basketball
Designed for outdoor use, this basketball has a strong grip and good bounce. Extremely cool design — black leather with neon green texts which lives up to its Street Phantom name. Official NBA size and weight. Your basketball-loving tween will love this cool sports gift!
Lifetime Portable Basketball System
Play basketball at home with your own portable basketball system from Lifetime. This is a gift for the whole household in secrecy — everyone gets to play with this. What's really unique about this basketball system is that it is portable and adjustable. The hoop has wheels which allow it to be moved whenever necessary — which is helpful for freeing up space when the hoop is not in use. Its height is adjustable to accommodate players of all heights, this Christmas gift is especially helpful for tween boys who are growing up.
Nike KidsTanjun Running Shoe
Invest in a good pair of sports shoes for him. This pair of Nike is designed for running, but you can also wear it daily or for other sports. A good pair of shoes helps to support his sole and his posture. Both of which are important for a boy of that age.
Wilson Traditional Soccer Ball
Great gift for boys who are more of a soccer player. Reward him this Christmas or Birthday with a new football from Wilson. Standard-size soccer ball with 32-panel synthetic leather cover. It is durable and offers an extremely soft touch. Excellent air and shape retention so you don't have to pump it very often. Traditional design.
Easton S50 Youth Baseball Bat
Upgrade his baseball bat to this cool-looking baseball bat. Designed for tweens. This bat features a unique red-black design. Made of durable aluminum alloy, this bat is meant to last — even after the tween boy has outgrown it, it can be kept as a memento of his younger days.
4. Educational STEM (Science, Technology, Engineering, Mathematics) Gifts
Help nurture a tween boy's interest in the STEM area with these great STEM gifts. These presents are meant to encourage critical thinking and problem-solving.
Celestron 70mm Travel Scope
Astronomy gift
Explore heavenly bodies with a Celestron telescope. This 70mm Celestron scope is great for beginner stargazers. It's light and easy to set up, no additional equipment is needed to get it up and working.
What can you see with a 70mm telescope? Quite a lot, for example, the phases of Venus, lunar craters as small as four or five miles in diameter, and several cloud belts on Jupiter (for the full list and more details see astronomics website). The scope comes with a custom backpack for convenient storage and easy traveling. You also get a free astronomy software "TheSkyX – First Light Edition" that has a 10,000 object database, printable sky maps, and 75 enhanced images. Your tween will love this!
Aircee Mini Solar System Crystal Ball
Astronomy gift
The telescope idea above is great, but we can't always be watching the sky. With this crystal ball from Aircee, you don't need a telescope to look at the Moon or the planets, because the whole Solar System will be in your hand. Study the position of the planets within our Solar System and be fascinated by it. Stimulate the curiosity in a tween: why are the planets this way, who discovered this, how, when? The crystal ball is 3-inch in diameter and comes with a wooden stand. It is great for any surface especially tabletop for bringing inspiration for the tween.
Kikkerland Magnetic Hourglass
Just like your regular hourglass, except that it's filled with magnetic ferrous (i.e. iron) sand instead of your regular sand. The result is an alien-looking blob(?) of … coolness as the hourglass does it one-minute countdown. I'm not exactly why it works like this, perhaps it's a question your tween can find out when he gets curious. The hourglass comes with a great-looking wooden base.
Magnetic Sculpture
Unique Xmas present
An interactive tabletop decoration that allows you to shape and reshape. A happy union of art and science, this sculpture makes clever use of magnetism — the stainless balls of different sizes are magnetized by its base. That allows the balls to hold different shapes that you intend them to. It does contain small parts, so I don't recommend this to families who have young kids, but a tween should handle this just fine.
There's No Place Like Space: All About Our Solar System
This Dr. Seuss book about our Solar System is meant for a younger audience, but I think a tween who is fascinated with astronomy will find it enjoyable as well. In this revised version (bye, Pluto!) of There's No Place like Space, Cat in the Hat and his buddies are launched into the space to visit the eight planets.
The Original Stomp Rocket: Jr. Glow in the Dark 4-Rocket Kit
Super fun activity kit for tween boys and girls. Launch a foam rocket without needing fuel or battery — it's all kid-powered! All you need to do is run, jump, and stomp to launch these rockets up to 100 feet in the air. Launch a rocket at night to see it glow in the dark. Some simple assembly is required, which is great for a tween to learn. This kit comes with four foam rockets.
National Geographic Dual Microscope Science Lab
Your tween will find this microscope helpful in helping him to make observations at a microscopic level. It is a dual-scope, you can view both slides (flat) and 3D objects with it. There are bright lights from above and below to help illuminate the object that you're trying to observe. It offers 20x and 50x magnification which is great for beginners. It comes with a ton of extras: tweezers, eye dropper, slides … you can head on to its detail page below for the full list. Also included in the already great bundle is the brine shrimp experiment.
5. Art Supplies: Gift Ideas for Tween Boys Who Are Artistically-Inclined
Is the tween you're shopping for artistically inclined? Does he like comics or like to draw in general? Encourage him to pursue his interest and help him to improve with these art gifts.
How To Draw Comics The Marvel Way
Learn to draw comics from Stan Lee, the renowned Marvel icon, and John Buscema, the man behind the Mighty Thor and Spiderman. Master the art of drawing comics and graphic novel from the masters themselves. Learn to write engaging comic dialogs and draw dynamic poses and faces in this guide with examples from Marvel comics. Note that the book is somewhat wordy but it should be fine for an older tween.
Acrylic Paint Set
Acrylic is fun to paint with. It mixes well while it is wet; it dries fast — allowing you to paint layer upon layer without having to worry about mixing paint unintentionally. The result is a high level of flexibility in channeling your creativity into actual artwork. This acrylic paint and brush set for beginner painters is the perfect birthday gift for tweens who are into painting. Twelve premium acrylic paints that are fluid and flexible. Six synthetic nylon brushes that allow a young painter to paint strokes of different styles.
Tombow Dual Brush Pen Art Markers
A quality product from Tombow. This color pen set is a great Christmas present for aspiring young artists. Use it for drawing, doodling, illustrating, lettering, or more. 9 colorful water-based dual-tipped color pens with one blender pen. The color pens have two tips, pen and brush, which allow you to draw different kinds of lines with them. The blender pen is really cool, it is a special pen that allows you to soften and blend the existing color to create a watercolor effect. The pens are acid-free.
6. Tween Accessories, Wearable, and Gadgets for Boys
Here are some awesome gifts that don't belong to any of the categories above.
ibagbar Classic Canvas Backpack
Classic, durable canvas backpack by ibagbar with a 1-year warranty. Great for tween boys who have to frequent between school, after-school activities, home, and perhaps even work. With this roomy backpack, he can store all his stuff safely inside. With the bag's pocketed design, his things can be kept organized. The bag has 1 main zipped pocket, 2 sides pockets, 1 front zipped pocket and 2 interior slip. The wide straps make sure that it doesn't overstrain the tween's shoulders. In terms of material, the bag is made of 100% canvas, the tag and zips are made of genuine leather.
Black & Yellow Boy Watch
Stylish black-and-yellow watch that gives off the vibe of a bumblebee due to its color scheme. It looks outstanding and off-the-chart energetic. Besides being great in the looks, this watch is also comfortable for everyday wear and is packed with features. Some of the features this watch offers are time/date, night light, stopwatch, and alarm. It offers water-resistance up to 100ft with some caveats, so make sure you don't soak it in water. In terms of the dimensions, the watch case is 37 mm, and the band fits wrist size 4.7 – 8.7 inches.
Kodak Digital Camera
A good camera for those who are starting out to explore the art of photography. This Kodak digital camera is relatively inexpensive and promises great value at the same time. You can capture photos up to 14-megapixels with it. It supports 4x optical zoom and comes with a 2.7″ LCD screen. The camera is also capable of capturing HD videos at 720p. All in all, it packs exceptional value and is great for a tween who is exploring what hobbies to pursue.
The model that I'm showing here is in black, other colors available are red and silver.
7. Books for Tween Book Lovers
Harry Potter and the Sorcerer's Stone
The first of the many Harry Potter books. It debuted in 1997. In the Sorcerer's Stone, we follow Harry Potter, a young boy who has just found out his heritage as a wizard, as he enters the Hogwarts School of Witchcraft and Wizardry. During his first year at the wizard school, he makes close friends and a few enemies. Harry faces an attempted comeback by the dark wizard Lord Voldemort, who killed Harry's parents, and he will need his friends to help to overcome this challenge. This is a good gift for Harry Potter fans.
The Chronicles of Narnia Complete Set
The complete collection of The Chronicles of Narnia — The Magician's Nephew; The Lion, the Witch and the Wardrobe; The Horse and His Boy; Prince Caspian; The Voyage of the Dawn Treader; The Silver Chair; and The Last Battle. With this collection, experience the magical world C.S. Lewis created in its entirety. Get a special bonus book Boxen when you buy this collection.
The Chronicles of Narnia is a great collection for tween boys. It has well-portrayed characters that a tween can relate to, a captivating magical world, and engaging storylines that will get the boy interested in reading more.
So what do you think of these gift ideas? Did you find anything interesting? Do you have any recommendation a tween boy will love? Share with us in the comment section below.
Every year, tens of thousands of people get inspiration from Metropolitan Girl's gift guides. Do you have any gift idea that you'd like to share with our readers? Let us know on Pinterest!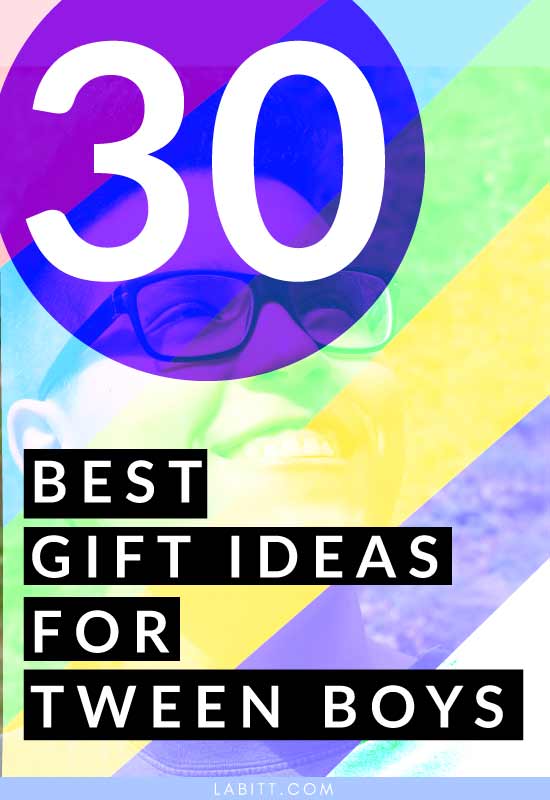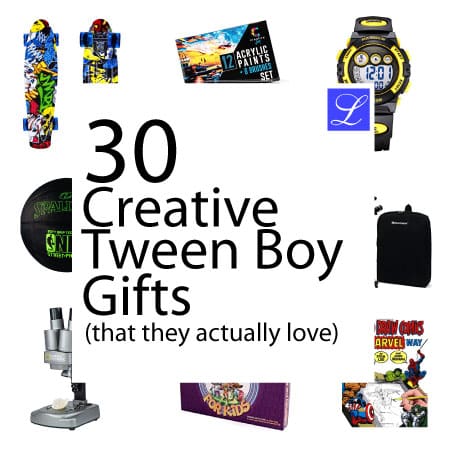 Gift Guide Specs
Target Audience
This gift guide is written for friends and family who care. We hope that someone who's shopping for a gift for a tween boy will find this guide helpful. The gift ideas are what we think a tween boy will want and love as their Christmas gift or birthday gift. It doesn't matter who's doing the shopping, but when we are writing this guide, we're imagining an older family member: mom, dad, grandma, grandpa, etc.
Occasion
The gift ideas are versatile and should not be limited to any one occasion. So they will work as just-because gifts as well as graduation gifts. Of course, they are excellent Christmas presents and birthday presents too.
More Gift Ideas for Tweens
Other cool gift ideas that tweens want.
Tween Resources
https://www.instagram.com/p/B3Ux4EvgHOd/