Are you looking for a gift for your daughter, sister, or friend who is graduating from high school? The high school graduation season is just around the corner, soon she will be closing an important chapter of her life. For this special occasion, you will want to get her something special to congratulate her. In this article, we have put together a list of more than 15 awesome high school graduation gifts a girl will love. These gifts are cool, meaningful, and practical. She will definitely appreciate it.
Read also: high school graduation gift ideas for guys.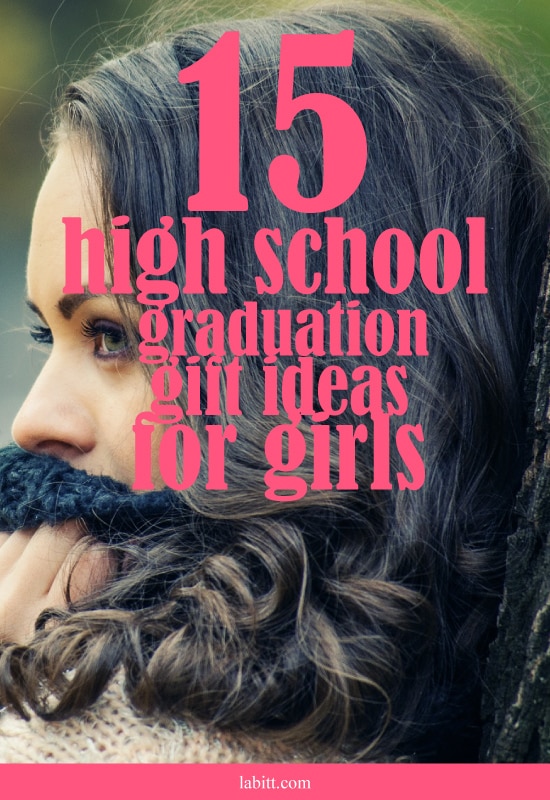 Graduation Gift Guide: What Gifts to Get for a Graduating High School Girl?
1. Inspirational Confucius Quote Mug
No one can say for certain what the future holds. But one thing is certain, no matter what you decide to do, you better give it your 100%. And this is exactly the kind of inspiration this mug provides. It features a Confucius quote that says "Wherever you go, go with all your heart.".
If you like gifts that are inspiring, you will love these inspirational coffee mugs.
Camera is one of the best gifts for graduating high school girls. We recommend this popular mini instant camera by Fujifilm. Loved by girls of all ages around the world, this little camera allows her to capture the wonderful moments of her life, and instantly print out photos that she can share with her friends and family. This camera features automatic exposure measurement, real image finder with target spot.
Also available in other colors such as raspberry, yellow, blue, pink, black, and white. See the full list here.
A classic book for graduates by Dr. Seuss. Oh, The Places You'll Go! is a fun and colorful book filled with wise graduation speech. It is a fantastic book to send off students who are moving to the next stage of life.
4. Ted Bar Women's 'KATE' Watch
An exquisite watch from Ted Baker that features Hamilton gold stainless steel rim and Ted Baker London exclusive oriental blossom print dial. 3-hand movement with date. This watch is water-resistant to 165 ft deep, however, this watch is recommended for wear during a recreational swim only. Its price is slightly higher at around $150, but for a once-a-lifetime occasion like her high school graduation, this gift is well worth it.
Celebrate the fresh graduate's achievement and hint at their phase in life. It only works if you know that they are going to college! Extra point if the recipient is a gamer. Check out other graduation t-shirts.
She will love this pretty backpack with a unique Bohemian embroidery design. Lively and colorful. It has comfy shoulder straps, padded protection main compartment great for laptop, multiple pouches in the inside, and outside. Sturdy and durable. This bag can fit a 15" laptop, books, binders, and more.
7.   Poem – For My Daughter on Graduation Day 
This beautiful poem enhanced with lovely watercolor graphics is a great graduation gift for daughter from mom. "Today, as you graduate, one chapter in your life has closed, and another is about to begin…" This poem is sentimental and nicely worded; it carries heartfelt messages to the girl who is about to start a new chapter in life.
8. Beach Gal Mini Handbag Body Mist Spray Collection
This Beach Gal Mini Handbag collection features four irresistible sweet fragrances — chic, fashion, vogue, and dashing. Their bottles are super colorful and cute. These fragrances come in a tastefully designed box, ready to be presented to the high school graduate!
The young lady is entitled to a piece of beautiful jewelry. You can opt for a gorgeous pearl necklace that she can wear for any important occasions during the years to come. She will love this double pearl necklace. It looks simple, dainty, and never goes out of style.
Now that she has graduated, it is time for her to fly, fly towards her dreams.  Whether she is going for a trip with friends, leaving home for college, or moving out to other city, she will need a good luggage bag. This set-of-2 luggage is the perfect choice. Cool and stylish design that is easily identifiable, be it at the airport baggage carousel or elsewhere. It has multi-directional spinner wheels for easy manuverability, ergonomic push button handle, and mesh pockets on the inside.
The bags are lightweight, roomy and durable. Suitable for both short trips and also international trips.
11. Good Vibes Only
She'll love this thoughtful gift. This is a mug that says, Good Vibes Only. She'll be drinking from this mug and reminded of the positive message and wishes carried by this mug.
12.   Parker Jotter Premium Ballpoint Pen
You can also get a good quality, elegant pen as the graduation gift for her. This premium pen by Parker will accompany her for many important events in her future — college, job interviews, meetings, and more. A keepsake pen that provides smooth and professional writing performance.
13.   The Freshman Survival Guide
An excellent book for students going to college. Contains helpful guide and advice on academics, relationships, lifestyle, emotional and ethical issues. Informative and inspiring.
14. The Girl's Guide
In The Girl's Guide, author Melissa Kirsch compiled information and advice in a common-sensible, funny and easy-to-read primer on all aspects of life for women in their 20s and 30s, deftly organized into 10 chapters covering health, work, money, manners, friends, love, family, spirit, home and fashion. Written for post-college women in mind, this book is equally helpful for young women who are graduating from high school.
15. Seuss-isms! A Guide to Life for Those Just Starting Out…and Those Already on Their Way
Sixty inspiring pages of Dr.Seuss's most memorable quotes from the classics as The Cat in the Hat, Horton Hatches the Egg, and more. Humorous and inspiring — truly the perfect guide to life for those who are just starting out, and those who already on their way!
Also, don't miss these 110+ high school graduation quotes and college graduation quote images.
16. Dogeared Going Places Compass Disc Chain Necklace
Delicate 18-inch chain necklace featuring small compass disc pendant with four direction engravings. The necklace comes affixed on a beautiful keepsake card that says Going Places followed by an inspirational paragraph of text. A beautiful and inspiring gift perfect for her high school graduation. Made in USA.
Unique and original, this hand painted inspirational quote room decor will make a memorable graduation gift for her. The painting says, Wake Up & Makeup, against a black starry background with shooting stars. Its size (8″ x 10″) is travel friendly; this allows her to bring it with her to her dorm room when she goes off to college.
Don't forget to also check out these lovely inspirational quotes for high school graduates.
18. She Believed She Could So She Did Keychain
Not the most expensive gift in the world, but this is definitely a very thoughtful gift. This beautiful keychain is rimmed with shiny faux diamonds. At the center of it is an inspirational quote that says, she believed she could so she did. Just the perfect daily accessory to remind her of her achievement of graduating from high school and that with the same grittiness she can achieve even more in the future.
Thanks for reading. Feel free to pin these gift ideas to your favorite Pinterest board.
Get more graduation ideas on Pinterest.
Don't miss the opportunity to decorate your graduation cap! Check out DIY graduation cap ideas for inspiration.
Related Articles