Celebrate your friend's or relative's new chapter in life by getting them a proper send-off gift.
In this article, you will discover more than twenty useful (and cool!) ideas that the new college student will love and appreciate. Most, if not all, of these ideas below are practical gifts that will help a college freshman to cope with his or her new environment. Some of the ideas will even help them make more friends.
Written for college freshmen in mind, these gift ideas work for college students of all ages and genders. Check out these off-to-college gift ideas now.
Going Off To College Gift Ideas
1. MiniPresso Espresso Maker
Often, college students just need that extra boost to revitalize themselves for an important term paper or exam. When a college student is in need of a dose of caffeine, the MiniPresso espresso maker is there to help. The compact and sophisticated-looking espresso maker can make espresso with no battery and no electricity. Everything is manual and self-sufficient. Its size and portability are perfect for a space-constrained location like a dorm room or the library. Espresso, of course, is the main element for coffee types like mocha, latte, and macchiato. Drinking by itself, without watering down, espresso revitalizes your sense without putting the extra burden on the bladder.
2. College Survival Kit – Hangry Kit
Hangry Kit — an emergency snack kit for when you're hungry and there's no food! This kit is perfect for situations like burning the midnight oil for an exam and bad weather — thunderstorm or blizzard.
3. Willow Tree Friendship Figurine
How about a friendship gift that is also a beautiful piece of home decor? Willow Tree Friendship is a beautiful figurine that celebrates friendship. The closeness is symbolized by the knot at the top of this piece. All Willow Tree figurine prototypes are handmade by a US artist.
4. Ceramic Friendship Art Sign
True friendship (or any positive relationship) is about helping your friend to become a better person. Get her a handmade ceramic sign that features a quote from Christopher Robin to Winnie the Pooh that says "You're braver than you believe, stronger than you seem, and smarter than you think.". Hopefully, this will help provide her encouragement when she faces hardship in the future.
5. Mark My Words Special Friend Mug
If you're looking for a meaningful gift that is also practical. I recommend this Special Friend mug by Mark My Words. Beautiful abstract floral design that features a meaningful quote. The only downside is it's so beautiful that she would probably keep it on a display shelf.
6. Jansport Backpack
Perfect for a college student's storage need. This spacious Jansport backpack is more than adequate for notepads, calculators, stationery, and even a 15-inc laptop. Unlike the standard Jansport backpack, this special variant features an outstanding color scheme and uses suede leather on the zippers and the bottom of the bag.
For even more cute backpack ideas, check out 18 Stylish Backpacks for School and Beyond.
7. Mead Spiral Notebook
A full-time college student can easily use up to 5-6 notebooks per semester. Get her ready at least for the first semester by getting her a college-ruled notebook bundle.
These notebooks are meant for 1 subject and come with different distinctive colors which will help a student differentiate them easily.
8. Humorous Canvas Laundry Bag
Provide him with a proper way to store his dirty laundry with a durable canvas bag. This bag lays out step-by-step on how to do laundry. They are meant to be humorous but I find the steps to be quite practical as well.
9. Sharpie Highlighter Set
Make effective notes with the help of a Sharpie highlighter. This highlighter set provides 10 beautiful and vibrant colors for you to choose from.
10. Vilano Avanti Folding Bike
When the weather is right, a bike is perfect for a student to travel around the campus. This stylish bike from Vilano is light and foldable — so you can store it in your dorm room if you decide to, without being impractical. The price tag IS a bit on the high side, but if you're getting a gift for an important person you may find this investment worthy.
Warning: do not get them this gift they have limited space when they are moving — e.g. if they are taking a flight.
11. Decibullz Earplugs
Undesired noises are an inevitable part of our life, especially if you're in college, more so if you live in a dorm that has … active residents. This is where earplugs can help. Reduce noise level down to an acceptable level, so that you can concentrate on your study or get some sleep. Stylish and made in the USA.
12. me & my BIG ideas School College Stickers
Cool and pretty stickers perfect for planning your life.
13. Handmade Room Decor
Being uninspired can be a dangerous thing for a young adult. Provide her with a source of inspiration with a meaningful quote that is beautifully handpainted with acrylics. Its compact size is perfect for a dorm room setting and for travel.
14. Goal Digger T-Shirt
Humorous black t-shirt with words that feature a gold-foil design.
15. Ello Vacuum Insulated Tumbler
Keep hot drinks hot and cold drinks cold with the Ello insulated tumbler. Minimalist exterior with clever use colors — this is a tumbler that stands out in the crowd.
16. Hamsa Hand Good Luck Keychain
Wish the freshman good luck with a little good luck charm that is the Hamsa hand keychain.
17. Dogeared Good Luck Pendant Necklace
Deliver a heartfelt message and pendant necklace that represents good luck with this extraordinary Dogeared specialty.
18. Dry Erase Calendar Peel & Stick Wall Decal
Never miss an important deadline with this calendar wall decal. This is a decal that you can peel and stick. Dry-erase surface because it's a sane product (one-time use wall calendar is not really helpful!)
19. PBA Free Water Bottle
Check out 10+ colorful water bottles in my other post: PBA-Free Water Bottles – Cute & Unique Water Bottles Perfect for Everyday Use.
20. Inspirational Pencil Sets
Discover 10 inspirational pencil sets in 11+ Cute Pencil Sets with Inspirational Quotes.
---
So what do you think of these farewell gifts? Found anything useful? Do you have anything to add? Let me know in the comment section below.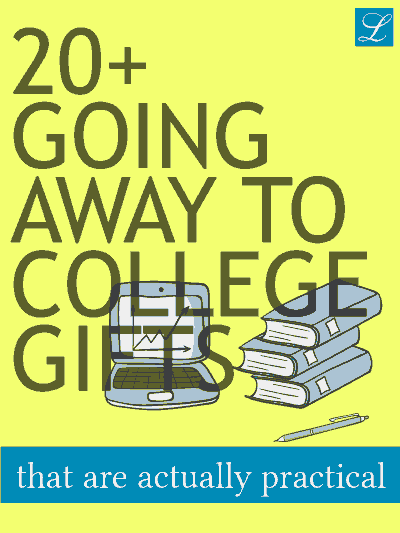 Off to College Gift Guides