In this gift guide, discover unique gift ideas that are great for celebrating a new firefighter's graduation from the fire academy. Celebrate the firefighter's achievement with a thematic gift that is related to their line of work.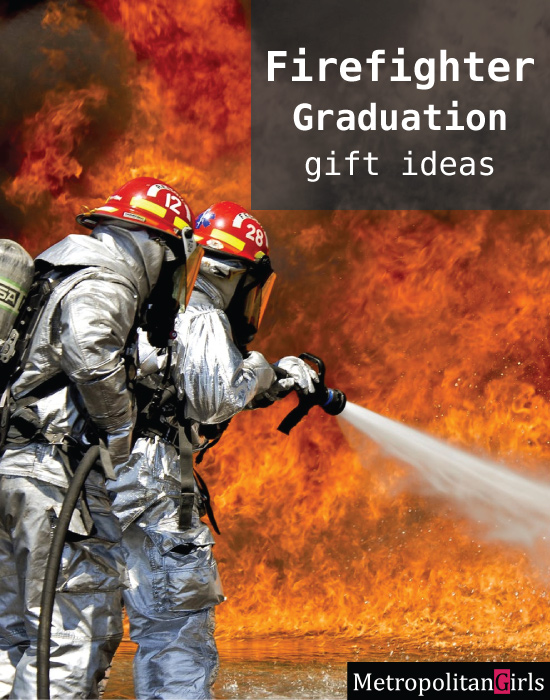 Firefighting is a widely respected work. It involves risking your life to save the lives of others. It is a highly competitive but rewarding job. In order to enter the firefighter profession, one has to meet high standards. Firefighter candidates have to go through tough training, both physically and mentally. If you happen to have a son, daughter, or friend who is graduating from the fire academy, get them a thoughtful gift to celebrate their big achievement.
So what's the best gift for firefighter graduates? If you aren't sure what to get for them, take a look at our these firefighter graduation gifts below for inspiration. You'll find ideas ranging from sentimental graduation gifts to popular gifts for firefighters, stuff that they can actually use at work, and firefighter themed memorabilia. These gifts are excellent for celebrating firefighter graduation. By the way, if you have a friend who's graduating from nurse school, you'll be interested in checking out these interesting gifts for graduating nurses.
Celebrate a Firefighter's Graduation: 15 Gift Ideas for Firefighter Graduates
1. Look at You Becoming a Firefighter Keychain
Let's start with an inexpensive graduation gift for firefighters. If you are looking for a small and meaningful gift to get for a friend who is graduating from the fire training academy, consider getting this keychain. This keychain carries a funny message to show your support to the new firefighter. It also has a fire department shield charm and a red stone.
2. Firefighter Certificate of Achievement Picture Frame
It takes sweat, determination, and hard work to get the cert from the fire academy. Honor your firefighter grads by framing their precious certificate with an elegant wooden frame.
3. Fire Fighter Shield Medal Necklace
An awesome gift for the newly-minted firefighter. This necklace features a fire department shield with designs of a fire hydrant, helmet, ladder, and ax. It comes in a gray velvet box which is perfect for gift-giving. This stylish necklace is suitable for both the fireman and firewoman in your life.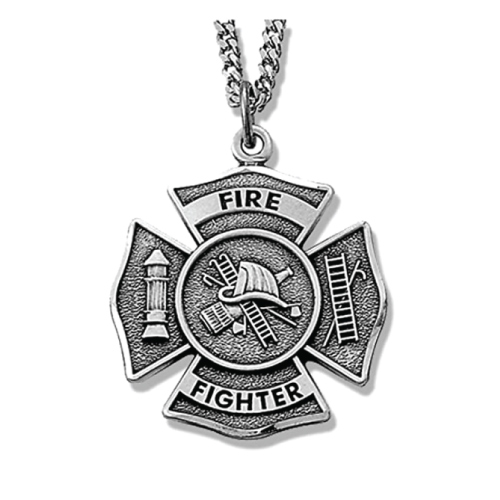 4. Best Firefighter of the Year Mug
Because your new firefighter did well in his fire academy exams. We are sure he will become a brave hero who saves the lives of many. One day, he will be named the best firefighter of the year.
5. Firefighter's Prayer Engraved Gift Pen
An inspirational gift for firefighter grads. This stylus pen is engraved with a firefighter's prayer for guidance and protection. It has a LED lighted writing tip that allows users to write in a dark condition. It also has a rubber stylus tip for operating touchscreen devices.
6. Praying Firefighter Figurine
A beautiful home decor that the firefighters will appreciate. This figurine is made of resin stone with an antique bronze finish. The pedestal of this figurine is engraved with inspirational verses. It is a sentimental gift perfect for firefighter graduation.
Keep your fireman hydrated at work, get this durable stainless steel tumbler with fire department badge design. 30 oz capacity, vacuum insulated to keep drinks warm or cold.
8. Firefighter Maltese Cross Women Top T-Shirt
How about a comfy T-shirt to show off your firewoman's pride? This shirt is made of lightweight, soft fabric great for everyday wear.
If you are looking for a budget-friendly option, you can never go wrong with a pair of good socks. They are cheap, functional, and cool for a new firefighter.
This might not be the sharpest pocket knife but it sure is the cutest pocket knife for your firefighter. The firetruck is finely crafted and it comes with a pocket prayer coin to give them courage and wisdom in their challenging work.
11. Fireman Maltese Cross Challenge Coin
This keepsake coin features the Maltese Cross, the symbol of the fire service's willingness to make sacrifices in order to protect others from fire. It is a cheap and meaningful graduation gift for firefighters.
12. Fire Tradition Sacrificed Throw Blanket
Whether you are celebrating a firefighter's graduation or looking for an appreciation gift for your everyday hero in your life, this blanket will definitely impress them. It is soft, lightweight, and warm. This fleece blanket has the perfect size great for packing for trips, use at home, or at the station bunker.
13. Fire Truck Engine Cufflinks
His formal outfit will never look better than with these fire engines on his sleeve. Unique design, solid feel. An incredible accessory for the firemen.
15. Fireman Necktie
This cute tie comes in handy when your fireman needs to dress up for a special occasion. This tie features a turquoise blue background with eye-catching fire emoji print. It definitely looks fun and proper for men of all ages.
16. Firefighter Parking Only Novelty Parking Sign
One of the best graduation gifts for firefighters. Make him/ her laugh with this parking sign. Now even without the fire truck, your firefighter has his/ her own special parking spot at home.
What gift will you prepare for the firefighter's graduation?
The process of becoming a professional firefighter is tough. Firefighter candidates have to spend countless hours learning lifesaving skills and endure demanding training. They deserve to get a proper gift for graduating from the fire academy. Hopefully, you've managed to find a gift that works for you from the list of gift ideas we've shared above for fire academy graduates. These firefighter gifts are meaningful and functional. And they are the perfect gifts to celebrate their graduation.