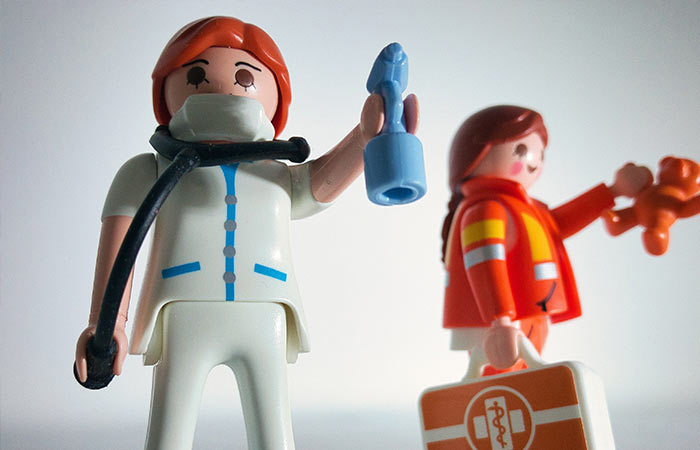 In this gift guide, find out some of the best National Nurse Week gifts you can get for a nurse. Discover nurse gifts perfect for both Nurse Week and a nurse's graduation. Learn about DIY handmade ideas you can make at home.
Nurse Week Gift Ideas
Are you looking for an appreciation gift for a nurse? Get the nurse you know a little something to let her know that her work is very much appreciated. In this gift guide, we have put together 10 gift ideas that are perfect for this year's National Nurse Week. Perhaps you will find some inspiration here.
Every year, National Nurse Week happens between May 6-12. The Week begins on National Nurse Day (May 6) and ends on the birthday of Florence Nightingale (May 12).
By the way, more than 2000 people are already following us on Pinterest. Follow us on Pinterest now, if you haven't already.
Nurse Appreciation Week Gift Ideas
1. Dogeared Guardian Angel Charm Bracelet
This unique bracelet from Dogeared features the symbol of a guardian angel – angelic wings. The meaning of this gift is twofold. First, this is a gift that reminds the nurses of who they are — guardian angels for the patients; nurses take care of patients when they are in need. Second, in reverse, this bracelet is a guardian angel for the nurses. As you know, nurse as a profession is noble but extremely stressful, both physically and emotionally. This guardian angel will be there to help provide strength when the nurses need it.
2. Nurse Life: A Snarky Adult Coloring Book
Being a nurse is mentally and physically taxing. This adult coloring book for grown-ups will help them to relax and let their mind wander. Feel the stress melts away as each page is getting colored.
3. Tea L'Original Marie Antoinette Pink Tin
This tea is an aromatic feast in your mouth. A fragrant blend of Versailles apple, rose, and black Ceylon tea. Taking a sip of this tea sends a gentle reminder to your brain; the reminder says, it's time to relax and let that stress go away. Its tastefully-designed tin is very cute and impressive, which makes it a great gift inside and out.
Note that this tea is not individually packed.
4. Nurse Ceramic Mug
This is what it says on this mug, Nurse — helping hands and a heart that understands. This is a mug that inspires and motivates fellow nurses. The design's proper use of pastel colors and cute elements from nature, such as flowers, stars, and birds, help to bring a sense of calmness to the environment it is in. The mug is made from ceramic; it is friendly to coffee, tea, and the nurse's favorite drink.
5. Best Nurse Ever Pendant Necklace
Best Nurse Ever pendant necklace for the best nurses in the world. The pendant design features the heartbeat and a heart shape which I think symbolizes life, health, and love.
6. Jonathan Adler Pop Candle
Champagne-scented candle by the famous Jonathan Adler in a signature hand-blown vessel with luxurious rose gold treatment. The scent is sophisticated but not overpowering. Made from a fizzy mix of pink grapefruit, sparkling champagne, raspberry, French cassis, violet leaves, rose petals, crushed sage, crisp mint, and grape leaf. Enjoy a relaxing evening by indulging in the tranquil aroma of this lovely candle.
7. Spoontiques Aunty Acid Nurse Pillow
A funny gift for nurses who have a good sense of humor. Great for the living room and bedroom at home, probably great for the workplace too, depending on the culture of the clinic or hospital he works at.
8. Magnetized Luxe Planter with Live Plant
Plants and greenery are known to calm and relax our minds. With this patented magnetic pot, you can attach it to any surface. This pot comes with a hardy succulent plant that requires minimal care.
9. Superheroes in Scrubs Lapel Pin
This is a thoughtful gift that won't break anyone's wallet. This lapel pin features a scrub with the famous superman logo on it. She can put this pin on her clothes, bag, or her desk; as a reminder that she is someone's superhero for what she has done.
10. Nurses Watch Lapel Pin
Great-looking nurse watch for her and him. Rose gold plated from the body to the bezel to the digits on the watch dial. Movement powered by battery and Quartz crystal. A red cross can found below the number "12".
11. I'm A Nurse Box Sign
Cute wooden box sign that looks awesome for a nurse's room. Painted in distressed black and white. The message on it is fun and true that all nurses can relate.
12. Silicone Lapel Watch
Lapel watch is a practical gift for nurse. To them who are always busy tending to patient with both hands, lapel watch comes in handy. They can easily read the time without having to turn their wrist for the normal wrist watch.
13. Chicken Soup for the Nurse's Soul
Excellent book as one of the best Nurses Day gifts. Contains interesting stories told by actual nurses. Working experiences, minds and emotions are shared. Inspiring and heartwarming. They gonna enjoy reading it.
14. Nursing Badges
For Nurses Week, you can also get this set of buttons for them at the healthcare center. 12 beautiful designs to make them smile.
15. Funny Nursing Bags
Another wonderful gift for nurse. Durable tote bag that nurses gonna love. Cool graphic with hilarious statement. These bags are made of thick material. They have big capacity and can be used as work bag, shopping bag, overnight bag and more.
Did you manage to get any inspiration from our recommended list of nurse appreciation week gift ideas above?
Follow us on Pinterest for more gift idea inspiration like these.
Brief History of National Nurses Week
In January 1974, the International Council of Nurses (ICN) announced that May 12 would be "International Nurse Day". May 12 is the birthday of Florence Nightingale, who was a renowned English social reformer and statistician, and the founder of modern nursing.
In February of that year, under Nixon's administration, the White House designated a week as National Nurse Week. This came as the result of endeavor of many parties throughout the years to urge the US government for a day for the nation to recognize the nurses' contribution to the society.
Fast forward to 1982, after progress made by the ANA and several political leaders in the past decade, President Ronald Reagan signed a proclamation proclaiming "National Recognition Day for Nurses" to be May 6, 1982.
The ANA Board of Directors expanded the recognition of nurses to a week-long celebration, declaring May 6 – 12, 1991, as National Nurses Week in 1991. The dates became permament in 1994.
source: American Nurses Association (ANA)