Discover unique paper anniversary gift ideas to surprise your wife on your 1st wedding anniversary. Paper is the traditional theme of the first wedding anniversary. On this special occasion that marks one year of marriage, couples often exchange gifts that are made from paper.
In this gift guide, you will find ideas that honor that tradition: from books to decoration, these inexpensive paper-inspired ideas are sentimental, thoughtful, and practical. Check them out now.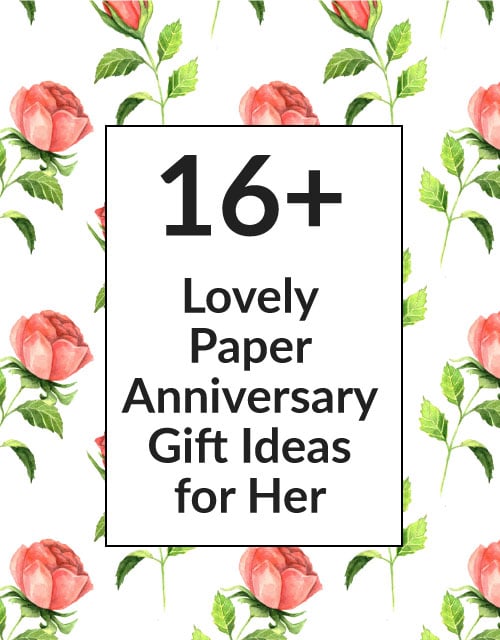 1st Anniversary Gift Ideas: Paper Anniversary Gifts
Don't be afraid to get a little sentimental when it comes to showing your undying love for your wife on this special day.
The One I Love Poem – Print on Paper
It is my opinion that poems are the pinnacles of sentimental gifts. Through a poem's words and rhythms, we present our feelings and thoughts. This poem by Genie Poems is dedicated to the special someone who you love the most. The poem, titled The One I Love, intimately describes the love and importance of your loved ones. The words are accompanied by beautiful watercolor graphics.
Why I Love You: A Journal of Us
A truly romantic idea to celebrate the first anniversary with your wife. Fill up this book by answering the prompts and questions, insert some memorable photos and write down how you feel about her.
Show her your heart, show her your feelings. This heartfelt journal of love will definitely melt her heart.
Spice things up with these unique presents.
Calm the F*ck Down: An Irreverent Adult Coloring Book
Calm your mind and release yourself from stress by indulging yourself in an hour of undisturbed coloring session. Calm the F*ck Down is a best-selling adult-oriented coloring book perfect for those with an irreverent sense of humor. The coloring book features 21 of coloring pages, every page is unique! It includes moderate to complex graphics, the theme of these graphics include animals, people, fairies, and more. It also features funny quotes like "dance like no one attractive is watching" and "home is where the vodka is".
Let's move on to something more exciting. A naughty Truth or Dare game to spice up your married life. Contains 50 sticks to be pulled one at a time, this red-hot box features 100 seductions and naughty actions.
If your significant other is a bookworm, these are some ideas that will get her excited.
According to scientists, laughing often is healthy for us. And I got just the right idea to make her laugh. This small yellow guide by Ladies' Homemaker Monthly is humorous and amusing. It comes with 19 golden rules for keeping a happy husband.
Retro-Design Bookmark Made of Paper
Cute, retro-design bookmark with a witty message. Reads "My workout is reading in bed until my arms hurt."
Magazine Subscription
You can also subscribe to a magazine that she likes. Women's Health is some of the most popular magazines loved by women.
In a healthy and constructive marriage, we should always strive to help our spouse to become a better version of themselves. These ideas below will help improve her productivity by making planning easier and more efficient.
If you love to stickers, you will love The Happy Planner. By itself, this is a beautiful 12-month planner with outstanding design that pleases the viewing eyes. The pages are sturdily ring-bound. With the cool sticker pack (comes with the kit) thrown in, the planner becomes so much more. Planning becomes so much more fun and effective with these stickers. The stickers help to bring guide your attention around the planner, they also provide an incentive for you to keep coming back to the planner, and not to mention their inspirational value. As of now, it's reviews are overwhelmingly positive on Amazon.
A humorous sticky notepad for your wife to plan her day with. Today's plan of attack splits the day's tasks into three categories: most critical, would be nice, and not a chance. The categorization allows you to really look hard at what really needs to be done, and what can be delayed. The color of the sticky note is vibrant and outstanding.
Spray Paint Cardstock Paper Pad
A must for scrapbooking enthusiast. 30 sheets of spray-paint cardstock for your creative endeavor.
Toys and other really fun things that are perfect for people who are secretly children stuck in an adult's body.
Vintage retro paper dolls that will bring back old memories. Popular in the 50s, the paper doll sets feature cut-out paper model and dresses that you can put on the paper model. Dress up the model for different occasions: casual, formal, or playful.
For a woman who is still a little girl inside. Have great fun putting together these paper glider planes, then flying them. Have a competition with your wife (and with perhaps your kids) to see how can get their planes to fly the furthest.
How to Tell If Your Cat Is Plotting to Kill You by TheOatmeal.com
Awesome book for cat lovers or people who need a good laugh. A hilarious collection of cat-themed comics. The unique and brilliant jokes will surely keep her entertained. This book also includes a whimsy pull-out poster!
She will love this floor lamp standing in the living room. All-white rice paper lampshade that has a crinkled pattern. It looks simple, delicate and appealing.
Thai Vintage Night Owl Paper Lamp 
Another beautiful lamp that she will adore.  An oriental-style table lamp handcrafted with paper and wood. The exotic owl design and the soft glow it gives create an enjoyable rustic feel.
Last but not least: the gift that provides access to the everything store – an Amazon Gift Card
So a gift card isn't exactly made of paper, but the box that comes with it is. Practical and versatile, an Amazon gift card allows your wife to get anything she wants, paper or not, from America's largest online retailer.
So what do you think of these gift ideas for your lovely wife? Did you find anything useful? Do you have anything else to add? Let me know in the comment section below.
Anniversary Gift Ideas