The teen boy in your life is reaching 16 years old, and you need a good gift idea for his birthday. Wanna get something cool and nice to impress him? Let's look at our list of 8 best 16th birthday gifts for boys below.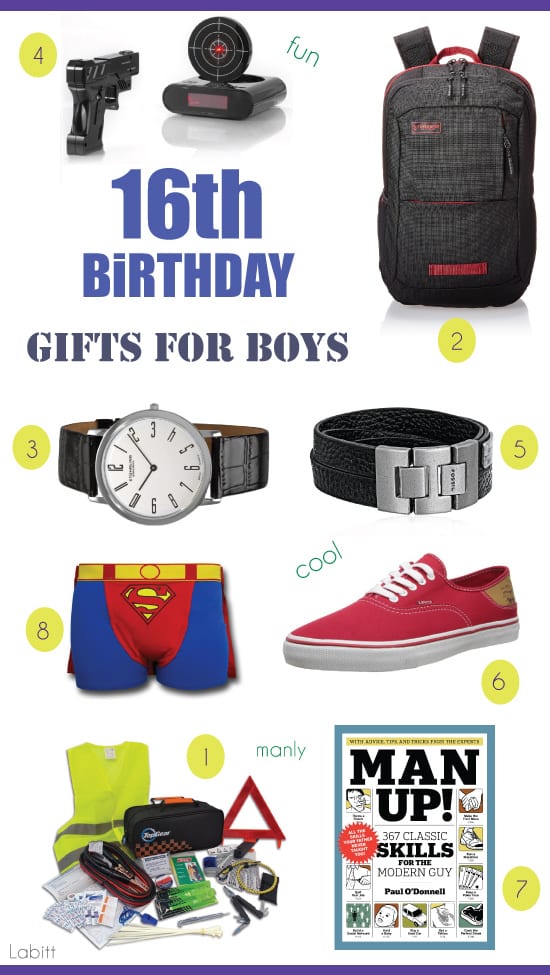 Best Gifts for a 16 Year Old Boy
1.   Car Accessories
When teens turn sixteen, they can't wait to play the role of a new driver. If you can afford a car, that would be fantastic. If you can't, you can get some car accessory for him instead. We recommend this roadside assistance kit.
It comes with 34-piece first aid kit, flashlight, reflective safety vest, battery booster cable and more. Useful and practical when it comes to an emergency.
2.   Messenger Bag/ Backpack
A quality bag that looks nice and function well is another wonderful gift for 16 year old boys. He will appreciate this dressed up travel-friendly backpack with laptop protection, by Timbuk2. Designed in San Francisco, this bag features roomy compartment, multiple pockets, internal organizer, and comfy custom-fit shoulder strap.
3.   Stuhrling Original Men's Classic Ascot Belmont Swiss Watch
A beautiful watch for men also makes a great gift for his 16th birthday. He will like this stylish watch by Stuhrling. Simple white dial, stainless steel case with matching black alligator embossed leather strap. The minimalist style looks sleek and smart, perfect for the young men.
4.   Gun and Target Recordable Alarm Clock
For teens who have tough time getting out of bed in the morning. Now he can start the day with a bang; point and shoot until you hit the center of the target.
This revolutionary alarm clock allows you to record your own wake up message or music. The alarm will play for three minutes and the target will pop up for you to shoot it off. Fun and effective. He gonna love it!
This item is no longer available.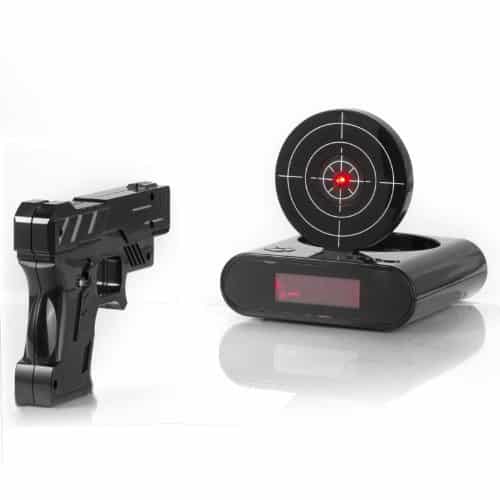 5.   Fossil Men Leather Bracelet
You can also get accessories like necklace, sunglasses and hat. This leather bracelet by Fossil is a decent choice. Sturdy, cool, macho. Great for pairing with any outfit.
6.   Levis Jordy Buck Sneaker
Stylish and good looking shoes from Levis. Lightweight and comfortable to wear all day. The simple design makes it a pair of perfect kicks that matches well with any casual wear. Teen boys gonna love it for sure!
7.   Man Up!: 367 Classic Skills for the Modern Guy
Good book for the guys. Written by Paul O'Donnell. This book is the young men' ultimate manual for living. From career to relationships and grooming to gaming and more. It provides useful and practical information for guys who are too intimidated to ask a question for fear of seeming inexperienced.
Man Up! covers skills the every modern man needs. Well written, entertaining, helpful. It is an excellent book for your son's 16th birthday.
8.   Superman Caped Boxer Brief
You can also get this cute Superman brief for his 16 year old birthday. Rich colors, comfy material. This brief comes with a detachable cape. It looks fun and amusing. (Practical for normal wear too!)
That's the 8 best birthday gifts for 16 year old boys. Thanks for reading.
Follow us on Pinterest!