Get your mom the best Mother's Day gift this year to show how much you love her. In this Mother's Day special gift guide, we have brought together a collection of 10 unique gift ideas for the world's greatest moms. For you to get inspiration from — this gift guide has everything from home decor to jewelry and more. Your mother is going to love these lovely gifts!
By the way, if you haven't already, you should follow us on Pinterest now for more stuff like this.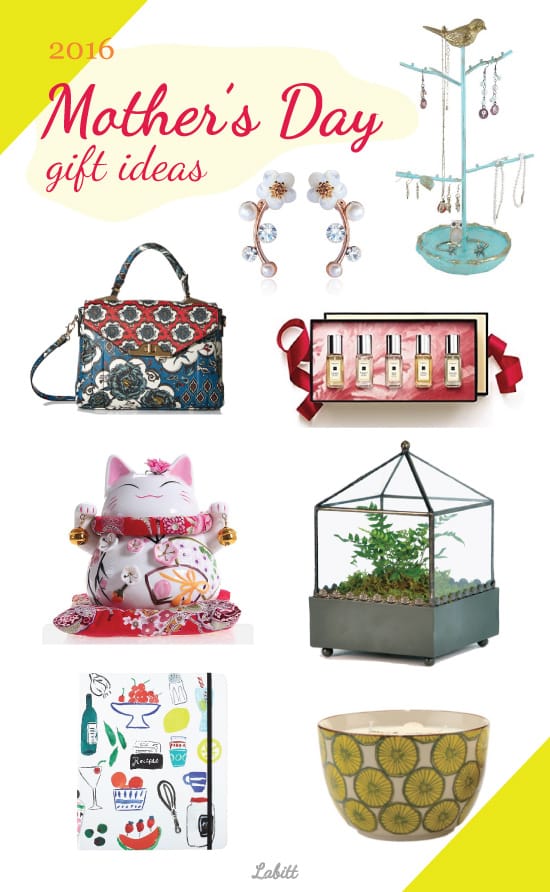 Classic vintage distressed design. Touching mom quotes on the frame that is made from authentic walnut wood. The subtle floral pattern adds a nice accent to the frame, in addition to the lovely mom quote. To impress mom even more, put in a photo of you and your mom before giving it to her.
Fun and colorful coffee mug for mom. Energetic stripes and stars design. The perfect Mother's Day gift for mom from her children of all ages.
Lovely jewelry tree for mom to organize her earrings, bracelet, necklace and more. Vintage style that fits beautifully with any vanity area. Crafted with resin and metal, painted with distressed pastel blue, decorated with a golden feathery creature on top. It is good-looking, sturdy and perfectly functional.
Cookware, kitchenware are good Mother's Day gifts for moms who enjoy cooking. If she likes to bake or cook, she is going to love this vintage inspired mason jar measuring cups. Four measurements to measure liquid or solid. A cute addition to her kitchen.
(Also available in red)
For mom to create her own little garden for home or office. Victorian-style glass terrarium with metal base, brass filagree trim, and brass finial. Classy, solid and well made. Perfect for creating mini rain forest, moss garden, mystical fairy garden and any other garden you fancy.
An Adorable lucky cat that mom will definitely adore. Beautifully crafted and hand painted to the finest details. Gold bells, cherry blossom and fruits adorned on the belly promises good luck. This charming kitty will definitely bring happiness, health and big fortune to the owner.
Fun recipe book by Kate Spade. Seven sections including 20 recipe pages per section. Cute and functional. Makes a sweet small gift for mom.
Fill BOHO style and subtle botanical scent to your home this Mother's Day. Paddywax soy wax candle contained in hand painted ceramic bowl. Made from all natural ingredients. Create pleasing scent to make you feel cozy, clean, and comfy.
This gorgeous pair of earrings also makes a great Mother's Day gift. Simple, delicate and feminine. Looks fresh and chic with any outfit!
Luxurious cologne set that suits well for the important woman in your life. By Jo Malone. Five wonderful scents including floral, wood, botanic and fruit. Created to be worn alone, or artfully combined to create your signature scent. It gives you variety of scent for your mood of the day.
---
That's our collection of Mother's Day gifts. Thanks for reading.
Don't forget to follow us on Pinterest!
---