In this Teacher Appreciation Day gift guide, we have put together a list of appreciation gifts that a teacher will love. These budget-friendly teacher's gifts are ideal for school teachers, mentors, coaches, and friends & family members who work in those roles.
Table of Contents
Teacher Appreciation: Say Thanks With These Gifts
1. Teacher Red Apple Recognition Lapel Pin
Gold-plated teacher lapel pin featuring a red apple that signifies health and energy. a wearable teacher gift. The teacher can wear it on her clothes, bag, or keep it as a memento of her achievement as a teacher.
2. Amazing Teacher Plaque
This gift is reserved for the best teachers only. This star-shaped plaque is the best way to remind a teacher of his importance in providing inspirations to his students. This table decor goes well with the living room, bedroom, and office tabletop. It comes in an attractive box, ready to be presented to your favorite teacher.
3. Pen with Message
This is a good gift for teachers from students in grade school. It has a modest price tag, but these pens are super special. The middle part of the pen can rotate to reveal thank-you quotes for the teacher — which is a happy surprise for the gift recipient.
4. Flower Tape Dispenser
Another excellent gift for teachers. This tape dispenser from 3M disguises itself as a beautiful, vibrant-colored yellow flower. Its bright colors and cute design help to bring a different kind of energy, that of positivity and optimism, to the teacher's environment.
5. Teacher Coffee Mug
Researchers are mixed on the effect of caffeine on our body, but this unique keep-calm teacher coffee mug can hold more than just coffee. Capable of holding cold and hot beverages up to 11 ounces in volume — coffee, tea, Pepsi, Coke, you name it. Humorous design for teachers who have a sense of humor.
6. Engraved Hammer
A great gift for teachers, mentors, and coaches. This hammer is engraved with meaningful words — thank you for helping me build my life. For this gift to work you will want to make sure that your relationship is solid enough, you do not want to be mistaken as sending threats through a hammer.
7. Poem For A Special Teacher
A special poem for a special teacher. Say thank you with this poetic teacher gift.
8. I Teach, Therefore, I Drink Funny Wine Glass
Funny teacher gift for a teacher who has a great sense of humor — a wine glass that says, I teacher, therefore I drink. For more funny wine glass like this check out our gift guide for wine lovers.
9. Cork Cactus Desk De-Clutter
Keep desktops organized with this unique cactus pin and note organizer. Stop losing sharp pins, keep important notes in view with this desktop companion.
10. Unum Deluxe Desk Organizer
A conservative gift choice. This desk organizer offers a solution for messy desktops. Keep stationery, name cards, and other stuff tidy, in one place.
---
I hope you enjoy the list of teacher appreciation day gift ideas so far. Be sure to pin and share these ideas with your Pinterest followers!
DIY Teacher Appreciation Gifts — Free Printable
Coming up next we have some simple DIY gift ideas for teachers. I'm sure they'll be thrilled by these awesome but simple ideas.
Below are three super cool gift card keepsake printables that you can download and print it out instantly. These printables have gold foil element incorporated into it, and gold foil as a trend is all the hype right now, I'm sure the teachers will love it too.
There's also an interesting quote about teachers by Carl Jung. It says "one looks back with appreciation to the brilliant teachers, but with gratitude to those who touched our human feelings. The curriculum is so much necessary raw material, but warmth is the vital element for the growing plant and for the soul of the child."
Simply print it out, glue a gift card at the bottom, sign your name and present it to your teachers. For illustration purposes, we're using a simple black Amazon gift card, but any other standard-sized gift card will work just as well.
You can buy gift cards here:-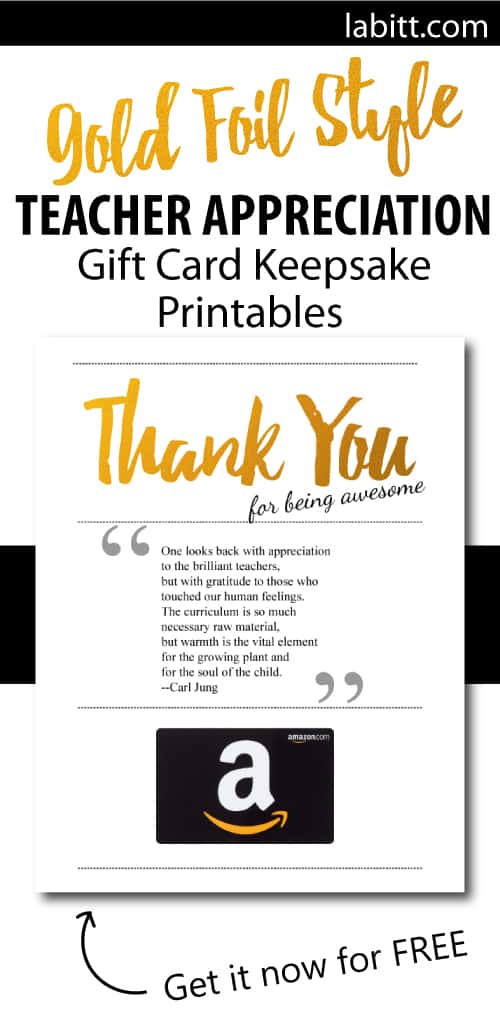 Download gift card presentation printable for teachers #1 as PDF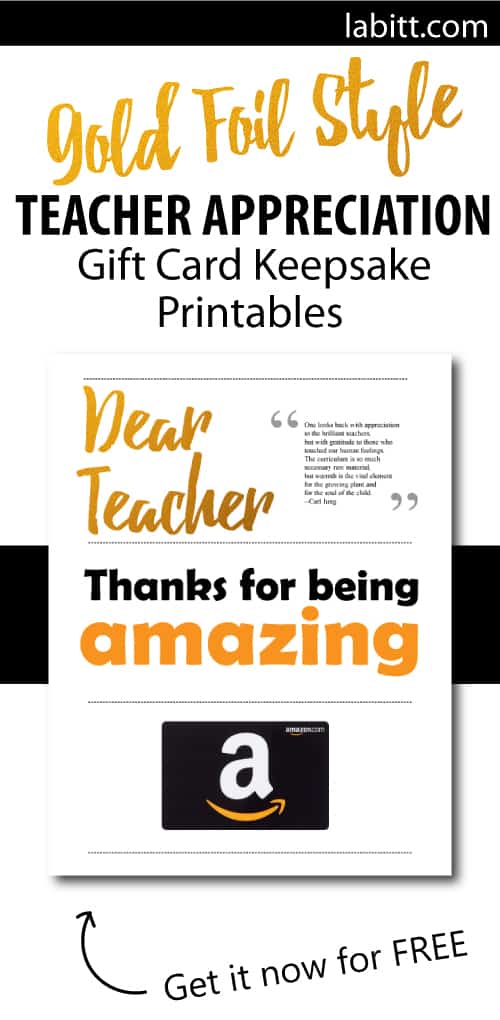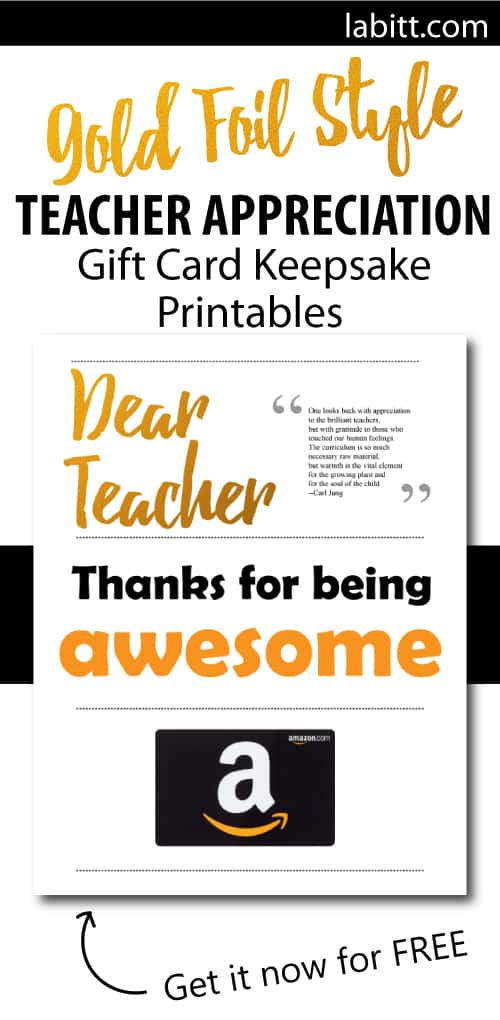 Did you like these free printables for teacher appreciation? Share them with your Pinterest pals!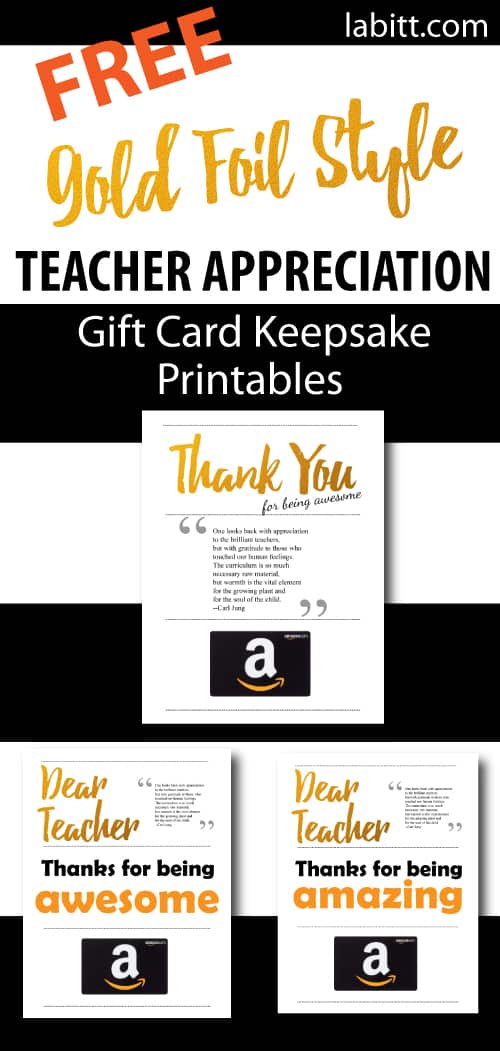 History of Teacher Appreciation Day
The celebration of National Teacher Day started in 1953 when Eleanor Roosevelt persuaded Congress at the time to designate a day to recognize educators. The origin of the idea is said to come from a Wisconsin teacher (there are some sources that cite the idea came from an Arkansas teacher, either way, the idea came from a teacher). This teacher wrote to Eleanor Roosevelt, requesting her to take up the cause.
It became a national day on March 7, 1980, after the National Education Association (NEA) along with its Indiana and Kansas state affiliates and the Dodge City, Kan., local chapter lobbied Congress.
This teacher recognition day was celebrated in March from 1980-1984, until the National Parent Teacher Association (NPTA) designated the first full week of May as Teacher Appreciation Week. The NEA voted to make the Tuesday of that week National Teacher the next year.
According to NEA, National Teacher Day is a "a day of honoring teachers and recognizing the lasting contributions they make to our lives.". Students and parents are encouraged to show their appreciation for teachers by writing sharing small treats and gifts.
Inspirational Teaching Quotes for Teachers
Inspirational quotes are excellent free teacher gifts.
1. I am indebted to my father for living, but to my teacher for living well.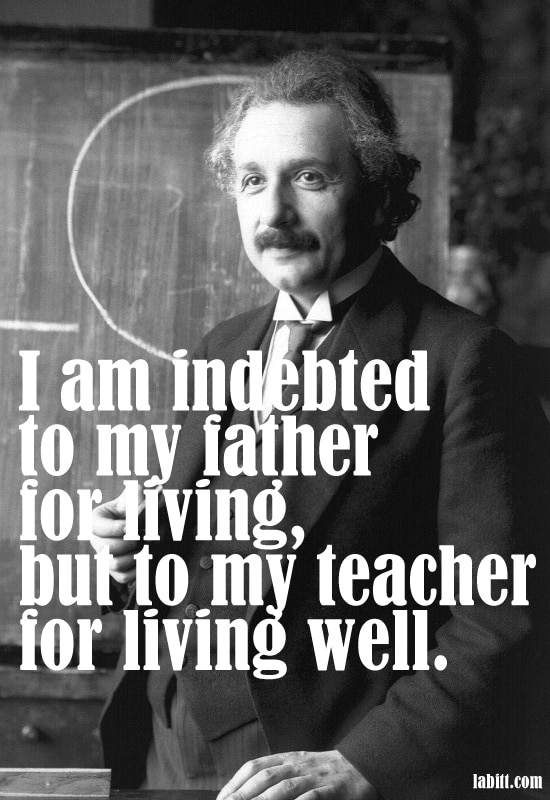 2. Dear teacher, thank you for inspiring us, for guiding us.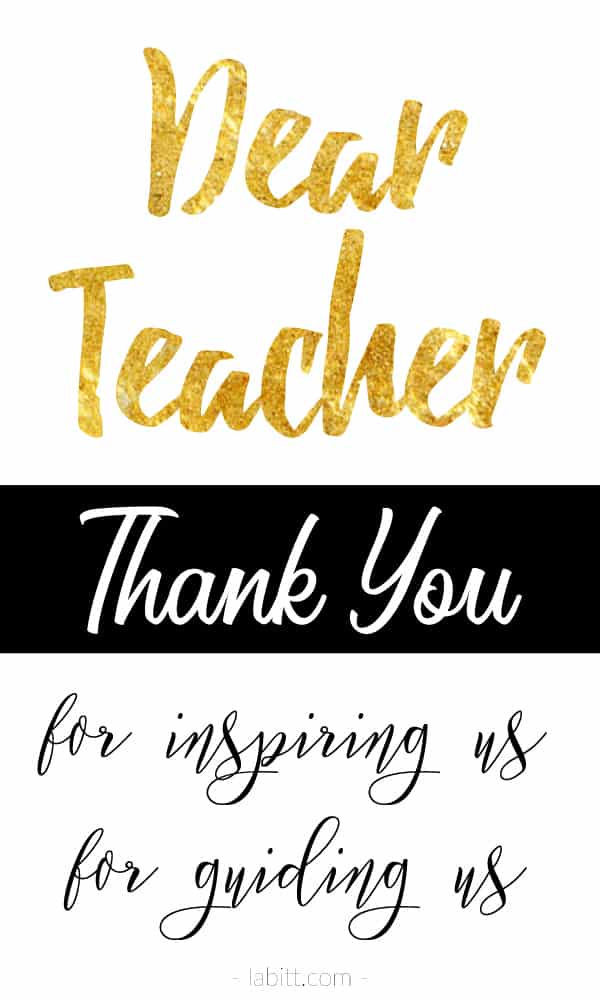 ---
I hope you enjoy the list of teacher gift ideas in this article. Be sure to pin and share these ideas with your Pinterest followers!
Become part of a 2000-people family, when you follow us on Pinterest.