Set 360 years into the future, Altered Carbon is a sci-fi cyberpunk Netflix TV series that takes place in dystopian earth where technology has surpassed human expectations. With memories being transferrable to other bodies, death is merely a thing of the past, at least to those who can afford it. If cyberpunk is your thing, then this show is a must-watch as the show has phenomenal world-building and visuals.
Below are some of the best movies and TV shows like Altered Carbon.
1. Ghost in the Shell (2017)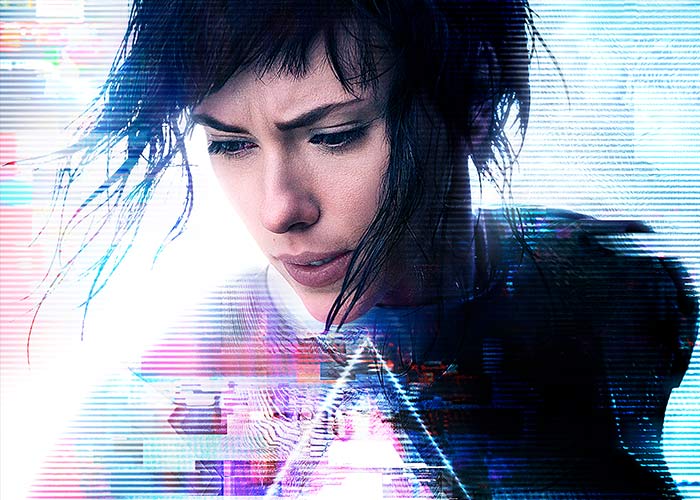 With its roots coming in straight out of Japan, Ghost in the Shell is an exceptional work with a legacy that spans decades. With several media coverage from manga, video games, anime series and even a live action film starring Scarlett Johanson, this is something that came out of a cyberpunk fanatic's wildest dreams.
Watch Ghost in the Shell Trailer
2. Travelers
Travelers is set in a post-apocalyptic future, the last remaining humans have set up to become special operatives that send their consciousness back in time in order to save mankind. These people, known as "Travelers", would occupy the body of present-day individuals and live their lives undercover while pursuing their mission. With an amazing plot and real stakes, this show's writing is mind-blowing and gets really gets you thinking about time-travel. Travelers is a show about time-travel that proves to be timeless in quality.
Watch Travelers Trailer
3. The Expanse
Hundreds of years into the future, mankind has colonized the solar system and the scope of wars have become bigger than you can ever imagine, to the point where Earth and Mars are nearly at war. Detective Thomas Miller and Executive Officer James Holden's fate intertwine as they investigate the case of a missing woman which leads to them discovering what may be the biggest threat to mankind. The show features a lot of story arcs that revolve around the people in the solar system which makes the world building even more massive. If you liked Altered Carbon's world-building, then this show is not going down without a fight.
Watch The Expanse Trailer
4. Blade Runner 2049
A sequel to the 1982 film Blade Runner, this movie certainly lives up to the hype and does not disappoint. Set in the year 2049, Blade Runner 2049 follows bioengineered humans known as Replicants work as slaves. K, a replicant blade runner for the Los Angeles Police Department, hunts down replicants that have turned rogue. The Bladerunner series has long been a favorite of sci-fi fanatics and casual movie-goers alike, and for good reason. This movie is fantastically written, and you get to feel for all of the characters and why they do what they do. Regardless of what genre you're into, Bladerunner 2049 is a movie that you will likely enjoy.
Watch Blade Runner 2049 Trailer
5. Counterpart
After working for 30 years as an agent in a United Nations spy agency in Berlin, Howard Silk has sought what his work is actually all about. Despite not being told what it actually is for, he discovers his organization's biggest secret: a gateway to a parallel Earth. There he finds out that his parallel counterpart would regularly come to his world to retrieve those who have gone rogue. With the perfect blend of realism and science fiction, Counterpart is one of the best sci-fi shows out there, and if you don't believe me, then maybe it's 100% score on Rotten Tomatoes should speak for itself.
Watch Counterpart Trailer
6. Westworld
Based on the 1973 film of the same name, Westworld is a sci-fi television series that takes place in a western-themed amusement park ran by androids. The park is intended for rich guests who wish to live out their wildest fantasies within the park through artificial consciousness. These means that regardless of what the guests' fantasies are, illegal or immoral as it may be, they will not have to face any consequences. Westworld is a fantastic show where you would really need to focus in order to understand the show, no distractions. That's not to say that it's complex, it's just that you could easily get lost in the tracks if you don't pay attention. This show is one that you shouldn't miss.
Watch Westworld Trailer
7. Dark Matter
One of the most underrated shows ever but definitely packs a solid punch, Dark Matter revolves around the story of 6 people who wakes up in a spaceship with no memories of their lives and then sought out to find the answers. This shows packs a good premise and knows how to strike the right spots when it comes to character development. Each of the characters will grow on you as you watch. Dark matter has a great balance between its serious and comedic elements, and it definitely gives out that Altered Carbon vibe.
Watch Dark Matter Trailer
8. Alita: Battle Angel
Similar to Ghost in the Shell, this movie is also an adaptation of the Japanese manga. While it didn't make it quite as big, Alita is definitely cyberpunk done well. The movie takes place in the year 2263 where an interplanetary war has left Earth in ruins. In the midst of this backdrop, a cyber-doctor finds an unconscious cyborg in a scrapyard and takes her to his clinic. When Alita wakes up, she had lost all memories of the world and who she is and sets to live a life in the new world she finds herself in. The visuals in this movie are wonderful and it compliments the amazing choreography in the action scenes. If you're looking for something recent, you might want to give this a try.
Watch Alita: Battle Angel Trailer
9. Black Mirror
One of the best things in Altered Carbon is its thought-provoking element, an element that is clearly present in this show. Black Mirror is about the negative aspects of technology around us, with each episode featuring a different cast with different storylines. Each episode is dark and will leave you with a subtle feeling of dread. Black Mirror is a very well written show, but I suggest you take it easy on watching because some episodes will definitely harder than you could've ever imagined.
Watch Black Mirror Trailer
10. Dollhouse
Another underrated gem, this show revolves around a secret facility known as "Dollhouse" which hires out human beings to wealthy clients. After each engagement, the "dolls" are subjected to a memory wipe in which they enter a childlike state before they are programmed new memories and personalities for their next engagement. One of the dolls, Echo, starts to remember some of her memories even after every wipe and starts to gradually fill up the missing pieces on her true identity. Dollhouse is one of the best sci-fi shows out there with an amazing premise with scenes that would often question morality. It can be a hard show to start with, but once it grabs you by the arm, it will grab you hard.
Watch Dollhouse Trailer
Your Favorite Show Like Altered Carbon
What is your favorite Altered Carbon-like show? Did you find anything to watch? Do you know any alternative that is similar to Altered Carbon and outshines what is on the list above?
Updates
[2020-02-24] Altered Carbon Season 2 is released on Feb 27, 2020 on Netflix staring Anthony Mackie as Takeshi Kovacs's new sleeve.