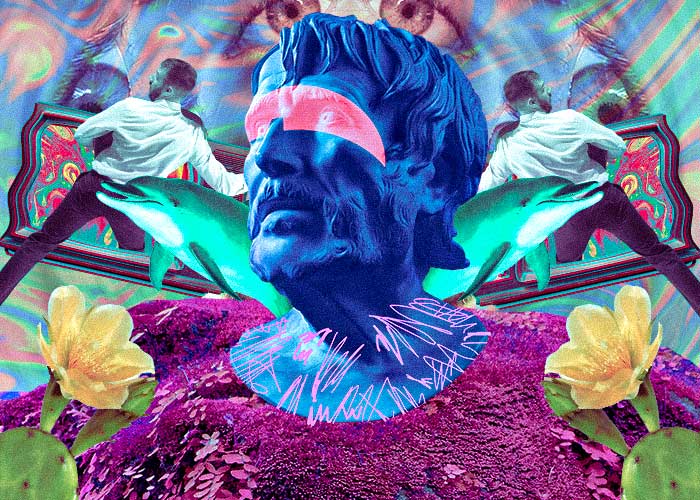 Most times when people showing symptoms of psychosis are diagnosed, their behavior is usually attributed to some event or experience they have gone through in the past. While a person's upbringing definitely influences extreme behavior, one can also blame an individual's natural tendency to turn to the dark side.
A person's zodiac sign may influence their tendency to exhibit psychotic behavior. For each zodiac sign, there are certain traits and habits that may push them to the dark side under certain circumstances. For a breakdown of these different traits, here is a ranking of all the zodiac signs based on where they fall on the psychotic scale.
Zodiac Psychotic Ranking (Least to Most)
Least Psychotic to Most Psychotic Signs
1. Libra
Librans have a reputation for being quite balanced. This is expected since the zodiac sign is connected to the graceful planet, Venus. Their balanced nature keeps them in line and makes them unlikely to stray too far from normal behavior.
Librans have the unique ability to remain level-headed even in the face of crises and they're unlikely to get overloaded. If situations at home, work, or in their relationship were to go out of hand, a Libra will do everything to restore balance to their life while staying cool all through the process.
2. Gemini
Geminis have a charming personality and they're the least you'll ever expect to show psychotic behavior. Most times their life is normal and they won't do anything out of line. However, they also tend to be duplicitous. Verbal espionage is probably the closest they'll ever get to psychotic behavior. Geminis have their way with words which makes it quite easy for them to get away with it. If you're not observant enough, they'll lie to you and get away with it.
3. Leo
The lion of the zodiac chart loves attention. They want to be seen and heard every time. Their egoistic desire to always have everything revolve around them may push them to display manipulative tendencies sometimes.
But it is rarely for sinister purposes. They just love to create drama for recognition and not because they want to achieve anything evil. At the end of the day, Leos are simply too selfish to do anything that will put them in trouble.
4. Virgo
Virgos are intelligent humans with a keen eye for details. They're harmless most times, but their ability to observe people and recognize weaknesses makes it easy for them to exploit the mistakes of other people if they want to. Virgos know how to recognize and push people's buttons to their own advantage. They're masters of executing a coup and taking down people that they consider a threat to them. Virgos are also a perfectionist in nature. It is difficult for anyone to measure up to their high standards, and they are ever ready to discard anyone they feel isn't good enough.
5. Sagittarius
The Sag's problem is their tendency to be impulsive. People born under this sign may do things just for the thrill of it. While a little impulsiveness isn't bad, it may sometimes lead people to do bad things for fun without bothering about their morals or ethics of it. It's dangerous when Sagittarius turns to the dark side. They'll surely go overboard without restraint. Sags are also avid risk-takers and they'll do things that others may consider off-limit. They'll eventually run out of steam as the thrill dissipates.
6. Aquarius
Aquarians are naturally not prone to being psychotic. However, they have certain traits that keep them in competition for the most psychotic zodiac signs. People born under this sign can be proud and egoistic. They'll maintain their stand on their opinion regardless of what others might think. Of course, this tendency to think only they can be right can lead to borderline instance behavior. They may hold opinions that are against everyone else and it'll be impossible to convince them otherwise. Once they go down that rabbit hole, it's difficult to get out of it as they're not very good at handling emotions.
7. Pisces
Free-spirited Pisces is known for being one of the most emotionally sensitive zodiac signs. They genuinely care about how others feel so Pisceans aren't the first people that'll come to mind when you think of psychopaths. However, Pisces people often have their heads in the clouds and may be unrealistic at times. Because Pisces spend too much time in their own heads, delusions and fantasy may begin to look too real to them, pushing them towards the deep end into psychosis in some cases.
8. Aries
When Arieses go bad, there's nothing that'll stand in their way. Aggression is one of the main traits of people born under this zodiac sign. When they go loony, rational thoughts take the back seat in the mind of the Aries. They have a proclivity to do impulsive and dangerous things just for the thrills. It doesn't matter who their action will put at risk (even themselves). They'll still do it regardless.
9. Scorpio
Scorpios are quite vindictive and this can tend toward extreme actions in some cases. Cross a Scorpio and you'll most likely regret it for life. They are revenge seekers and they don't mind doing terrible things just to avenge a betrayal.
People born under this sign love being in control. Sometimes, their love for dominance may tend towards obsession, triggering extreme and dangerous behavior that causes them to harm others. Scorpios also have a tendency to commit sexual psychopathic crimes.
10. Capricorn
Two things make Capricorn psychopaths particularly dangerous. First is the fact that they're good at hiding their psychotic side and the other is the fact that they are good at plotting and scheming. They'll only attack through well-laid plans which makes them particularly dangerous.
On the dark side, Capricorns will turn to some of their "positive" traits like dedication, precision, and devotion to their goals and use these to execute their terrible goals. They're the kind of serial killers that'll make it difficult for law enforcement to pin them down.
11. Taurus
Taureans rarely snap. They are good at bottling emotions inside without reacting. Of course, their outside gentle demeanor is just the calm before the storm. With time, all the emotions they keep bottling inside may eventually cause them to snap. When they can't take it anymore, a Taurus will hit back in a fury and their anger may burn off everything in sight. They tend to cause a lot of damage because they believe they are entitled to do whatever they feel like doing just to get back at someone. In this state, nothing is off-limits and that makes them really dangerous.
12. Cancer
Cancer is probably the last zodiac sign you're expecting to find at the top of this list. They're sweet, they're affectionate and their nurturing nature makes it seem like they have everything together. But cancer's emotional sensitivity is a two-edged sword that can be potentially dangerous. Their emotions tend to run deep on both sides and whatever side they lean towards, they'll do so without considering logic or reasoning. In bad circumstances, you'll see them display emotions like aggressiveness, possessiveness, and selfishness. That sweet cuddly baby that everyone loves is quite prone to committing crimes of passion given the wrong circumstances.
Conclusion
We all have a dark side to our personalities. However, this is often displayed in different ways depending on an individual's zodiac sign. It's a good idea to know what these natural tendencies are so that you can take steps to stay away from them and remain on the good lane.
Zodiac Rankings