The bond between a father and his daughter is forever sacred. From the moment she was born, she was destined to be daddy's little angel. Even as she grows up and gets married, she remains special in her father's heart.
In this blog post, we have rounded up more than 60 Father & Daughter Quotes to celebrate the special bond between a father and his daughter. These famous quotes come in all form and sizes. Some of them are short and concise, while some of them are long and elaborate. All of them are meaningful and sentimental — just like the relationship between a daughter and her dad.
By the way, are you shopping for Father's Day Gifts? Discover more than 30 great gift ideas from our Father's Day gifts from daughter gift guide.
60 Sentimental Father and Daughter Quotes
Famous Father and Daughter Quotes
1. "The happiest moment of my life was probably when my daughter was born." -David Duchovny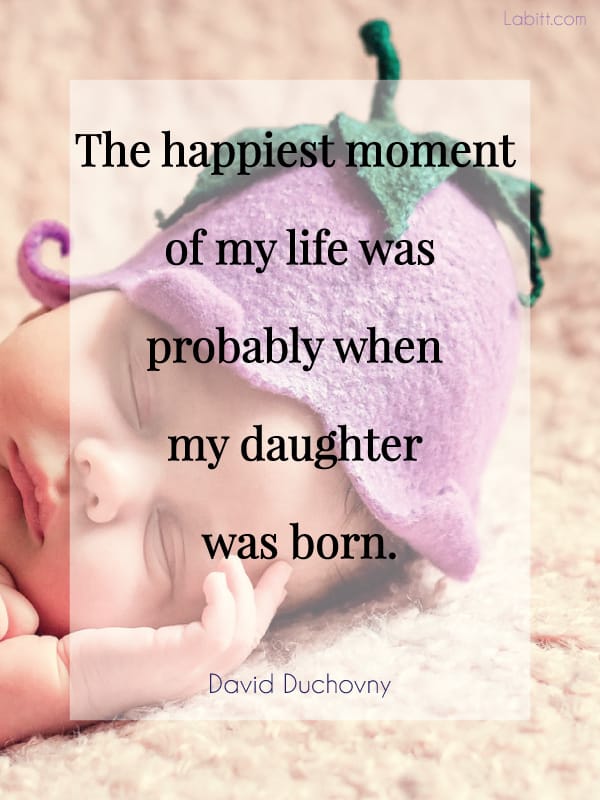 2. "Many a man wishes he were strong enough to tear a telephone book in half — especially if he has a teenage daughter." -Guy Lombardo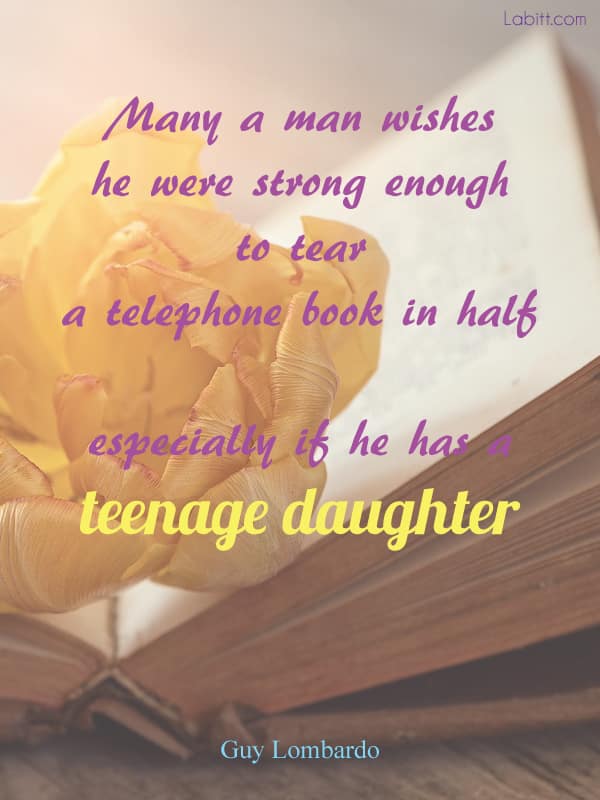 3. "They say that from the instant he lays eyes on her, a father adores his daughter. Whoever she grows up to be, she is always to him that little girl in pigtails. She makes him feel like Christmas. In exchange, he makes a secret promise not to see the awkwardness of her teenage years, the mistakes she makes or the secrets she keeps." -Anonymous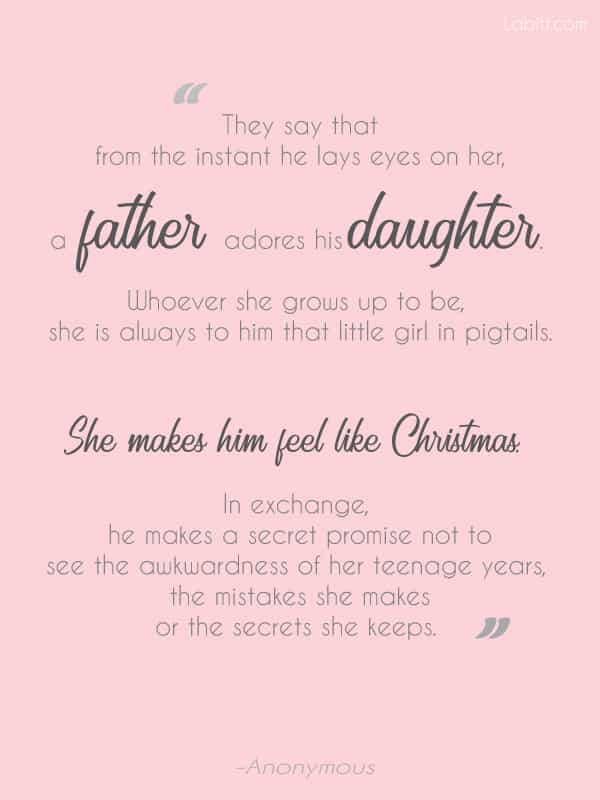 4. "It is admirable for a man to take his son fishing, but there is a special place in heaven for the father who takes his daughter shopping." -John Sinor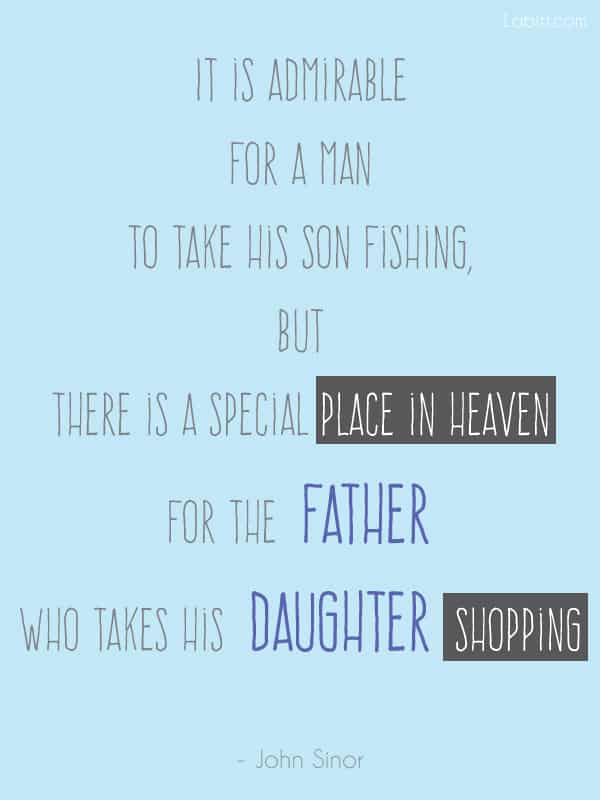 Click here to find out the perfect gift for dad.
5. "A daughter is a treasure – and a cause of sleeplessness." – Ben Sirach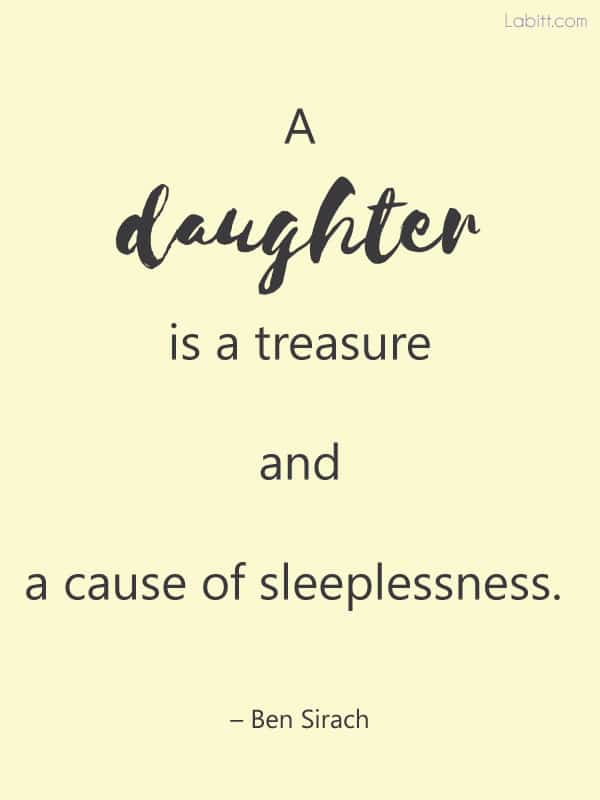 6. "The father of a daughter is nothing but a high-class hostage. A father turns a stony face to his sons, berates them, shakes his antlers, paws the ground, snorts, runs them off into the underbrush, but when his daughter puts her arm over his shoulder and says, 'Daddy, I need to ask you something,' he is a pat of butter in a hot frying pan." -Garrison Keillor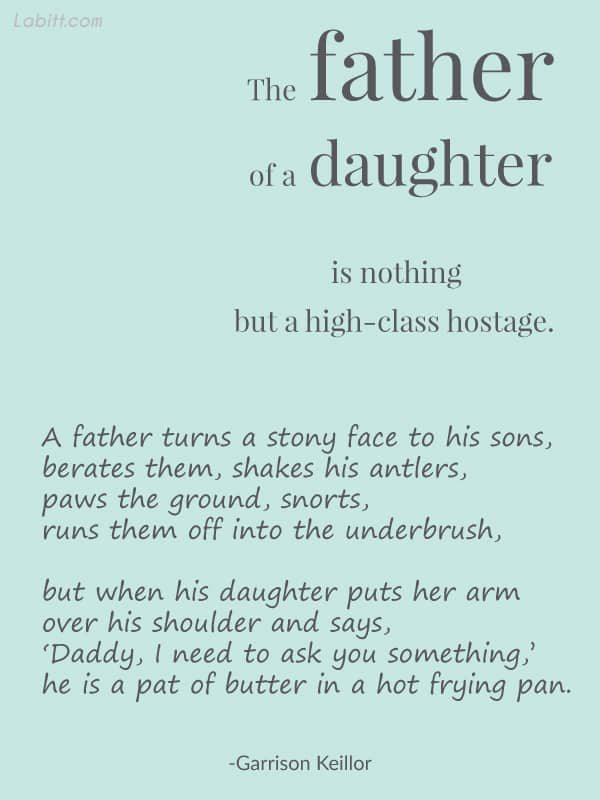 7. "I think my mom put it best. She said, 'Little girls soften their daddy's hearts.'" -Paul Walker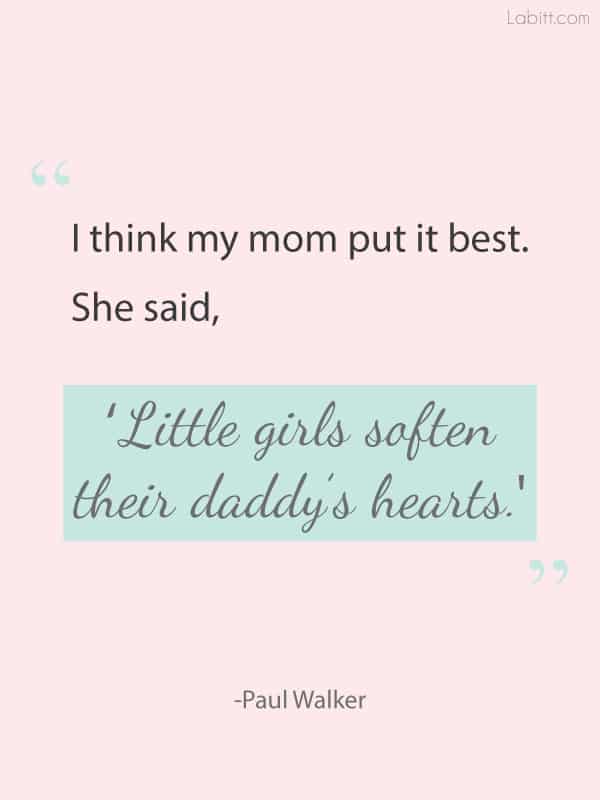 8. "Fathers, be good to your daughters. You are the god and the weight of her world." -Robert Orben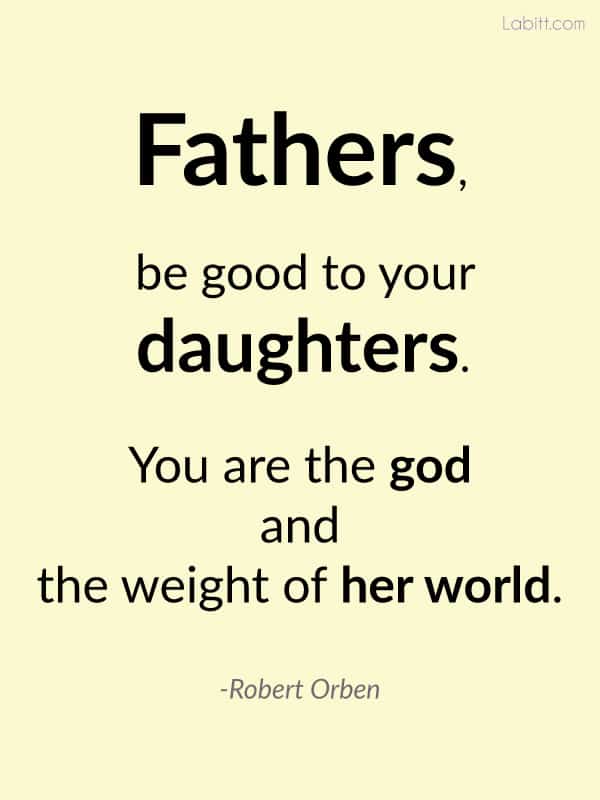 Happy Father's Day! Show appreciation for dad by getting him a little gift. Click here to get inspiration.
9. "I have never been a material girl. My father always told me never to love anything that cannot love you back." -Imelda Marcos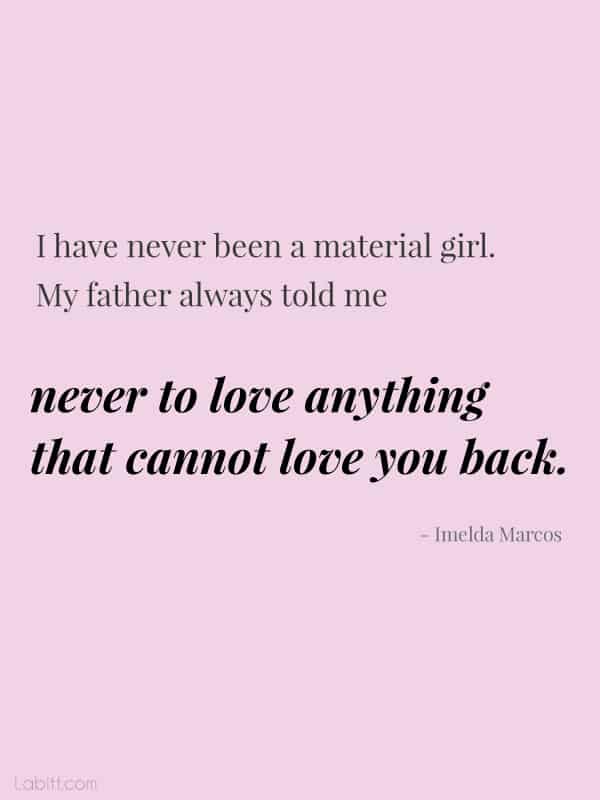 10. "Fathers are the most ordinary men who are turned by love into the biggest hero, adventurer, storyteller and singer of songs."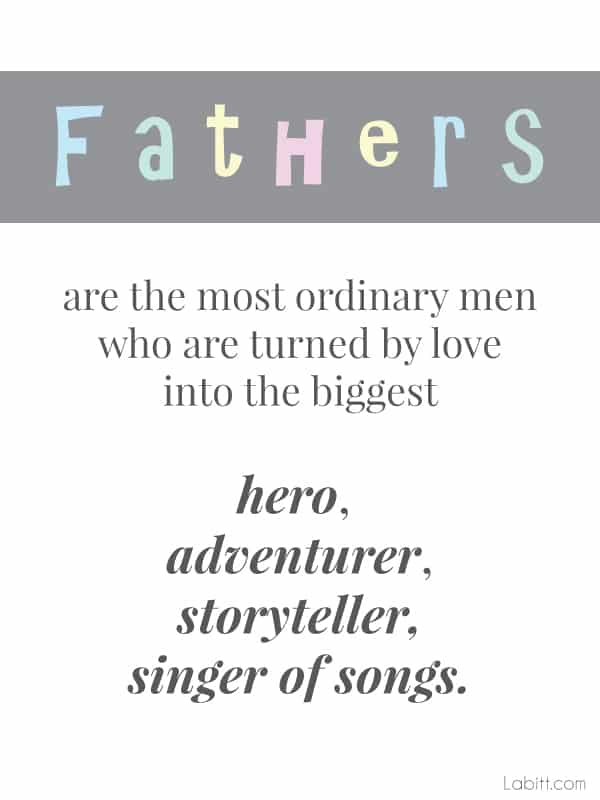 11. "When I come home, my daughter will run to the door and give me a big hug, and everything that's happened that day just melts away." -Hugh Jackman
Find the perfect gift for dad this Father's Day.
Short Quotes about A Father and His Daughter
12. "A girl's first true love is her father." -Marisol Santiago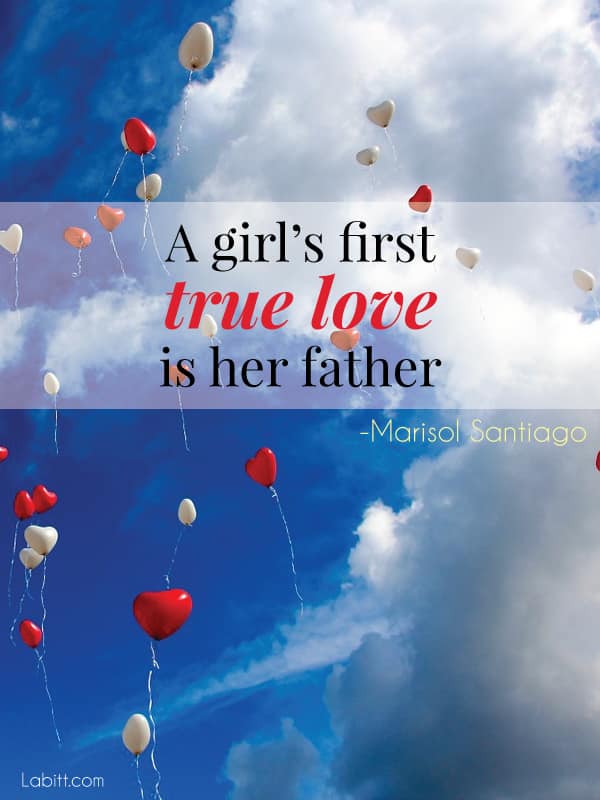 13. "A son is a son till he gets a wife; a daughter is a daughter for the rest of her life." – Irish Saying"
14. "I just owe almost everything to my father [and] it's passionately interesting for me that the things that I learned in a small town, in a very modest home, are just the things that I believe have won the election." – Margaret Thatcher"
15. "A daughter is the happy memories of the past, the joyful moments of the present, and the hope and promise of the future." -Author Unknown
16. "On the day my daughter was born I realized that the sparkle in her eyes was my guiding light and her smile, my life's purpose. I love you."
17. "My life feels incomplete, my emotions deplete and my heart skips a beat when I don't hug my daughter who is so sweet. I love you."
18. "My dear father; my dear friend; the best and wisest man I ever knew, who taught me many lessons and showed me many things as we went together along the country by-ways." – Sarah Orne Jewett
19. "Certain is it that there is no kind of affection so purely angelic as of a father to a daughter. In love to our wives there is desire; to our sons, ambition; but to our daughters, there is something which there are no words to express." -Joseph Addison
20. "Behind every great daughter is a truly amazing dad." -Anonymous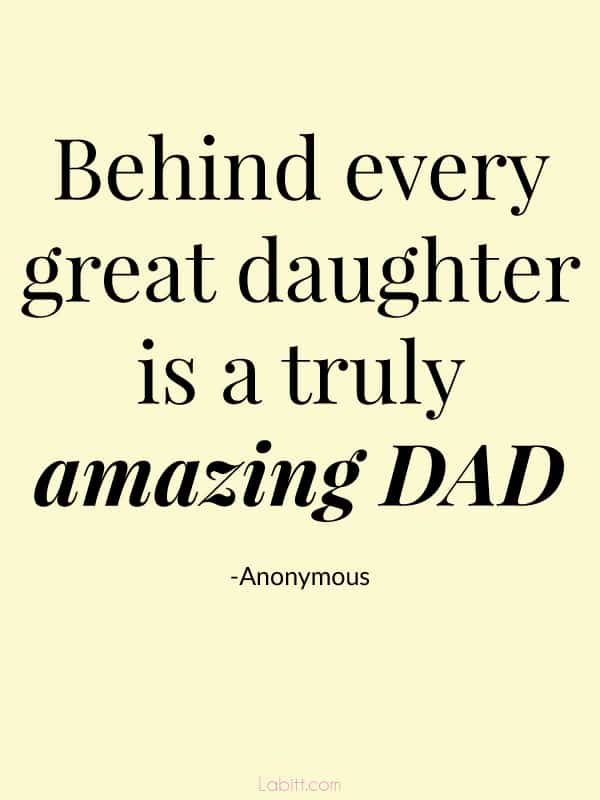 21. "My life is a fairy tale because it revolves around a princess – my beautiful daughter. I love you."
22. "Blessed indeed is the man who hears many gentle voices call him father." -Author Unknown
23. "Making the decision to have a child is momentous. It is to decide forever to have your heart go walking around outside your body." -Elizabeth Stone
24. "My father gave me the greatest gift anyone could give another person, he believed in me."
25. "I've had a hard life, but my hardships are nothing against the hardships that my father went through in order to get me to where I started." -Bartrand Hubbard
26. "I cannot think of any need in childhood as strong as the need for a father's protection." -Sigmund Freud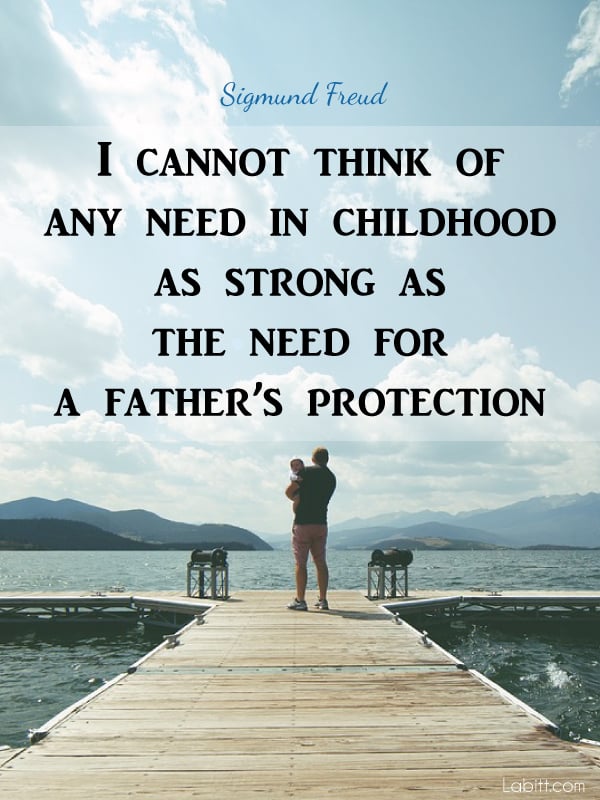 27. "The greatest thing a father can do for his daughter is to love her mother."
28. "I am not ashamed to say that no man I ever met was my father's equal, and I never loved any other man as much." – Hedy Lamarr"
29. "Guns don't kill people… dads with pretty daughters do."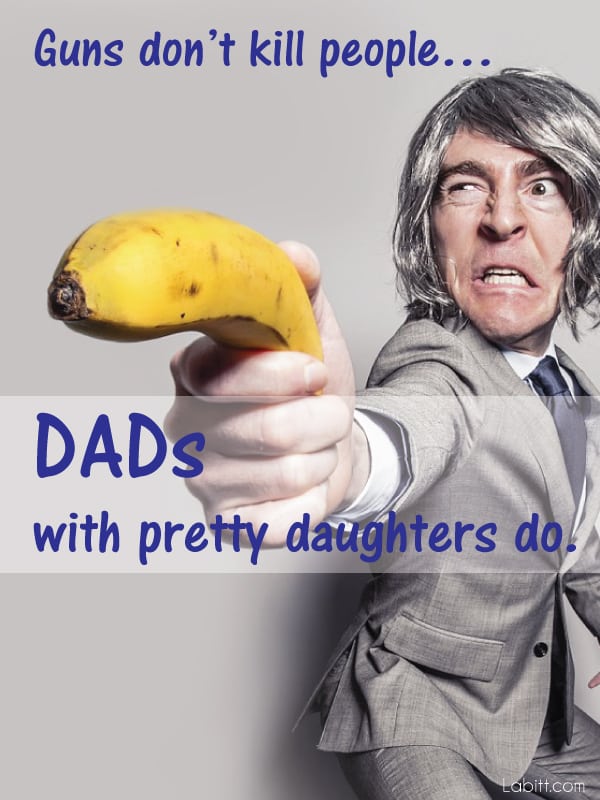 30. "The reason why daughters love their dad the most is…that there is at least one man in the world who will never hurt her." -Anonymous
31. "A father is always making his baby into a little woman. And when she is a woman he turns her back again." -Enid Bagnold
32. "I love my daddy. My daddy's everything. I hope I can find a man that will treat me as good as my dad." -Lady Gaga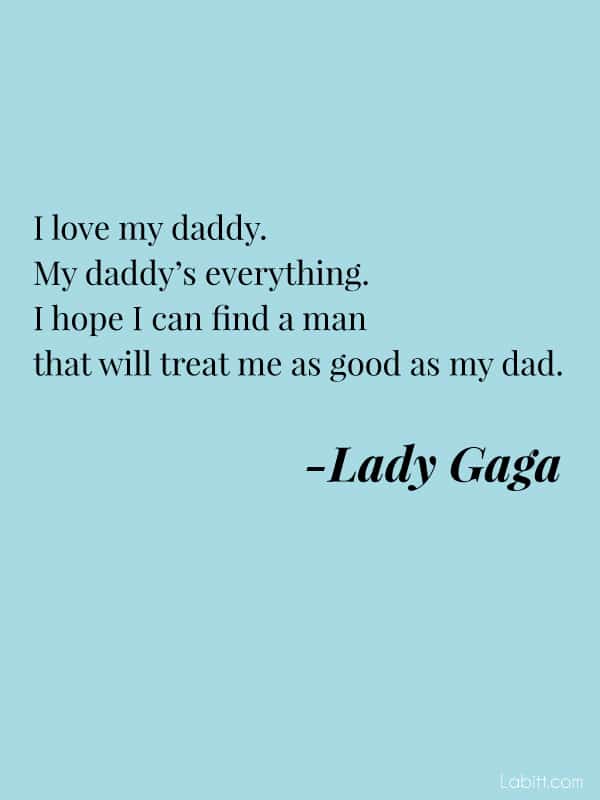 Click here to find out the best gifts dad will love.
33. "Old as she was, she still missed her daddy sometimes." -Gloria Naylor
34. "A man is not complete until he has seen the baby he has made."
35. "A daughter is a bundle of firsts that excite and delight, giggles that come from deep inside and are always contagious, everything wonderful and precious and your love for her knows no bounds." -Barbara Cage
36. "All my life's problems have just one simple solution – a hug from my daughter."
37. "One of life's greatest mysteries is how the boy who wasn't good enough to marry your daughter can be the father of the smartest grandchild in the world." -Author Unknown
38. "No one in this world can love a girl more than her father." -Michael Ratnadeepak
39. "A daughter may outgrow your lap but she'll never outgrow your heart."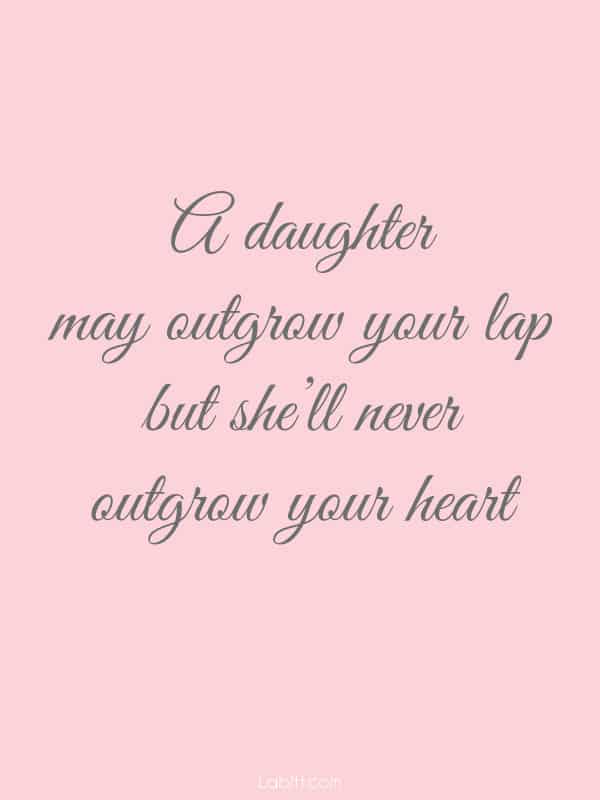 40. "It is not flesh and blood but the heart which makes us father and daughter."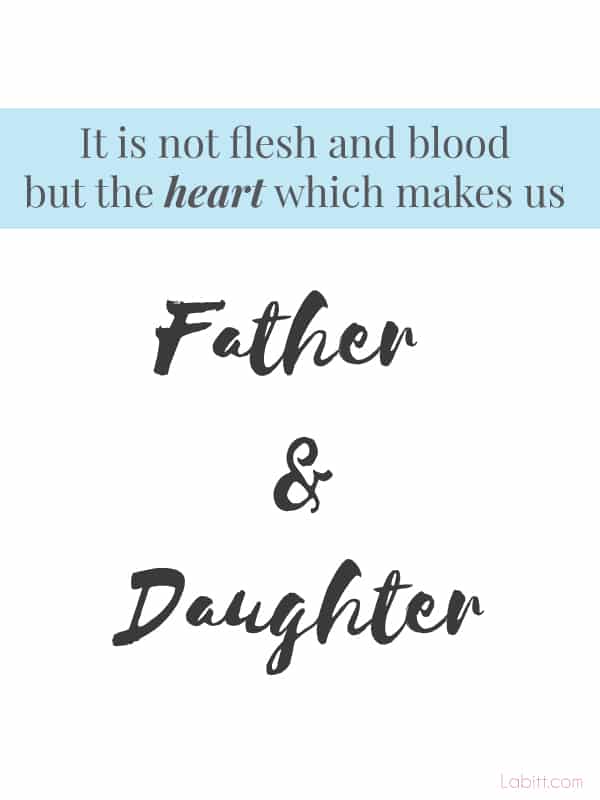 41. "There's something like a line of gold thread running through a man's words when he talks to his daughter, and gradually over the years it gets to be long enough for you to pick up in your hands and weave into a cloth that feels like love itself." -John Gregory Brown
42. "When my father didn't have my hand…he had my back." -Linda Poindexter
43. "The mark of a wonderful father is the one whose children run into his arms when his arms are empty."
44. "I love my father as the stars –he's a bright shining example and a happy twinkling in my heart." -Terri Guillemets
45. "Behind every great daughter is a truly amazing dad."
46. "There is this girl who stole my heart and she calls me daddy."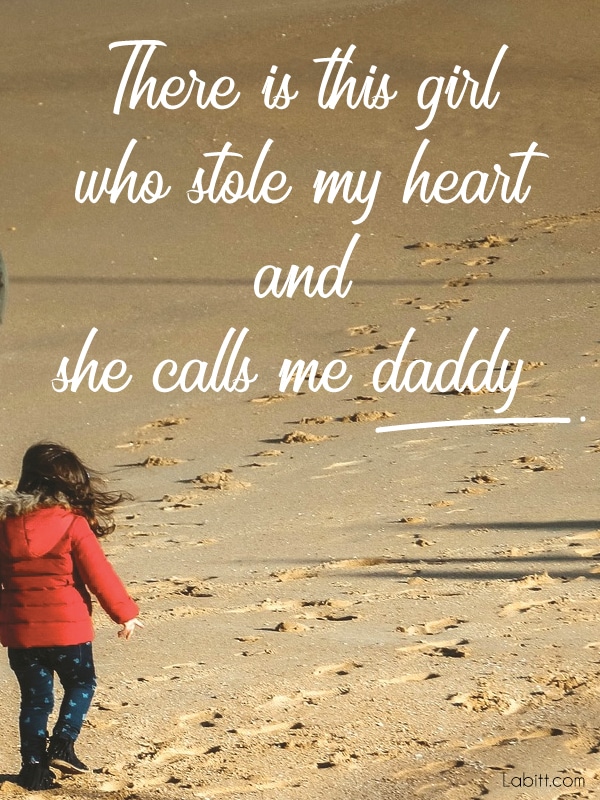 47. "A daughter is the happy memories of the past, the joyful moments of the present, and the hope and promise of the future." -Author Unknown
48. "To a father growing old, nothing is dearer than a daughter" -Euripides
49. "When Charles first saw our child Mary, he said all the proper things for a new father. He looked upon the poor little red thing and blurted,"She's more beautiful than the Brooklyn Bridge." -Helen Hayes
50. "My Daddy was my hero. He was always there for me when I needed him. He listened to me and taught me so many things. But most of all he was fun." -Bindi Irwin
51. "Our dearest daughter, you are the wheel that keeps our lives spinning and you are the reason why we are always smiling. We love you."
52. "Watching your daughter being collected by her date feels like handing over a million-dollar Stradivarius to a gorilla." -Jim Bishop
53. "I took my daughter to the father-daughter dance and I cried like a little baby. She's 11 years old, so seeing her get dressed up and pretty made me cry." -Kevin Hart
54. "It was my father who taught me to value myself He told me that I was uncommonly beautiful and that I was the most precious thing in his life."
55. "A father holds his daughter's hand for a short while, but he holds her heart forever."
56. "The modern day dad is an altogether different parenting animal. He's breaking social norms, he's reasserting himself at home and at work. He's redefining what it means to be a dad."
57. "A father's tears and fears are unseen, his love is unexpressed, but his care and protection remains as a pillar of strength throughout our lives." -Ama H. Vanniarachchy
58. "A Father is someone you look up to no matter how tall you grow."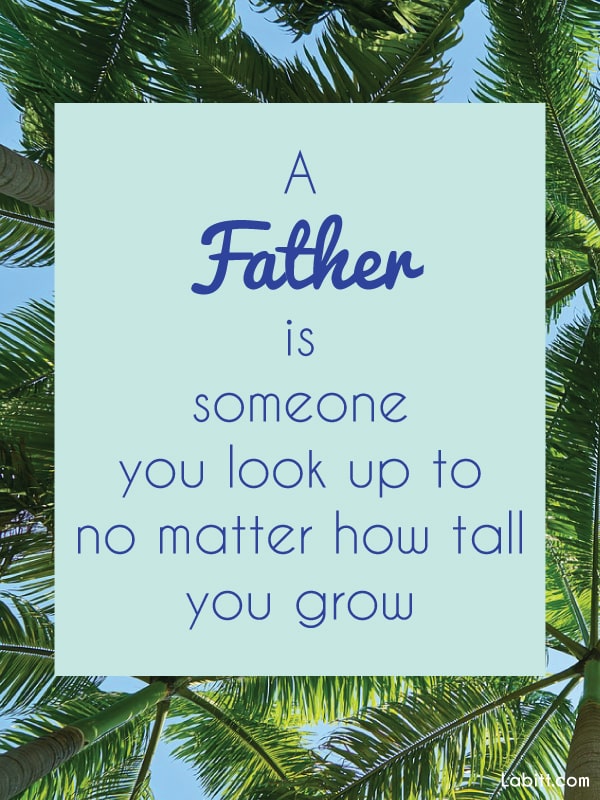 59. "The love between father and daughter knows no distance."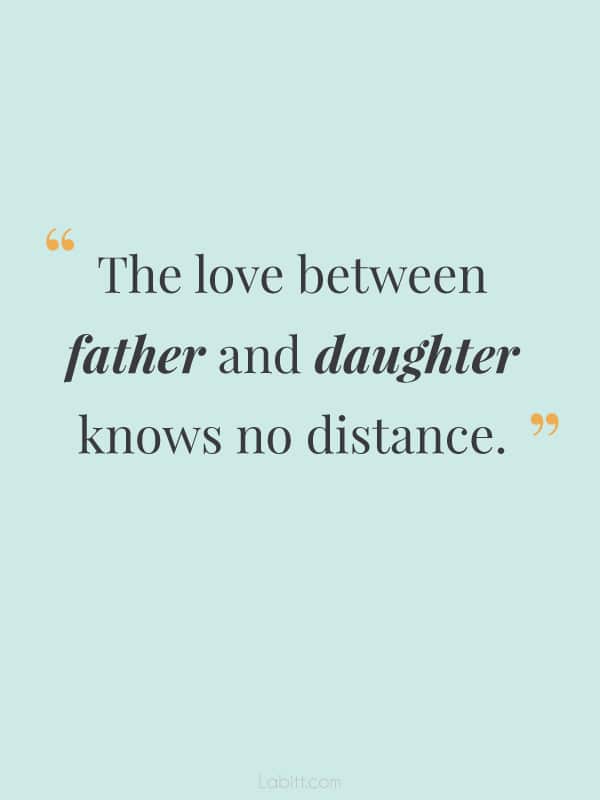 60. "You fathers will understand. You have a little girl. She looks up to you. You're her oracle. You're her hero. And then the day comes when she gets her first permanent wave and goes to her first real party, and from that day on, you're in a constant state of panic." -Stanley T. Banks
61. My daughter is my biggest achievement. She is a little star and my life has changed so much for the better since she came along. -Denise Van Outen
Discover more than 30 great gift ideas from my Father's Day Gifts from Daughter gift guide.
Did you enjoy these father and daughter relationship quotes? Do you know any quote that isn't covered in the list above? Let me know in the comment section below.
Last but not least, don't forget to celebrate the other critical part of the equation that is your mother! Celebrate Mother's Day with one of these sentimental Mother's Day quotes.