Fill 2016 Father's Day with surprises, get unique gifts for dad. Show dad that you care and you love him so much. Say thanks to him for being the great dad who is always there for you. Read here for 8 Unique Fathers Day gift ideas. Discover now!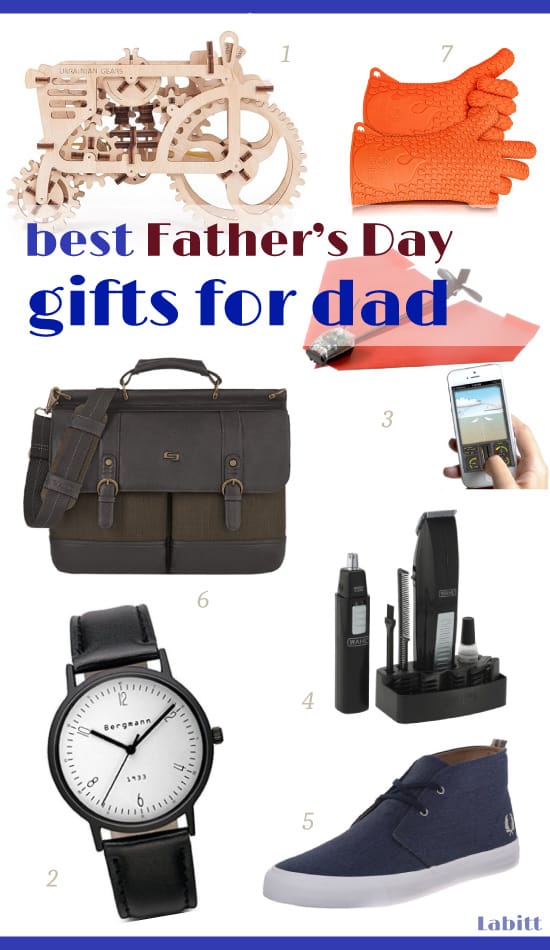 1. Tractor 3D Puzzle Model
This awesome 3D puzzle tractor is a wonderful Father's Day gift. It is an all-wheel drive with three control modes (park, drive, sport). The puzzle pieces are made of plywood with precision. Super fun to assemble with no tools required. It is very satisfying to see the final product, whether it is moving at a leisurely pace or speed up in "sport" mode.
2. Bergmann 1933 Classic Bauhaus Watch
This Father's Day, you can also get this beautiful watch for dad. Vintage style with matte black case and plain white dial. Simple function, clean design with no superfluous detailing. A great piece for all gentlemen.
3. PowerUp 3.0 Smartphone Controlled Paper Airplane
This paper plane is a fantastic toy for the grown up men. It combines origami with science and technology. Simply starts with folding a paper airplane, then attach the gadget on the plane to connect it with your smartphone. And, that's it, you can control it by tilting your phone to steer and increase or reduce throttle to go up or down.
Isn't this plane super cool? I'm sure it makes one of the best Father's Day gifts from kids.
4. Wahl Beard Trimmer Kit
Practical stuff loved by men. Wahl Beard Trimmer Kit that comes with one beard trimmer and one personal trimmer for trimming hair in the ear, nose and brows. This kit also includes five-position guide combs, cleaning brush, blade oil, and a storage base that organizes all the pieces neatly.
It is cordless and powerful. Gives your man precise, clean and smooth cut.
5. Fred Perry Men's Vernon Mid-Top Sneaker
This good-looking shoes by Fred Perry also makes a great Fathers Day gift. Chukka-inspired, nice blue color. Featuring double-eyelet laces and contrast logo embroidered at heel. Fits well, comfy and looks stylish!
6. Solo Executive Briefcase
Good quality briefcase for men under $50. Features multiple compartments and pockets to store all his business needs. There is also a padded compartment to protect the laptop and tablet. Spacious, durable and functional. Makes one of the best gifts for Father's Day.
7. Ekogrips Max Heat Silicone BBQ Gloves
For dad who enjoys cooking, grilling, BBQ-ing or camping. He will definitely appreciate this silicone gloves. High heat resistance, waterproof, no slip design.
Multi-purpose and useful. Dad can use it to grab hot meat on the grill, flip log on the fire, grab boiled eggs out of boiling water and more.
8. Best Farter Ever Shirt
If you prefer to get something more fun for dad. You should take a look at this T-shirt. Designed to make dad laugh. The bold statement tells your dad that he is the "best farter ever", nope, I mean "best father ever".
That's the 8 Unique Fathers Day Gifts. Aren't the gifts look so cool? Tell us what you think!